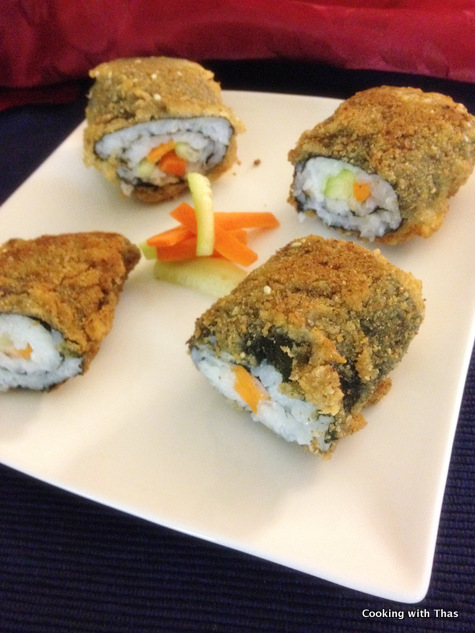 Fry the sushi rolls and you'll love it even more, it's crunchilicious…
We went to one of the best restaurants in our city for my birthday dinner, their menu was totally unique and different. I wanted to try each and every dishes, and I wished if I had a couple more stomachs. Being a sushi freak, I couldn't resist ordering the tempura sushi rolls that was found on the appetizer list. I'd never thought of frying sushi rolls, those tempura sushi rolls tasted fantastic. Since then, making tempura sushi rolls was on my top to-do list.
It's been snowing since yesterday and I am loving it. As long as I don't have to snow blow the drive way I will enjoy snow showers. During winter, my appetite is higher than usual and I crave for crunchy snacks. Last night, my Man and I drove in the snow just to have French fries. Today, in the evening I was reminded of tempura sushi and I pushed myself out of the couch and made these crunchy and delicious tempura sushi rolls.
Recipe for making Shrimp Tempura Sushi.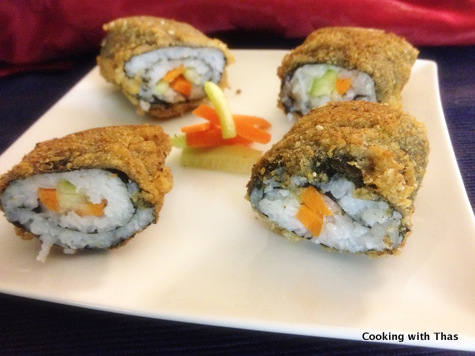 Tempura Sushi Rolls
Ingredients
Cooked sticky rice- 2 cups
Vinegar- 1½ tbsp
Salt- a few pinches
Nori sea weed sheets
Cucumber, cut into thin 2 inch wedges
Carrots, cut into thin 2 inch wedges
Thai spicy dipping sauce or any other sauce
For making batter
All purpose flour- ½ cup
Water- ½ cup
Salt- to taste
Other ingredients
Bread crumbs
Sesame seeds- 1 tbsp
Oil- to deep fry
Instructions
In a bowl, combine the flour, water and salt to a smooth batter. Keep aside.
Combine the bread crumbs and sesame seeds and spread it on a plate.
Cook the sticky rice in a rice cooker.
Combine the cooled cooked rice with vinegar and salt.
Place the sushi mat on a cutting board.
Place one nori sea weed shiny side down on the mat.
Spread the sticky rice evenly over the sea weed sheet leaving some ½ inch space from the ends.
Spread some cucumber and carrot wedges over the rice on one of the ends.
Roll the sushi mat with the sea weed tightly.
Cut the rolled sushi in half.
Heat enough oil for frying in a frying pan.
Dip one of the sushi halves in the batter, roll it over bread crumbs/sesame seeds.
Fry it in the oil till golden and crunchy.
Transfer to a paper towel.
Cut the tempura sushi into 1 inch rolls. Serve with Thai spicy dipping sauce or your favorite sauce.
Notes
You could add tempura shrimp or crab or cooked fish to your sushi.