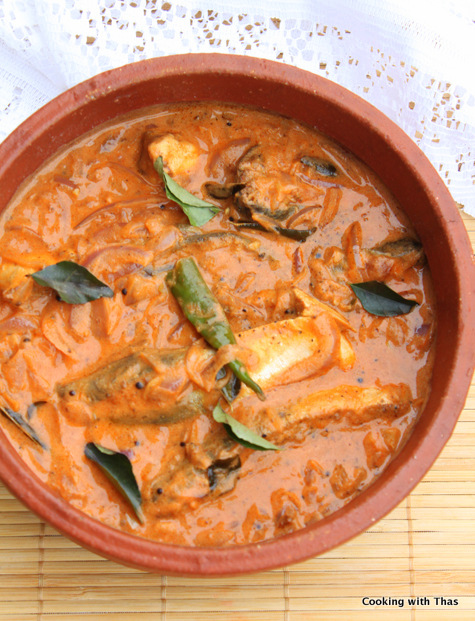 Shallow fried fish submerged in creamy coconut and tomato gravy, absolutely delicious…
Every time I cook with fish, I try to make it differently. I've already shared the recipe for making so many different kind of fish curries.
Fish is a staple food for non-vegetarians in Kerala. My family being a hard core non-vegetarians, either fish or meat will be served almost everyday along with other vegetarian side dishes. I grew up having catch of the day fishes while in Kerala, fish curry and fish fry are often served for lunch along with rice. Now, I don't make fish that often as my Man is not a huge fan of fish. But when I make fish I get greedy and eat quite a bit.
The other day, I bought pomfret and made this Korma. Pomfret is one of my favorite fishes. In North America, it's available at Asian supermarkets. It's a popular fish in Kerala too. I shallow fried the marinated fish and further cooked it in a creamy coconut and tomato gravy. This fish curry is rich, flavorful and finger licking delicious…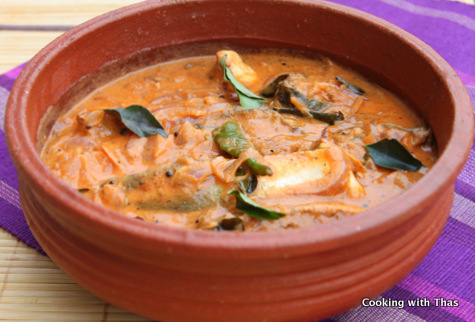 Fish Korma - Fish in Creamy Coconut and Tomato Gravy
Ingredients
To marinate fish
Pomfret or King fish or Salmon - 8 pieces
Ginger-garlic paste- ½ tbsp
Chili powder- 1 tsp
Coriander powder- 1 tsp
Turmeric powder- ⅛ tsp
Ground cumin- ½ tsp
Salt- a few pinches
For making gravy
Oil, used for frying fish- 2 tbsp
Mustard seeds- 1 tsp (optional)
Ginger, chopped- 2 inch slice
Garlic, chopped- 2 large cloves
Curry leaves- 1 sprig
Onions, sliced thin and long- 2
Green chilies, halved- 2
Ground pepper- ¼ tsp
Tomato paste- 3 tbsp
Coconut milk- ½ cup
Water- ¾ cup
Salt- to taste
Other ingredients
Oil- for shallow frying fish
Instructions
In a large bowl, combine the fish pieces with all the above mentioned ingredients "to marinate fish". Keep aside for 15 minutes or longer.
Heat enough oil in a frying pan and shallow fry the marinated fish pieces.
Transfer the fried fish on a paper towel and keep aside.
Place a clay pan or non-stick pan over medium heat.
Add 2 tbsp of oil used for frying fish. Let the oil turn hot.
Add mustard seeds, let it splutter. Adding mustard seeds is optional.
Add chopped ginger and garlic, saute till light golden in color.
Add curry leaves and green chilies, saute for a few seconds.
Add onions, season with salt and ground pepper, saute till onions turn light golden in color.
Add tomato paste, combine well.
Add coconut milk and water, combine well and let it come to a slight boil.
Add the fried fish into the coconut milk gravy.
Cover the pan and cook for a few minutes till the gravy thickens.
Don't stir the fish too much as it will break apart. Instead, gently swirl the pan.
Taste and add more salt or ground pepper for spice if needed.
Remove the pan from the heat and keep it covered for a few minutes.
Serve this fish korma with rice, roti, idiyappam, pathiri, chapati etc.