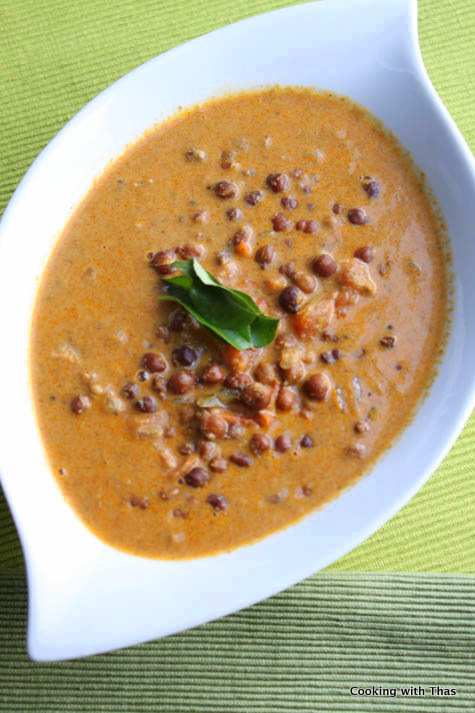 Anything when cooked in roasted coconut gravy tastes spectacular…
Having brought up in Kerala must have been the reason for my obsession with roasted coconut curries. In Kerala, we use a lot of coconut on daily basis and most of the dishes call either for grated coconut or coconut paste, or coconut milk. And we all adore this particular ingredient a lot. Should I say anything about coconut oil??? The aroma and the flavor that a couple of tablespoons of coconut oil impart to a dish is just amazing. I can just go on and on talking about coconut.
Roasted coconut is an integral ingredient in Kerala cooking, especially while making fish curries. I had already posted the recipe for making fish in roasted coconut gravy, check it out. There are a few variations of the fish curry, you could make the gravy with roasted coconut or by just grinding the raw coconut. I prefer the roasted coconut gravy as the roasted coconut paste makes any dish taste delicious.
This was the first time I am making chickpeas in roasted coconut gravy. I usually add coconut milk after cooking the chickpeas, makes the gravy taste creamy and yummy. I have used black chickpeas. Black chickpeas is very popular in Kerala, and is served with puttu. However, in North America, white chickpeas are commonly used. Black chickpeas have a more deep taste and flavor compared to the white ones which are very mild. Uncooked black chickpeas can be found at most Indian stores, they even got frozen ones.
When I hosted the Eid contest, one of the recipes I got was the Soy chunks cooked in roasted coconut gravy by Greenhorn Cook. I made that recipe and fell in love with it, especially the roasted coconut gravy. Making the gravy was very similar to the gravy that was made by me for making the fish curry. Literally, anything can be added to that gravy, so this time I added black chickpeas. Tasted delicious & I was seen drinking the gravy…Yummy!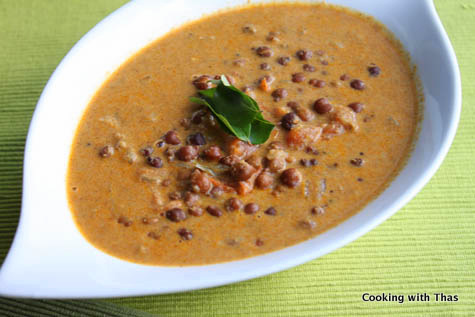 More recipes for making chickpeas curry
Chickpeas in roasted coconut gravy, a different version
Black Chick Peas in Roasted Coconut Gravy - Kerala Kadala Curry
Ingredients
Black chick peas- 2 cups (slightly cooked)
To roast and grind
Oil- 1 tbsp
Coconut, grated- 1 cup
Coriander powder- ½ tbsp
Chili powder- ½ tbsp (for less spice add kashmiri chili powder)
Turmeric powder- ⅛ tsp
Ground black pepper- ½ tsp
While cooking
Oil- 2 tbsp
Mustard seeds- 2 tsp
Onion, chopped-1
Ginger-garlic paste- 2 tsp
Tomato, chopped-1, large
Curry leaves- 1 sprig
Garam masala- 1 tsp
Coconut milk- ½ to ¾ cup
Salt- 1½ tsp
Instructions
If using uncooked chickpeas, soak it in water overnight and cook it in a pressure cooker till it's slightly cooked, don't over cook it. Drain the water, keep aside.
If using cooked chickpeas, add them directly to the roasted coconut gravy.
Place a pan over medium heat, add oil and the grated coconut, roast till coconut turns golden brown in color.
Add coriander powder, chili powder, turmeric powder and ground pepper, saute for a couple of minutes and remove the pan from the heat. Don't burn the spices. Let it cool down.
To a blender jar, add the roasted coconut along with ½ cup water & grind to a smooth paste. Keep aside.
Place a pressure cooker over medium heat or use a large pan.
Add oil, let it turn hot.
Add mustard seeds, let it splutter.
Add onion, curry leaves and salt, saute till translucent.
Add ginger-garlic paste, saute for a few minutes.
Add tomato, cook till it has mashed up.
Add the ground roasted coconut paste, combine well and cook for a few minutes.
Add slightly cooked chickpeas, and some more water to thin down the gravy.
Add salt to taste.
Close the pressure cooker with its lid and place the whistle.
Cook till 2 whistles, let the pressure subside.
Open the cooker, combine well.
Add garam masala, combine well.
Add coconut milk and cook for a few minutes.
If the gravy is watery cook over high heat till the gravy thickens.
If you prefer more gravy, don't thicken the gravy.
Have a taste, add salt and ground pepper if needed.
Remove from the heat, let cool down a bit.
Serve with puttu, chapati, pathiri, orotti, rice etc.
Notes
This roasted coconut along with the spices can be kept in the refrigerator for a a few weeks. So make a lot and just before cooking grind it into a smooth paste.