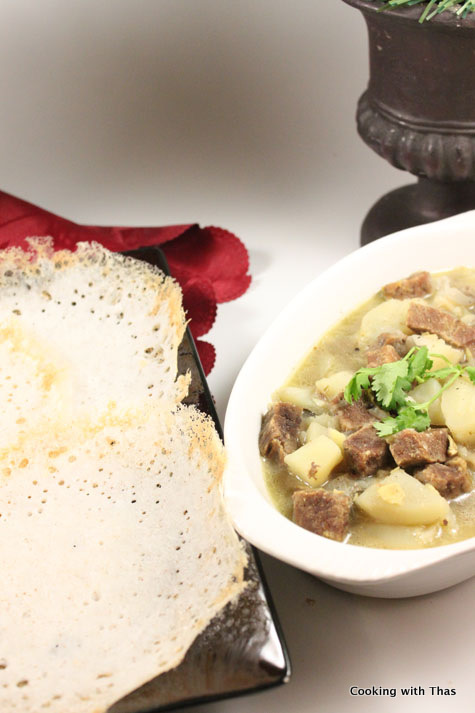 Happy Easter…
While thinking about Easter dishes, I saw Appam and Beef Stew lined in front of me. In Kerala, these are the two main dishes served for breakfast on Easter day. Appam has been the top favorite breakfast dish of almost all Keralites. Those who have had stew might know that it tastes delicious with appam. Appam and Stew is definitely one of the faithful couples in the Kerala food world.
Appam, which can be referred as "Kerala's Laced Rice pancake" is made by grinding rice, fresh coconut along with coconut milk. The batter is then poured on a pan used for making appam, which then forms a soft pancake with crispy ends and hence the name lace.
In Kerala, stew is a mildly spicy, creamy dish made using potatoes and coconut milk along with other simple spices. It's such a flexible dish that you could add any kind of meat to it, beef, chicken or mutton (Goat). When vegetarians are seen enjoying potato stew along with appam, on the other side non-vegetarians will be seen enjoying meat stew with appam. At the end of the meal, everyone would be seen equally happy and satisfied, licking their fingers…
Beef Stew:
Ingredients:
To pressure cook:
Beef, diced- 1 pound
Ginger-Garlic paste- 1 1/2 tsp
Ground pepper- 1/2 tsp
Green chilly, chopped- 2
Fennel powder- 1 tsp
Garam masala- 1/2 tsp
Curry leaves- 1 sprig
Salt- 1/4 tsp
Water- 1/4 cup
For Making Stew:
Coconut oil or vegetable oil- 2 tbsp
Mustard seeds- 1 tsp
Small onions or shallots, chopped- 10 no's
Garlic, chopped- 4 cloves
Ginger, chopped- 2 inch slice
Green chilly, chopped- 1
Curry leaves- 1 sprig
Potatoes, cubed- 3 no's
Garam masala- 1/2 tsp
Fennel powder- 1 tsp
Ground pepper- 1/4 tsp or according to your spice level
Salt- to taste
Coconut milk- 3/4 cup
Instruction
Add the above mentioned ingredients "to pressure cook" in a pressure cooker and cook till 3-4 whistles.
When the pressure subsides, open the cooker, beef should be cooked well. If not pressure cook for 1 more whistle.
After the beef has cooked well, reserve the water from the cooked beef.
Heat a large pan over medium heat, add oil, splutter mustard seeds.
Add garlic and ginger chopped into the oil, saute till it starts to turn golden in color.
Add green chilly, small onions, curry leaves and little salt, saute for a few minutes.
Add the potatoes and pour the water from the cooked beef over the potatoes, cook covered till potatoes are just cooked.
Don't over cook or mash the potatoes.
Now, add the cooked beef to the cooked potatoes.
Add garam masala, fennel powder, ground pepper and salt if needed.
Combine well and add coconut milk to the mixture.
Stir the mixture without mashing the potatoes.
Let the coconut milk come to a boil and simmer for a minute to thicken.
If the stew is too thick you could add little water to thin it down.
Remove from the heat and serve in a bowl.
Appam or Kerala's Laced Pancake
Ingredients:
Rice flour- 1 1/2 cups
Grated coconut- 1/2 cup
Cooked Rice (Matta rice or Kerala red rice) or Ponni rice- 1/2 cup
Coconut milk, thick- 1 cup
Salt- 1/4 tsp
Instant Yeast- 3/4 tsp
Water- enough to thin down the batter
Instruction
In a blender, grind rice flour, grated coconut, cooked rice and coconut milk together to a smooth batter.
If the mixture is too thick, add some water while grinding.
When the batter forms a smooth paste, add salt and yeast to it and grind it for a few seconds.
Pour the batter to a large bowl, rinse the blender cup using water and pour the water over the batter.
If the batter is too thick, add some more water or thin coconut milk to it.
Make sure the batter is not too watery.
Keep aside the batter for 5-6 hours or over night for fermentation to take place.
The batter will rise to double the original amount, so use a really large bowl to hold the batter.
After 5-6 hours, the batter will be ready to make appams.
If the batter is too thick add some water to thin it down.
Heat a pan for making appam over medium heat.
Make sure the pan is not too hot. If the pan is too hot, the batter will splutter when you pour onto the pan.
Grease the pan with little oil to avoid the appam from sticking to the pan.
Pour a large spoonful of batter onto the pan.
Rotate the pan so that the batter spreads evenly onto the pan and forms a thin layer.
Cover with the lid and cook for a few minutes till the ends of the appam turns crispy/golden brown in color and the middle of the apppam is soft and cooked well.
Before making the next one, wipe off any crispy appam particles found sticking onto the pan using a paper towel.
Tips:
You could make the stew with chicken or mutton as well, vegetarians can use potatoes along with carrot/peas/beans etc.
For making appam batter, I prefer using cooked red rice rather than ponni or white rice.
To see all the 601 recipes published so far, please go to the recipe index.
If you enjoyed this post, subscribe to receive future posts


You can also subscribe via Facebook, Twitter and RSS