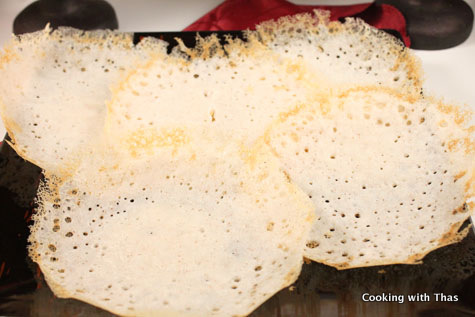 Soft and melt into the mouth rice crepes of South India…
Appam, which can be referred as "Kerala's Laced Rice crepes" is one of the popular breakfast dishes which is served with both vegetarian and non-vegetarian curries. Appam literally goes well with almost any curries: chicken, beef, mutton or veggie korma. My sister's favorite way of eating appam when she was a kid was by pouring coconut milk over the appam and then sprinkled with sugar; she loved it so much and now her 4 years old daughter loves it too. Like mom like daughter 🙂
Appam is made by grinding rice, fresh coconut along with coconut milk. The batter is then poured on a pan used for specially making appam, which then forms a soft crepes with crispy ends and hence the name lace.
Appam or Kerala's Laced Pancake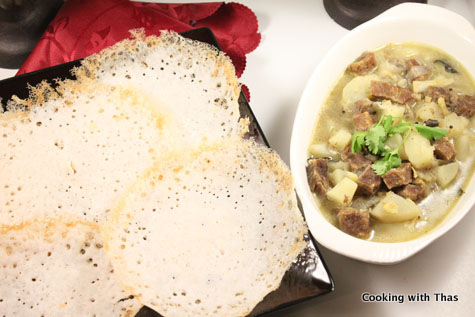 Preparation Pictures 
Appam batter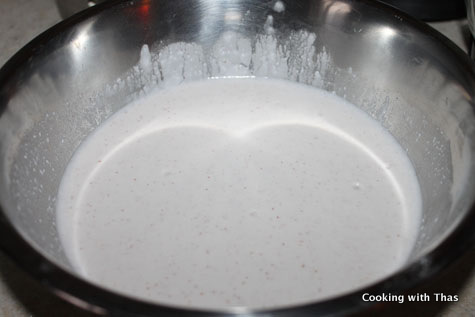 Pan for making Appam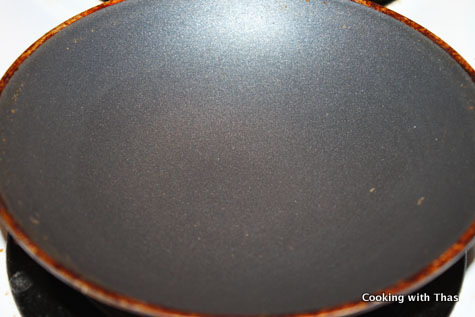 Batter poured into the pan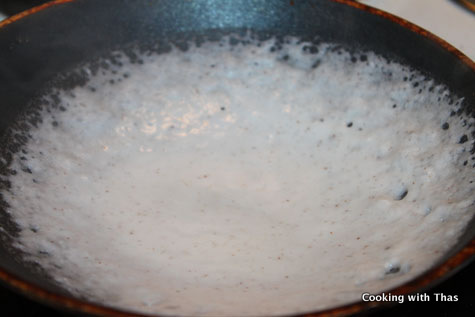 Soft laced appams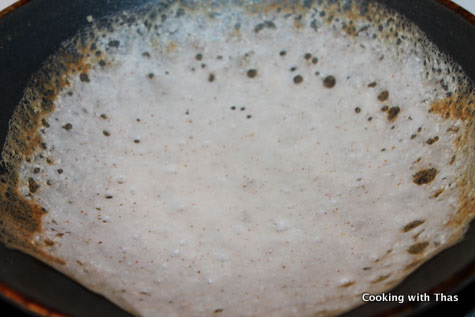 Kerala Appam or Laced Rice Crepes- Breakfast Speciality
Ingredients
Rice flour- 1½ cups
Grated coconut- ½ cup
Cooked Rice (Rosematta rice or Kerala red rice) or Ponni rice- ½ cup
Coconut milk, thick- 1 cup
Salt- ¼ tsp
Instant Yeast- ¾ tsp
Water- 1¼ cups or enough to thin down the batter
Instructions
In a blender, grind the rice flour, grated coconut, cooked rice and coconut milk together to a smooth batter.
If the mixture is too thick, add some water while grinding.
When the batter forms a smooth paste, add salt and yeast to it and grind it for a few seconds.
Pour the batter to a large bowl, rinse the blender cup using water and pour the water over the batter.
If the batter is too thick, add some more water or thin coconut milk to it.
Make sure the batter is not too watery.
Keep aside the batter for 5 to 6 hours or over night for fermentation to take place.
The batter will rise to double the original amount, so use a really large bowl to hold the batter.
After 5 to 6 hours, the batter will be ready to make appams.
If the batter is too thick add some water to thin it down.
Heat the pan for making appam over medium heat.
Make sure the pan is not too hot. If the pan is too hot, the batter will splutter when you pour onto the pan.
Grease the pan with little oil to avoid the appam from sticking to the pan.
Pour a large spoonful of batter onto the pan.
Rotate the pan so that the batter spreads evenly onto the pan and forms a thin layer.
Cover with the lid and cook for a few minutes till the ends of the appam turns crispy/golden brown in color and the middle of the appam is soft and cooked well.
Before making the next one, wipe off any crispy appam particles found sticking onto the pan using a paper towel.
Serve with your favorite curries.
Notes
For making appam batter, I prefer using cooked red rice rather than ponni or white rice.