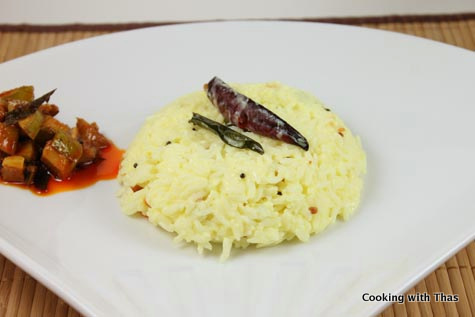 South Indian comfort food…
Why me??? Whenever there's a flu season, I'll be the first one to get it. Yesterday, was the coldest day of this winter, temperature dropped drastically to -16 C and it felt like -28 C. I was driving to work, all of a sudden car windshield got cloudy, turned on the water spray and voila! the reservoir was empty. Bought the fluid and voila! the hood wouldn't open. I got so frustrated, had to clean the wind shield manually, I almost stood frozen. After the cleaning ceremony, I got into the car and started sneezing, since then I've been sneezing non-stop. Finally, flu viruses hugged me so tightly even after trying so hard to run away from it…Drinking lots of fluid, soups and taking good rest to ward off flu viruses, I'm feeling much better already.
Today, I was backing up food pictures and came across the picture of curd rice that I'd taken long time before. Curd or yogurt rice is one of the comfort foods in South India and is enjoyed by both veggies and non-veggies alike. This is avery humble and simple food, when eaten with pickle tastes very delicious.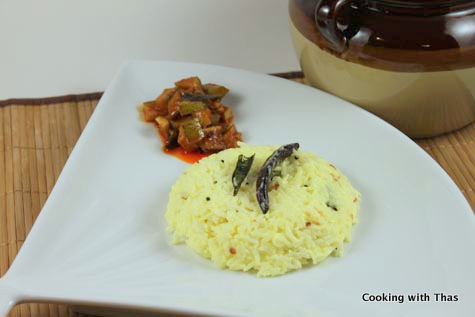 Yogurt or Curd Rice
Ingredients
Cooking Rice
Sona Massori, ponni or white rice- 1½ cups
Water- 1½ cups
Salt- to taste
Making Yogurt or curd rice
Oil- 1½ tbsp
Mustard seeds- 1 tsp
Chana Dal- 2 tbsp
Urad Dal- 1 tbsp
Red dry chili, whole-2
Curry leaves- 1 sprig
Turmeric powder- ½ tsp
Yogurt or curd- 1½ cups
Salt- to taste
Instructions
Cook the rice along with water and salt in a rice cooker, keep aside.
Place a large non-stick pan over medium heat, add oil.
Add mustard seeds, let it splutter.
Add chana dal, fry till it turns light golden brown in color.
Add urad dal, fry till golden.
Add red dry chili and curry leaves, saute for a few seconds.
Add turmeric powder and saute in the oil for a couple of seconds.
Remove the pan from the heat, add the yogurt or curd, combine well.
Return the pan to the heat and add the cooked rice, combine well.
Add salt to taste.
Cook for a few minutes and remove the pan from the heat, keep covered.
Serve yogurt or curd rice along with pickle.
Notes
Make sure to remove the pan from the heat before adding the yogurt, else the yogurt will curdle.
Step by Step Pictures: