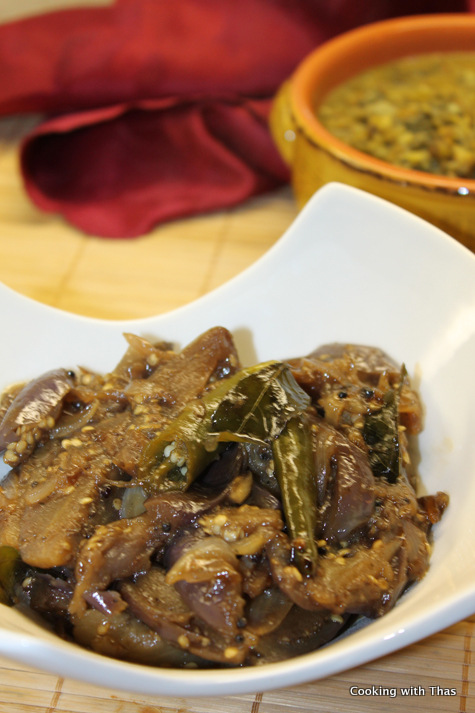 You get to enjoy sweetness, spiciness and sourness in this dish…
This is more like a pickle, can be served as a side dish along with biryani or plain rice or with chapati.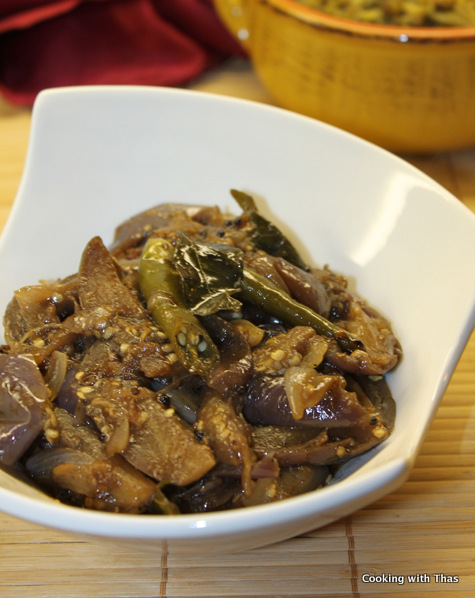 Preparation Picture
Sweet and Sour Eggplant or Eggplant Pickle
Ingredients
Oil- 2 tbsp
Mustard seeds- 1 tsp
Dry red whole chili-2
Small onions, chopped- 6
Green chilies, halved- 4
Curry leaves- 1 sprig
Eggplant, cubed- 7, small eggplants
Tamarind juice- ¼ cup (soak 2 inch fresh tamarind in ¼ cup warm water)
Jaggery, grated- 1 tsp
Chili powder- ½ tsp
Salt- to taste
Instructions
Soak fresh tamarind in warm water for 3 minutes, squeeze the tamarind in water and strain the juice. Discard the skin.
Heat a pan over medium heat, add oil, let it turn hot.
Add mustard seeds, let it splutter.
Add dry red chili, saute for a few seconds.
Add small onions, green chilies, curry leaves and salt, saute till onions turn translucent.
Add eggplant, cook covered till it turns tender.
Add tamarind juice, combine well.
Add jaggery, combine well.
Add chili powder, combine well.
Cook for some more time till eggplant has cooked well.
Have a taste and add more salt for taste.
Remove from the heat, let cool down and serve in a bowl.