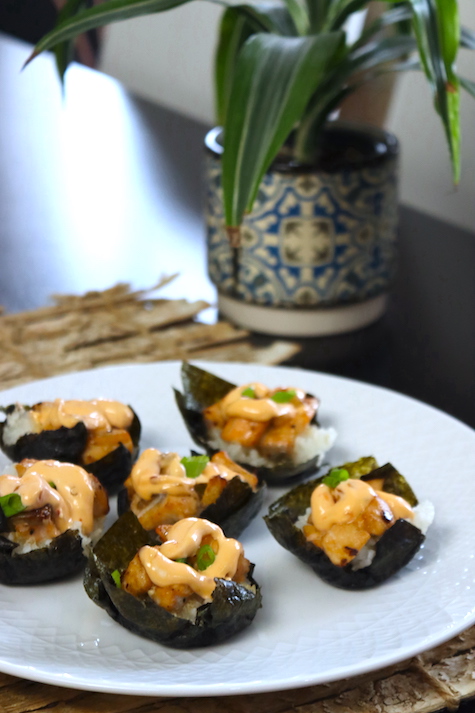 Incredibly delicious sushi bake cups…
Being a sushi fanatic, as soon as I saw the making video on TikTok, I made these amazing sushi bake cups or muffins. Apparently, it's a viral recipe & after trying these I know why it went viral.
Absolutely delicious & will make a perfect appetizer for any party.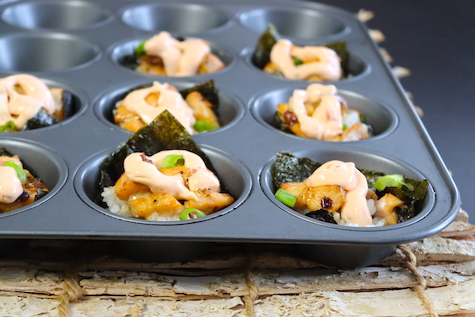 Sushi Bake Cups | Muffins Easy Recipe
Ingredients
For marinating salmon
Salmon, cubed small, 1-inch size- 1 steak
Garlic powder- ¼ tsp
Ground black pepper- 2 pinches
Dried red chili flakes- ½ tsp
Light soy sauce- 2 tbsp
Sesame oil- 1 tsp
For making sticky rice
Sticky rice- 1 cup, rinsed
Water- 1½ cups
For making sauce
Mayonnaise- 1 cup
Sriracha sauce- 1 tsp (or chili sauce/paste)
Other ingredients
Roasted nori sheets- 2
Green onions, chopped
Instructions
This recipe will make 8 sushi bake cups.
Salmon can be used with or without skin.
I've taken 1 salmon steak & cut into small cubes.
To a bowl, add salmon along with other ingredients mentioned 'for marinating salmon'. Combine well.
For making sticky rice: take 1 cup of sticky rice in a strainer & rinse well.
Add to a saucepan, add 1½ cups water & place over medium heat, let the water come to a boil.
Lower the heat & cook covered for 10 to 12 minutes till the rice has turned soft.
Towards the end, if the water has dried off & the rice is still crisp, add a few tablespoons more water & cook covered for a few more minutes.
Remove the saucepan from the heat & keep it covered for some time.
Let the rice cool down.
Preheat the oven to 400 F or 200 C.
Have a cupcake or muffin pan ready.
Cut the roasted nori sheets into squares: half the sheet & cut each piece into squares- there will be 4 squares per sheet.
Place the nori squares in each cupcake insert.
Top with 2 tbsp sticky rice & press it down, nori sheet will sit well in the insert.
Top the rice with a few salmon cubes.
Place the cupcake pan in the preheated oven on the middle rack.
Bake for 15 minutes.
After 15 minutes, take the pan out of the oven.
In a bowl, combine mayo & sriracha sauce (or use chili paste or sauce) or you can use spicy sriracha mayo.
Garnish each sushi bake cup with green onions & drizzle sriracha mayo on the top.
You can also sprinkle sesame seeds.
Enjoy right away, tastes absolutely delish.