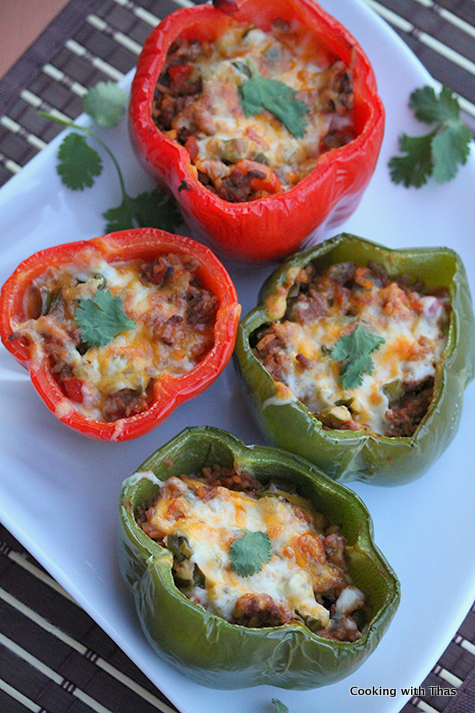 Peppers stuffed with ground beef, rice, cheese and baked…yummylicious!
I kicked off my weekend with this delicious ground beef stuffed peppers. I'm glad that I finally tried this and my Man loved this so much. Stuffing was made by cooking ground beef, combined with brown rice and then stuffed the peppers with this mix, topped with cheese and baked. For an extra kick, after baking it, I broiled the stuffed peppers for a few seconds till the cheese turned golden in color.
Absolutely yummy and worth trying. Any leftover ground beef and rice can be served as it is, makes a perfect one pot meal.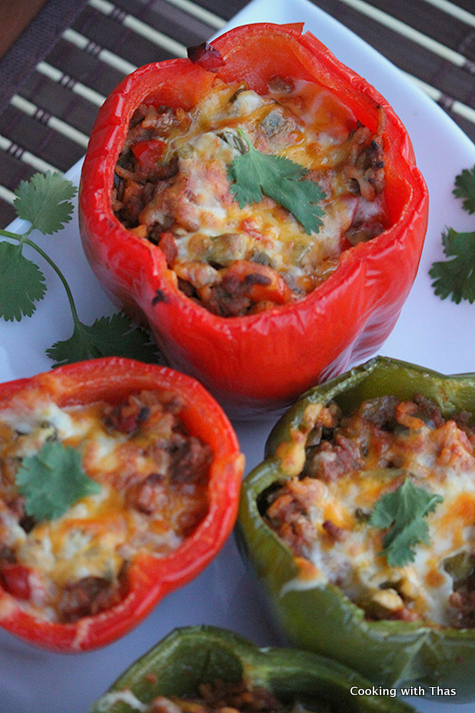 Stuffed Peppers- Ground Beef Stuffed Peppers
Ingredients
For making the stuffing
Oil- 1 tbsp
Onion, chopped small- 1
Garlic, chopped- 3 cloves or 1 tbsp
Ground beef- 1 Lb or ½ Kg
Green and Red pepper, chopped- 1 cup
Chili powder- 2 tsp or use cayenne pepper
Ground cumin- 1 tsp
Tomato sauce- 1½ cups
Cooked brown or White rice- 2 cups
Cilantro, chopped- ¼ cup
Green onions, chopped- 2 stalks
Salt- to taste
Other Ingredients
Pickled Jalapeno, chopped- 7 round slices (optional)
Grated Cheddar Cheese or Monterery Jack cheese- to top over the stuffed peppers
Instructions
You could use brown or white rice, have 2 cups of cooked rice ready.
Cut the top part off the green and red peppers, remove the white ribs and seeds from inside. Rinse the inside of the peppers well, pat dry and season the inside with salt.
Save the top part of the peppers, chop them, we will add this to cooked ground beef.
In a large microwave safe dish, add ¼ cup water to the dish.
Place the peppers on the water in the dish, cover with plastic wrap and microwave for 5 minutes, till the peppers have turned tender.
Keep aside the microwaved peppers.
Making ground beef Stuffing
Place a large non-stick pan over medium heat, add oil.
Add chopped onion, season with salt and cook for a few minutes.
Add chopped garlic, combine well and cook covered till onions turn translucent
Add the ground beef, break it well using a wooden spatula without any lumps, cook covered for 20 minutes.
Add the chopped green and red pepper, give it a mix.
Add chili powder, ground cumin, salt and tomato sauce, combine well and cook covered for 10 minutes.
Add the cooked rice, combine well.
Add chopped cilantro and green onions, give it a mix and cook for a minute.
Have a taste and add more salt if needed.
Remove the pan from the heat and let cool down.
Stuffing and Baking the Peppers
Preheat the oven to 350 F or 175 C.
Place the peppers on a wide baking dish.
Stuff the peppers with the ground beef and rice mix.
Top with ½ tsp of chopped pickled jalapeños.
Top with grated cheese.
Place in the oven on the middle rack and bake for 20 minutes.
After 20 minutes of baking, take the baking dish out of the oven.
Broiling the stuffed Peppers- this is Optional
Turn on the broiler in the oven to high, place the baking dish in the broiler and broil for 30 to 45 seconds till the cheese turns golden brown in color. Keep an eye as over broiling will burn the cheese and peppers.
Remove from the oven, let cool down and enjoy.
Leftover ground beef and rice mix can be served as it is, you could garnish some cheese while serving, it will be YUM!