Chatti Pathiri or layered crepes stuffed with shrimp masala…
This is a Malabar specialty dish that's enjoyed by everyone. In my family, this is made quite often especially during Ramadan. Chicken stuffed chatti pathiri is the most popular one. I've already posted the recipe on my blog & cooking video on my YouTube channel, check that out; links are given below.
This Ramadan, I made this with Shrimp masala and tasted delicious. We can call this as Malabar lasagna, in Mexican lasagna tortillas are layered and stuffed with chicken or ground beef and cheese, and baked. In this one, crepes are layered and stuffed with chicken or beef or shrimp masala and cooked in a saucepan.
I try to cut down on the addition of eggs, hence I have only used 1 egg for making the crepes and 2 for egg wash. You can increase the # of eggs based on your preference.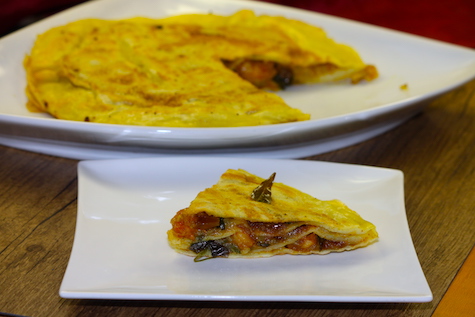 Shrimp Stuffed Chatti Pathiri- Layered Crepes Stuffed with Shrimp or Prawns- Malabar Lasagna
Ingredients
For marinating Shrimp
Shrimp- 25, deveined (if large cut each shrimp into 3 pieces)
Chili powder- 1 tsp
Turmeric powder- ¼ tsp
Coriander powder- 2 tsp
Garam Masala- 1 tsp
Salt- 1 tsp
For Making Shrimp Masala
Oil- 2 tbsp
Onions, chopped small- 4
Ginger-Garlic paste- 1 tbsp
Green chilies, chopped- 2 to 3
Curry leaves- 1 sprig
Salt- 1 tsp
Cilantro, chopped- ¼ cup
For making Crepes
All purpose flour- 1½ cups
Egg- 1
Turmeric powder- ⅛ tsp
Water- 2¼ cups
Salt- ¼ tsp
Other Ingredients
Ghee- 3 tbsp
Egg, beaten- 2
Black ground pepper- ¼ tsp
Salt- ¼ tsp
Instructions
In a bowl, combine shrimp with all the spices mentioned 'for marinating the shrimp'. Keep aside.
If using large shrimp, cut each shrimp into 2 to 3 pieces.
Or you can use small prawns.
Place a saucepan over medium heat, add oil.
Add onions, season with ½ tsp salt. Cook for 3 minutes.
Add ginger-garlic paste, green chilies, and curry leaves, combine well.
Cook till onions turn golden in color.
Add the marinated shrimp, cook covered for 10 to 15 minutes.
Taste and add ½ tsp salt or more as required.
Let all the water dry off, stir fry and let the masala turn slight brown in color.
Add chopped cilantro, combine well.
Remove the saucepan from the heat and keep covered.
Making Crepes
Into a blender jar: add flour, egg, turmeric powder and water.
Blend to a smooth batter.
Pour the batter into a bowl.
Turmeric powder will impart nice yellow color to the crepes.
Place a non-stick pan over medium heat.
Grease the pan with non-stick cooking spray.
Pour 2 spoonfuls of batter, spread into a round shape, crepe should be thin.
Cook the crepes for a few minutes.
No need to flip it cover to cook the other side.
Transfer the cooked crepe to a plate and make crepes with the remaining batter.
Cooking Chatti Pathiri
In a bowl, using a whisk beat the eggs along with ground pepper and salt.
Place a non stick saucepan over low heat.
Grease the pan with ghee.
Take the first crepe, using a pastry brush spread both the sides with the beaten egg or you can dip the crepe in the beaten egg.
Place on the saucepan as the first layer.
Spread the crepe with shrimp masala, spread it evenly.
Take the second crepe, dip in beaten egg or spread with egg on both sides.
Place over the shrimp masala.
Spread the crepe with shrimp masala.
Repeat this, I made 4 layers of crepe and shrimp masala. Top layer should be crepe dipped in beaten egg.
You can make upto 8 layers.
Cover the saucepan with the lid.
Make sure the heat is low, else the bottom crepe will turn brown.
Cook for 10 to 15 minutes till bottom crepe has turned golden brown.
Using 2 wide spatulas, take the crepe/shrimp out of the saucepan and flip it over; place on the saucepan.
It wil be set well. Egg wash will help to glue the crepes well.
Or you can close the saucepan with a plate and turn it upside down.
Cook covered, let the other side cook for 10 to 15 minutes.
Open the lid, cover the saucepan with a plate and turn upside down.
The chatti pathiri will fall nicely onto the plate.
Keep covered for a few minutes.
Before serving, cut into wedges and enjoy.
Notes
I've made 4 layer chatti pathiri: with 4 crepes and shrimp masala.
You can make up to 8 layers: with 1½ cups flour, you will be able to make around 12 crepes, double the recipe for making shrimp masala to stuff on more crepes.
You can use chicken or beef stuffing as well.