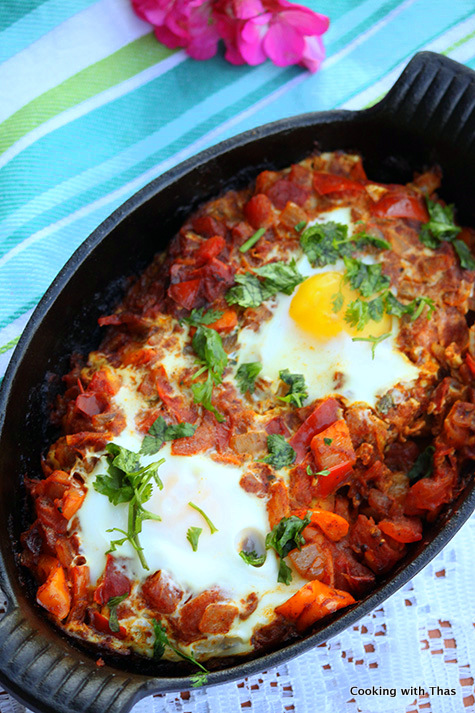 Shakshuka, poached eggs in cooked tomatoes is a popular Middle Eastern dish…
This is a staple dish served for breakfast in many Middle Eastern countries, and also in North Africa. It's cooked in a cast iron skillet and served in it as well. It's a complete meal: onions, red pepper and tomatoes are cooked well, seasoned with paprika and ground cumin- these will impart a nice smokey flavour. Eggs are cracked into the sauce and are poached to perfection. Makes a perfect breakfast along with toast.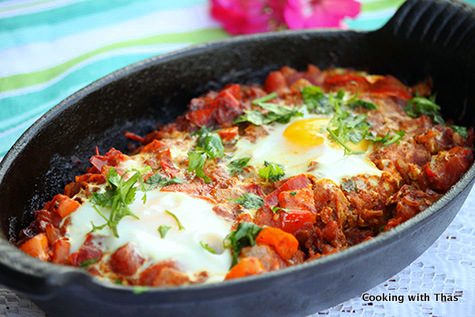 How to make Poach Eggs in a Microwave: Click here
For Other Poached Eggs Recipe, click here
Preparation Pictures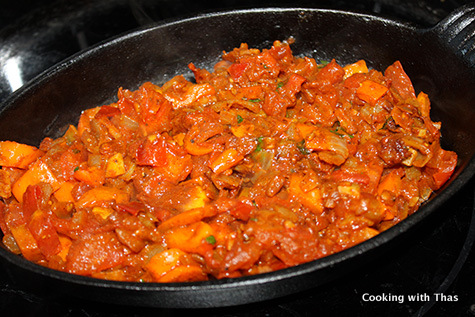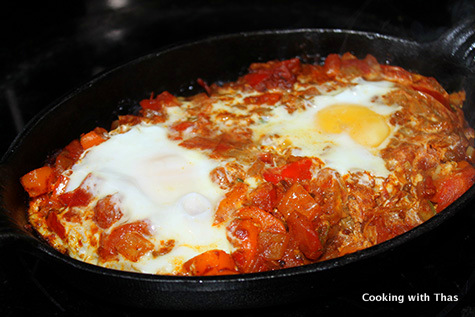 Shakshuka- Poached Eggs in Tomato Sauce
Ingredients
Olive Oil- 3 tbsp
Yellow or White Onion, chopped- 1
Garlic chopped- 2 cloves
Red pepper, chopped small- 1
Tomatoes, chopped- 4 (or use 1 large can diced tomatoes)
Ground cumin- 1½ tsp
Paprika- 1 tbsp
Ground pepper- ½ tsp (or use cayenne- ¼ to ½ tsp or chili powder- ¾ tsp)
Salt- to taste
Cilantro or Parsley, chopped- 2 handfuls
Eggs- 2 to 4
Instructions
Cook this in a cast iron skillet so that you can serve in that. Or cook in a non-stick pan.
Place the cast iron pan over medium heat, let turn hot.
Add olive oil.
Add onion, season with salt and saute till translucent.
Add garlic, saute for a few minutes.
Add red pepper, saute till onion and pepper have slightly browned.
Add paprika, ground cumin, ground pepper and salt. Combine well and saute for a few seconds.
Add tomatoes, combine well and cook covered till mashed well.
Add ¼ cup water and cook for 2 minutes.
Add cilantro or parsley, combine well.
Using a spoon make a well- crack an egg into it. Based on the size of your pan, you can crack 4 to 5 eggs.
Spoon some sauce over the egg whites, yolk should be visible.
Cover and cook for 10 minutes till egg white has almost set, yolk shouldn't harden- it should be slightly runny.
Garnish the poached eggs with cilantro and ground pepper.
Serve with toasted bread.