Protein rich egg white sandwich for breakfast in less than 2 minutes…
My husband makes this egg white sandwich quite often for breakfast and is definitely one of his favorites. It's important to have a protein rich breakfast. So, this egg white sandwich is perfect, you get the needed protein from the egg white and the fiber from the multi grain bread.
We microwave the egg white for a couple of minutes and so it's quick and easy to make before we rush to work in the morning.
My man ordered the egg white separator from ebay, it only costs $1. It's much cheaper than buying egg whites from the grocery stores. I love this little tool, mess free way of separating the egg whites.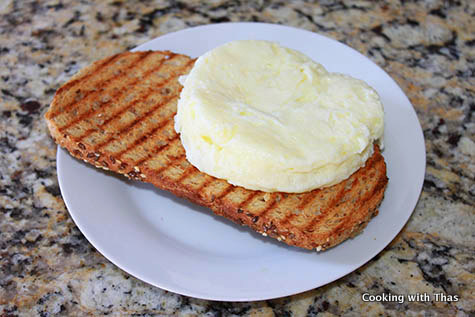 Preparation Pictures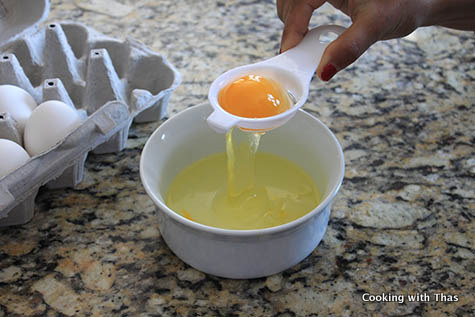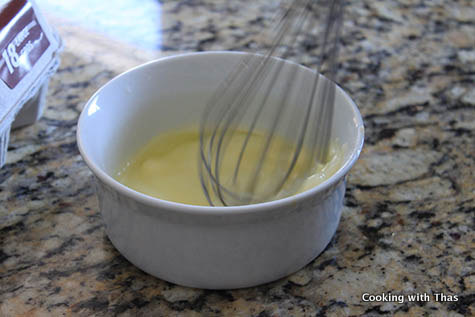 Quick and Easy Egg White Sandwich Micorwaved
Ingredients
Egg whites- whites separated from 2 large eggs or use store bought egg whites
Melted butter, unsalted- 2 tsp (optional)
Ground pepper- 2 pinches (optional)
Salt- a few pinches (optional)
Sliced bread or english muffin
Instructions
Pour the eggs one at a time through the egg white separator. Or use store bought egg whites.
In a microwave safe bowl, whisk the egg whites, butter, ground pepper and salt together.
Place the bowl in the microwave, cover the bowl with a microwave safe lid and microwave for 1 minute 30 seconds at full power.
Remove the bowl from the microwave.
Toast the bread in a toaster or on a non-stick pan till golden brown and crispy.
Place the microwaved egg whites between the toasted bread and enjoy for breakfast.
Notes
If you want you could place one sliced cheddar cheese over the microwaved egg white and sandwich them between the breads.