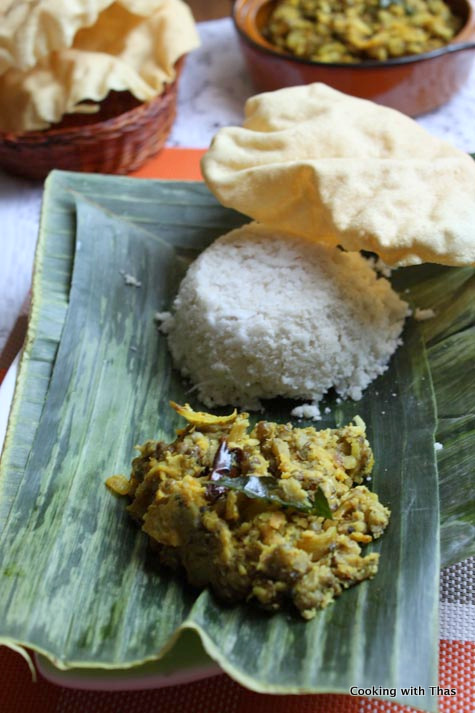 One of the popular Kerala breakfasts…
Rekindling old memories!
Puttu or steamed wet rice flour, payar or mung bean stir fry and pappadam or lentil wafers: the sight of these dishes together in a plate itself will make any Keralites drool. This has been a breakfast delicacy of Kerala for so many centuries and is still devoured by many with so much greed. Puttu when made in a round mould reminds me of snow balls and I call it as "edible snow balls". I'd already posted the recipe for making puttu. Puttu is nothing but steamed rice flour, rice flour is made wet by sprinkling water to it and is added to the mould alternated with grated coconut and is steam cooked. Puttu can be served with literally any kind of curries: chicken, mutton, fish, chick peas curry or kadala curry, veggie curry etc. However, one of the popular ways of serving puttu in Kerala is with payar or mung bean and pappadam or wafers. I am a huge fan of mung bean and so this payar or mung bean stir fry is one of my favorites. Pappadam which is lentil based wafers is commonly served as a side with many dishes in Kerala, it's fried in oil and the crispy pappadams are enjoyed by both kids and adults.
This morning when I was thinking of some breakfast ideas I was reminded of this breakfast delicacy. It's been so many years since I had made this and that encouraged me to make this in my kitchen. Since the clocks sprung forward today, by the time I made all these it was almost past breakfast and hence I served this for brunch, my husband and I enjoyed this so much.
Here is the puttu recipe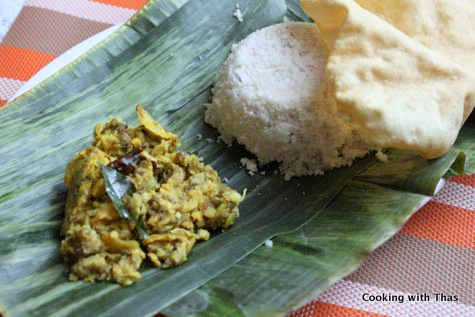 Payar Thoran or Mung Bean-Coconut Stir fry
Ingredients
Mung bean- 1 cup
Water, to cook mung bean- 2 cups
Salt- to taste
Oil- 1 tbsp
Mustard seeds- 1 tsp
Whole dry red chili- 2
Curry leaves- 1 sprig
Onion, chopped small- 1, large
Turmeric powder- ¼ tsp
Chili powder- ½ to 1 tsp
Grated coconut- 1 cup
Salt- to taste
Instructions
Cook the mung bean along with water and a little salt in a pressure cooker till 2-3 whistles. Remove from heat and let the pressure subside.
Heat a non-stick pan over medium heat, add oil.
Add mustard seeds, let it splutter.
Add dry red chilies and curry leaves, saute for a couple of seconds.
Add onions and a couple of pinches of salt. Saute till light golden.
Add turmeric powder and chili powder, combine well.
Add grated coconut, combine well and stir fry for a few minutes.
Add the cooked mung bean, stir fry for a few minutes.
Have a taste and add more salt or chili powder if needed.
Remove from the heat and serve along with puttu.
Pappadam or lentil wafers
Here is how to make Healthy microwaved Pappadams.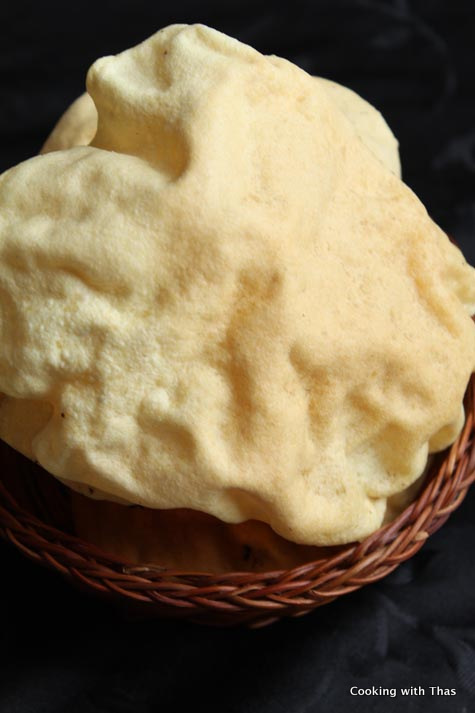 Pappadam or Lentil Wafers
Ingredients
Lentil wafers, store-bought- depending on your needs
Oil- enough to deep fry
Instructions
Pappadam or lentil wafers is sold at all the Indian stores. It is gluten free.
Heat oil in a frying pan.
To check if the oil is hot enough, add a small piece of the pappadam and if it bubbles up the oil is ready to fry.
Immerse the pappadams into the oil, it will bubble up or fry up instantly.
Once it is fried, remove using a slotted spoon and place it on a paper towel
Notes
If you want to make healthy pappadams: instead of deep frying, microwave each pappadams in high heat for 2 minutes or so