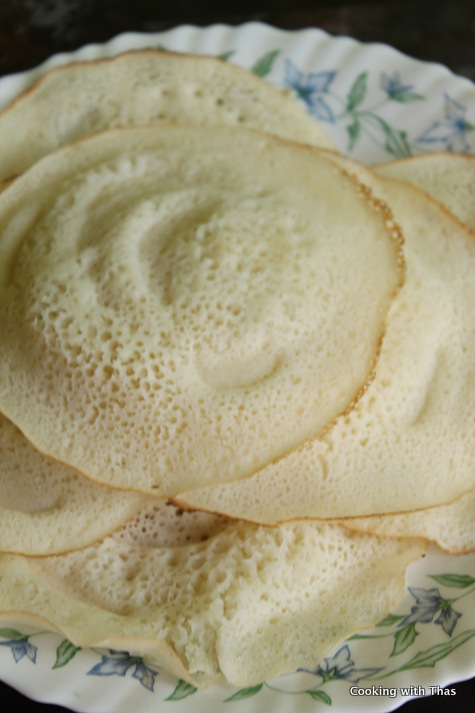 Soft and fluffy ottappams made in a clay pan…
I had waited so long to make this in my kitchen, finally my wait ended and I made the perfectly fluffy and soft ottappams. You have to have the clay pan to make this, it won't turn out good when made in a non-stick pan. I am back to blogging after a 3 weeks vacation in India and Dubai. I had a wonderful vacation with my family and friends, wish I could freeze time. All the great times that I had with my family have become great memories now!
This time, I made sure that I take the clay pan for making ottappam with me. My mom gave her pan so that I don't have to go through the trouble of seasoning the clay pan. I bubble wrapped the pan and placed it safe in the carry on bag, I didn't want to take any chances by putting it in the luggage. I felt so relieved when I found the pan intact after I reached home.
If you are using a new clay pan, you need to season it before you make the ottappam. First, you need to heat water in the pan so that the hot water would remove any smell in the pan. One of the ways to season the clay pan is by rubbing egg shells on the pan, keep doing this everyday and then try making the ottappam. For the first few days, it will stick to the pan after you use the pan for a couple of times it gets better.
Clay pan has to be placed on a burner stove top as the pan has to be heated well. It is said that the pan would crack if placed on coil or ceramic flat surface stove top. I didn't have the burner stove top, mine is a ceramic flat surface so I was really skeptical. Fortunately, the pan didn't crack. I think if it's kept on the ceramic flat surface for a long time it might crack, I am not sure about it though. I am so glad that the ottappams turned out well.
Ottappam is very popular in my family, I am not that sure about the origin of this particular appam. This is commonly made in some parts of Tamil Nadu and also in Kerala. So, I would say this is a South Indian speciality. This can be related to pancakes, made with rice flour and eggs. Ottappam is mostly served with chicken or mutton curry. It also tastes good when had with coconut milk and sugar. Once you try this you will fall for it. It's so soft, fluffy, light and tastes spectacular.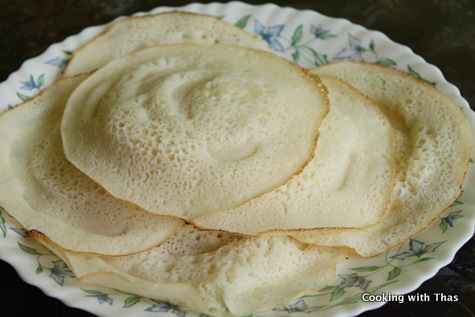 Cooking Video: How to make Ottappam
Preparation Pictures
Clay pan for making Ottappam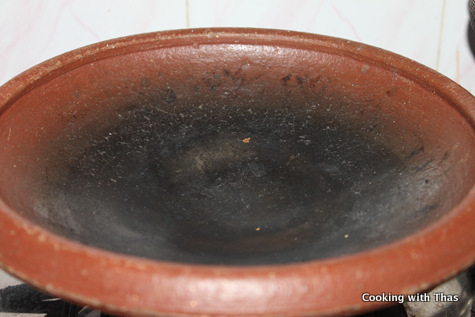 Making Ottappam in the clay pan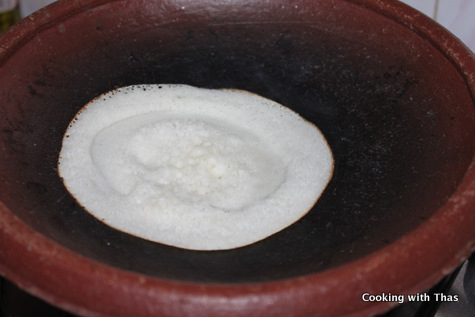 Ottappam or Ottada recipe- Ottappam made in a clay pan (Rice pancakes)
Ingredients
Rice flour- 1½ cups
Eggs- 2
Water- ¾ cup
Salt- a couple of pinches
Instructions
You have to use clay pan to make this, it won't come out good in a non-stick pan.
If you are using a new clay pan, season the pan well before you make this; rub the pan with egg shells a few times, rinse with water and use it.
The more you use the clay pan the better it gets. So, don't hesitate to steal your mom's ottappam clay pan (that's what I did :P)
In a blender, grind the flour, eggs, water and salt together to a smooth paste.
The batter should have the right constituency. It shouldn't be too thick nor too thin.
The clay pan works better and won't crack when placed on a burner stove top.
I placed it on a ceramic flat surface, luckily the clay pan didn't crack.
Heat the clay pan over medium high heat.
The pan has be heated really well for making perfect ottappams. It won't come out well in low heat.
Grease the pan with non-stick cooking spray.
Pour a large spoonful of batter over the pan, using the back of the spoon spread the batter to thin small round shape. Don't pour too much batter.
You can see that holes are starting to form in the middle of the appam, that's what we need. It might take a few turns to make the perfect ottappam.
It will cook very fast so watch out, remove the ottappam using a spatula and place it on a plate.
After you are done making the ottappams, don't keep the hot clay pan in cold water, let it cool down completely before you clean it with water.
Ottappam can be served with chicken or mutton curry. It can also be had with coconut milk and sugar.