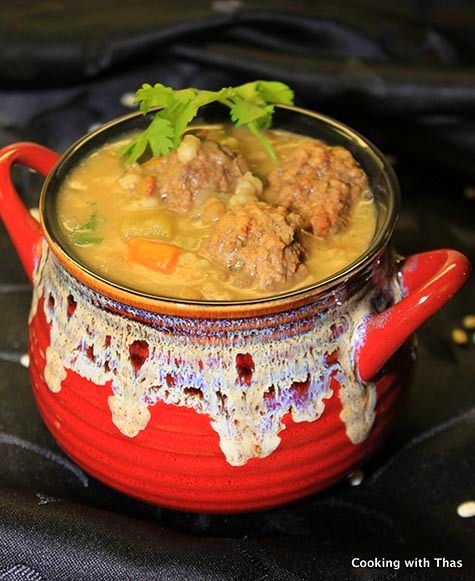 Meat balls and barley cooked together and made into a hearty and delicious soup…
Spring has sprung and we are having chilly and gloomy rainy days. A bowl of hearty warm soup is what I want on most days in Spring. Last week, I made this meat ball and barley soup and it was incredibly comforting. I seasoned the ground beef and made into balls, cooked along with barley, celery and carrot. The combination of beef and barley is just phenomenal. This can be made in bulk and can be enjoyed for a few days. It's filling, comforting, tasty and just awesome…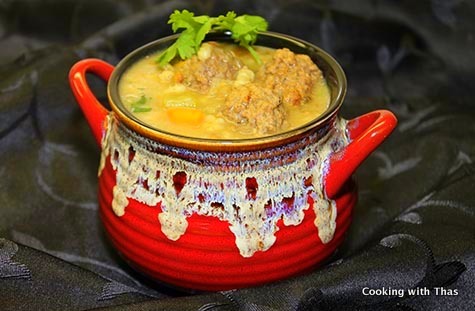 Meat Ball and Barley Soup
Ingredients
For making Meat Balls
Ground beef- 1 lb
Ground Cumin- ¾ tsp
Coriander powder- 1½ tsp
Ground pepper- ½ tsp
Salt- a few pinches
Cilantro, chopped- ¼ cup
Breadcrumbs- ½ cup (optional)
For making Soup
Olive oil or Vegetable oil- 1 tbsp
Onion chopped- 1
Fresh Ginger chopped- 2 inch slice
Carrot, diced- 2
Celery, diced- 2 stalks
Barley- 2 cups (rinsed under water)
Coriander powder- 1½ tsp
Ground Cumin- 1 tsp
Chill powder- 2 tsp
Chicken stock or Beef Stock- 5 cups (Or use water)
Cilantro, chopped- ¼ cup
Salt- to taste
Instructions
In a large bowl, combine ground beef along with the ingredients mentioned above 'for making meat balls'.
Make medium sized balls out of the ground beef mixture and keep aside.
I made this soup in a pressure cooker. If you don't have a cooker, use a large soup pot and cook the soup till the meat balls have cooked well.
Place a pressure cooker over medium heat, add oil.
Add chopped onions, chopped ginger, carrot and celery, season with salt and saute for a few minutes.
Add barley, combine well.
Add coriander powder, ground cumin and chili powder. combine well.
Add chicken stock or beef stock. Let the stock come to a boil.
Add the prepared meat balls into the stock.
Add the chopped cilantro.
Cover the cooker with its lid, place the whistle and cook for 20 minutes or until 2 whistles.
Open the cooker only after the pressure has subsided.
Gently combine the soup well.
If the soup is too thick, you can add some water to thin it down and cook for a couple more minutes.
Taste and add more salt or ground pepper if needed.
Serve in soup bowls and enjoy when it's warm.