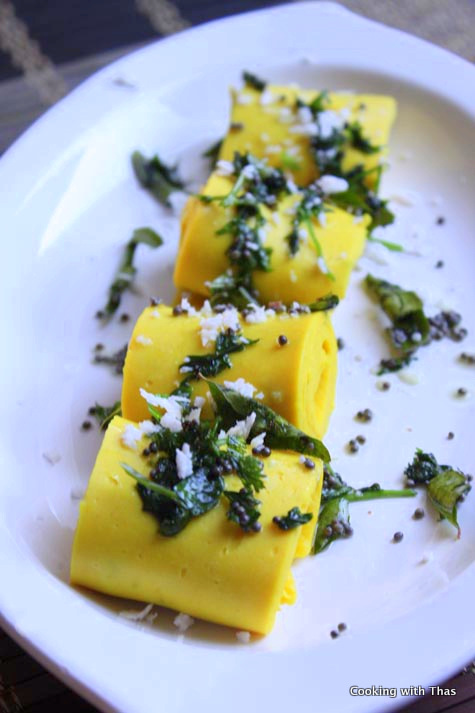 Popular Gujarati savory snack…
After I'd tried Dhokla, my next to-do Gujarati dish was Khandvi. Both dhokla and khandvi are prepared using similar ingredients. For making dhokla, the fermented batter is steam cooked and is cut into squares. While for khandvi, the batter is cooked till it thickens, the cooked batter is spread over greased plates into thin layer and cut into strips and rolled.
Making the perfect khandvi is quite an art and needs patience and practice to master it. However, the key factors are constantly stirring the batter and the cooked batter should have the right constituency to spread it on the plates. This was the first time I made khandvi, luckily it turned out soft and tasted good as well.
Adding the seasoning gives that extra zing to these savory snacks.
Recipe source, here.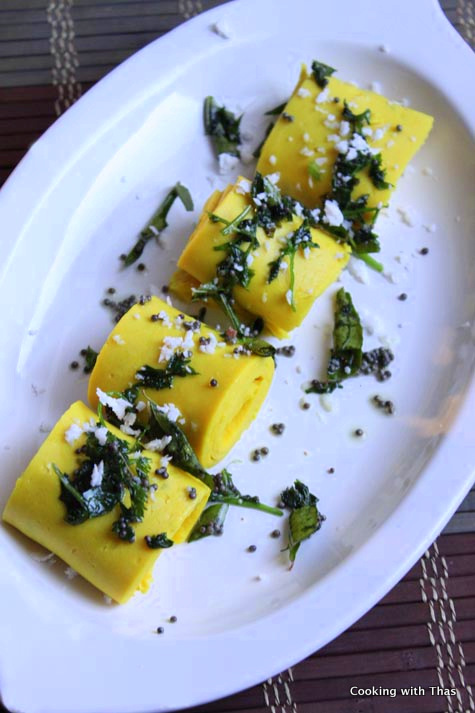 Preparation Pictures
Batter before cooking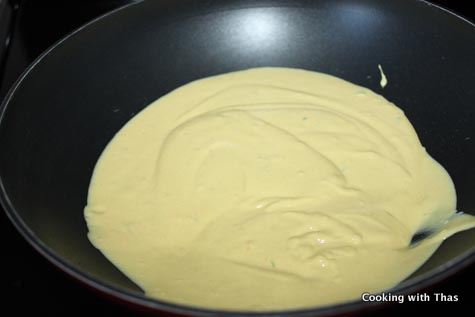 Cooked batter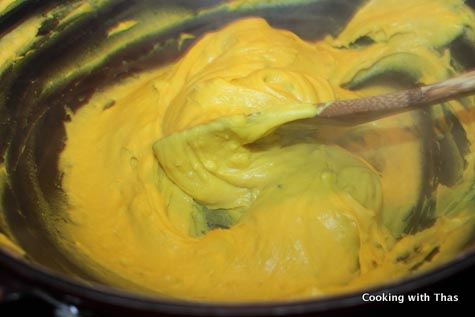 Spreading over the back of the pan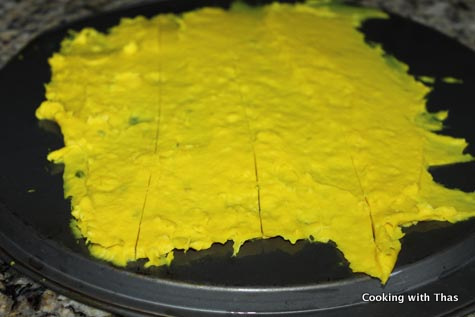 Rolling the strips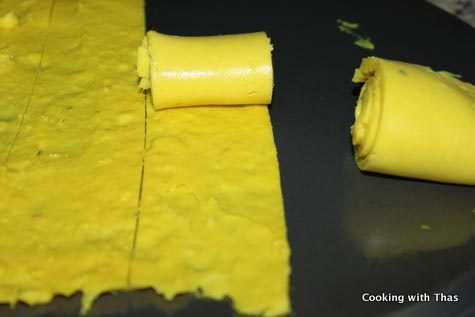 Khandvi Recipe - Gujarati Savory Snack
Ingredients
To grind
Ginger- 1 inch slice
Green chilies- 2
For making batter
Gram flour- 1¼ cups
Yogurt, thick- 1 cup
Water- ½ cup
Turmeric powder- ½ tsp
Salt- to taste
Lemon juice- 1 tbsp
For seasoning
Oil- 1 tbsp
Mustard seeds- 1 tsp
Curry leaves- 1 sprig
Cilantro, chopped- 1 handful
For garnishing
Instructions
Grind the ginger and green chilies to a smooth paste.
Combine the yogurt and water together without any lumps.
Sieve the gram flour into a large bowl.
To the flour, add ground ginger-chili paste, turmeric powder and salt, combine well.
Add the yogurt to the flour mix and combine well using a whisk till smooth and without any lumps.
Add the lemon juice and combine well.
Before you start cooking the batter, grease the back side of two medium baking pans or stainless steel plates using oil. Keep aside.
Pour the batter into a wide pan.
Cook it over medium heat for about 10 to 15 minutes, keep stirring till the batter thickens and becomes smooth. Do not over cook the batter.
Make sure you keep stirring the batter else lumps will be formed.
After the batter has thickened, immediately pour the batter over the greased pans.
Using a flat spatula, spread the batter immediately to a thin layer.
After it has cooled down, cut into 2 inch strips.
Roll each strips tightly.
Place the rolled khandvi on a platter.
Make seasoning: Place a frying pan over medium heat, add oil.
Add mustard seeds and let it splutter.
Add curry leaves and cilantro, saute for a minute.
Pour the seasoning over the rolled khandvi.
Sprinkle grated coconut and serve immediately.