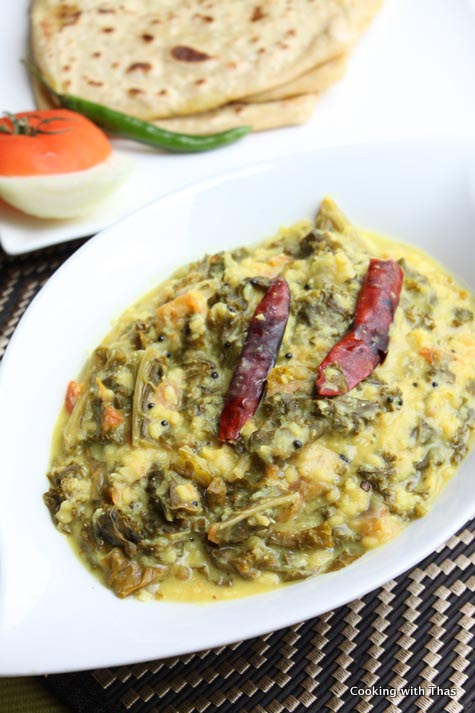 Kale, Mung bean and coconut: light and protein rich vegetarian delicacy…
I've been into North Indian cooking lately, there are a lot to explore and taste. If I make Indian food at home it's mostly South Indian dishes, at times I do make a few North Indian dishes too. I do have a good understanding about most of the South Indian dishes so I thought it's big time I switch to North Indian cooking. Indian cuisine is divided into South Indian and North Indian. However, it's so vast and each state in India has it's own unique flavors and dishes. I will first share all the common North Indian dishes after that I'll experiment with different flavors and spices.
This kale mung bean curry is more of a fusion dish, dal curry is very popular in North India, since I've added coconut it gets a South Indian touch too. Usually, spinach is added but I wanted to make it different so I added kale. You could add chana dal or toor dal instead of mung dal. This curry goes well with rice, chapati, rotis etc.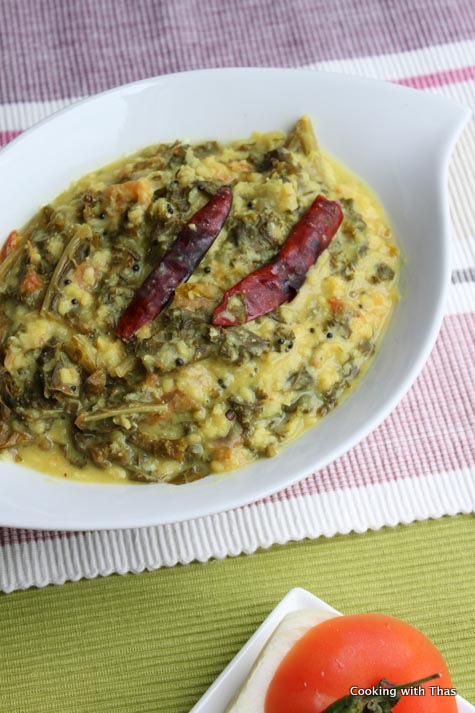 Step by Step Pictures
Cooked Mung bean and kale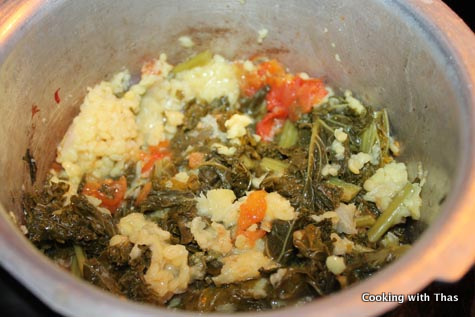 After adding coconut paste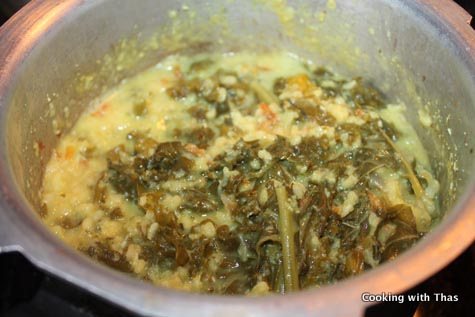 Kale-Mung Bean Dal Curry- Kale-Mung bean in Coconut gravy
Ingredients
Mung bean, (without skin) soaked in water- 1 cup
Kale leaves, chopped- 1 bunch
Green chili, halved- 2
Small onions, halved- 6
Tomato, chopped- 1
Salt- to taste
Water- ¼ cup
To Grind
Coconut grated - ¾ cup
Cumin seeds- 1 tsp
Turmeric powder- ¼ tsp
Water- enough to make a paste
For Seasoning
Coconut oil or vegetable oil- ½ tbsp
Mustard seeds- 1½ tsp
Whole dry red chili - 2
Instructions
Soak the mung bean in water for a few hours till it turns soft.
Chop the kale leaves.
In a blender, grind the coconut, cumin seeds and turmeric powder with enough water to make a coarse paste.
In a pressure cooker, combine the mung bean, green chili, small onions, chopped kale leaves, tomato, salt and water. Cook till 2 whistles.
After the pressure subsides, open the cooker and add the ground coconut paste, combine well.
Cook the mixture and add some water to thin down the gravy.
Let the curry come to a slight boil.
Taste and add more salt if needed.
If you want the curry to be spicy you could add ½ to 1 tsp chili powder while cooking the gravy.
Remove from the heat and keep the curry covered.
Heat a small frying pan, add coconut oil, let it turn hot.
Add mustard seeds, let it splutter.
Add dry red chili, saute for a couple of seconds.
Pour the seasoning over the kale-mung bean curry, combine well and keep it covered for a few minutes.
Serve with rice, chapati, roti etc.
Notes
You could replace kale with spinach or fenugreek leaves or any greens.