Shrimp biryani made in the Instant Pot…
In just 20 minutes, you will devour the most delicious shrimp biryani.
Many have tried my express chicken biryani and have received rave feedback. It's a winning recipe.
If you are a shrimp fanatic like me, you have to try this shrimp biryani in the Instant pot.  Turned out super flavourful and delicious. You will end up making this over and over.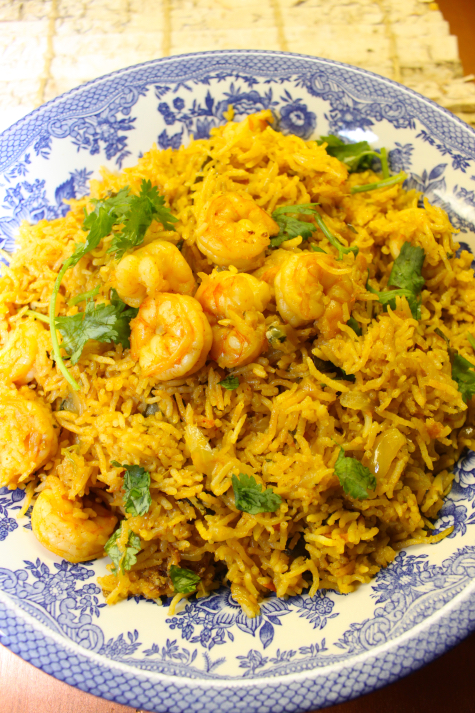 Cooking Video
Instant Pot Express Shrimp Biryani
Ingredients
For making Shrimp Masala
Coconut oil- 1 tbsp
Ghee- 2 tbsp
Whole cardamoms- 2
Dried bay leaves- 2
Onions, sliced- 3
Salt- ½ tsp
Garlic, grated- 2 cloves
Ginger, grated- 1 inch slice
Curry leaves- 1 sprig
Tomatoes, chopped- 2
Raw shrimp- 20 (deveined and shelled)
Kashmiri Chili powder- 1 tsp
Chili powder- ½ tsp
Turmeric powder- ¼ tsp
Coriander powder- 1 tbsp
Fennel powder- 1 tsp
Garam masala- ½ tsp
Salt- ½ tsp
Cilantro, chopped- ¼ cup
Mint leaves, chopped- 8 leaves
Water- 2½ cups
Salt- ½ tsp
Basmati rice, rinsed- 2 cups
Saffron- 2 pinches soaked in 1 tbsp water
Ghee- 1 tbsp
Whole black peppercorns- ½ tsp (optional)
Instructions
Place 2 cups basmati rice in a sieve, rinse under running water. Set aside.
Soak 2 pinches saffron in 1 tbsp water for 3 minutes. Set aside.
Turn on the Instant Pot. I used Ultra model.
Select Saute Mode, normal temperature. Let hot sign display on the screen.
Add oil and 2 tbsp ghee.
Add whole cardamoms and dried bay leaves. Saute for a few seconds.
Add onions, and ½ tsp salt. Saute for a minute.
Add grated garlic, ginger and curry leaves. Combine well.
Cook till onions turn light golden in color, 5 minutes.
Add tomatoes, saute for 2 minutes.
Add shrimp followed by Kashmiri chili powder, chili powder, turmeric powder, coriander powder, fennel powder, Garam masala and ½ tsp salt. Combine well.
Add chopped cilantro and mint leaves.
Add 2½ cups water.
Add ½ tsp salt, combine well.
Add the rinsed basmati rice. Combine well.
Add saffron water and ghee.
Add whole black peppercorns, this is optional.
Close the Instant pot with its lid.
Cancel Saute Mode.
Select Pressure cook mode, high pressure. Set time to 5 minutes. (If using IP 7 in 1 or duo, turn the knob to sealing)
After 5 minutes of cooking, do a quick pressure release.
Open the lid, using a spatula give the biryani a good mix.
Remove the stainless steel pot from the main pot.
Keep covered with a lid for sometime.
Serve with raita, papad, pickle etc.