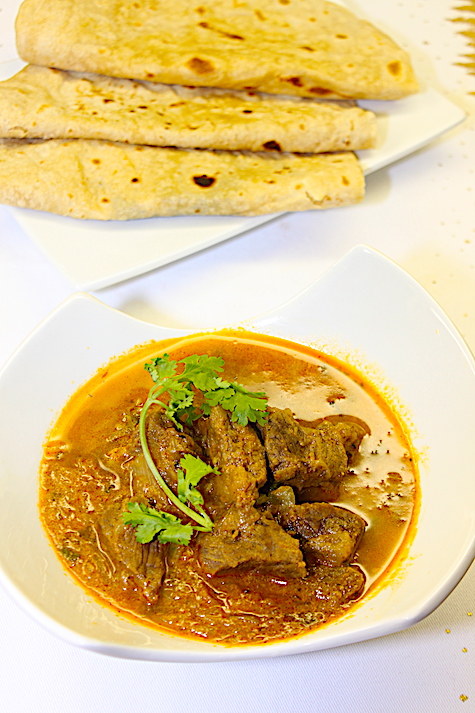 Beef Rogan Josh, a signature dish in Kashmiri Cuisine…
One of the the favourite Indian dishes of my Man and I is Rogan josh. While I order beef rogan josh, my Man will go with lamb rogan josh and we will be seen enjoying it with naan. Making homemade rogan josh that tastes like restaurant style is not that hard- just follow this recipe and your taste buds will be on cloud nine.
It's all about the aromatic whole spices that's used in this recipe and the marinated meat. Whole spices like cardamom, cloves, cinnamon, star anise, peppercorns and cumin are coarsely ground and added to the oil. Onion is cooked till browned and marinated beef is cooked along with it. The whole spices and saffron makes this dish extremely aromatic and fragrant.
I made this in the Instant Pot- cooked the beef for 25 minutes at high pressure with quick pressure release.
Recipe Courtesy: Chef Atul Kochhar
Cooking Video
Instant Pot Delicious Beef Rogan Josh
Ingredients
For marinating Beef or Lamb
Beef or Lamb- 1 Kg or ½ lb
Ginger, grated- 1 inch slice
Garlic, grated- 2 large cloves
Saffron strands- 2 pinches
Yogurt- 1 cup
Salt- 1 tsp
Whole Spices to Crush Coarsely
Cumin seeds- ½ tsp
Black peppercorns- ½ tsp
Whole cardamom- 2
Whole cloves- 2
Whole cinnamon- 1 inch slice
Star Anise- 1
For cooking
Oil- 2 tbsp
Onions, sliced thin- 2
Kashmiri Chili powder- 1 tsp (mild and intense red color)
Turmeric powder- ⅛ tsp
Coriander powder- 1½ tsp
Garam Masala- ½ tsp
Salt- 1 tsp
Cilantro, chopped- 2 handfuls
Instructions
For making this dish, you could either use beef or lamb.
In a large bowl, combine beef with all the ingredients mentioned 'for marinating beef'. Let marinate for an hour or longer or overnight.
Using a mortar and pestle, crush coarsely the above mentioned whole spices.
If you don't have a mortar and pestle- add the whole spices into a ziplock bag and crush using a rolling pin. Keep aside.
Turn on Instant Pot.
Select Saute Mode- Normal Temperature. Let display turn to Hot.
Add oil and add the pounded whole spices, sauce for 1 minute till aromatic.
Add sliced onions, season with ½ tsp salt. Cook till onions turn light brown- for 5 minutes.
Add the marinated beef, combine well.
Add Kashmiir chili powder, turmeric powder, coriander powder, garam masala and ½ tsp salt, combine well.
Do not add water.
Close the pot with the lid.
Cancel Saute Mode and Select Pressure cook Mode.
High pressure and set time to 25 minutes.
After 25 minutes, do a quick pressure release.
The beef will be cooked very tender. If the gravy is thin, cook in saute mode for a few minutes till gravy thickens.
Add chopped cilantro, combine well.
Turn off Instant Pot.
Remove the stainless pot from the main pot and keep covered.
This is an extremely flavourful and fragrant dish, can be served with chapati, naan or basmati rice.
Notes
If you don't have an Instant Pot- use regular pressure cooker, add ½ cup water after adding the marinated beef cook for 25 minutes.
Or cook in a large pot over stove top- more water will be required and cook covered.