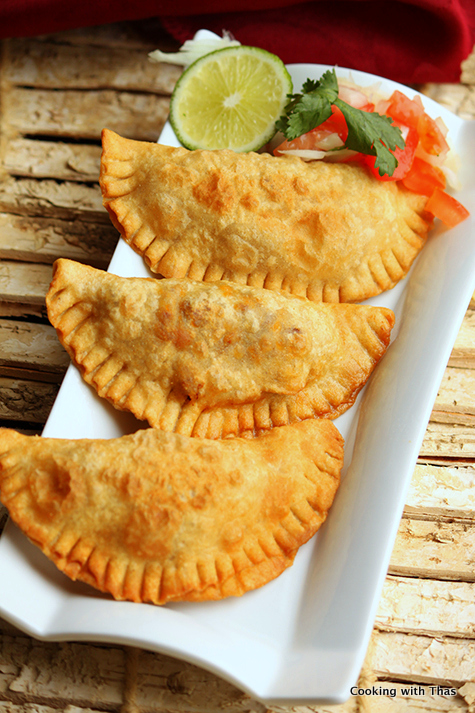 Beef stuffed Poori- ground beef cooked in the Instant Pot and stuffed in wheat dough and fried till golden.
I used ground beef, cooked along with mixed veggies and added some spices, cooked for 15 minutes at high pressure in IP and then cooked in saute mode till all the water has evaporated.
If you don't have IP, you can cook ground beef in a pressure cooker or in a saucepan till it has cooked well.
For the dough, I used whole wheat flour used for making chapatis, stuffed the dough with cooked beef and deep fried till golden and crispy.
Turned out delish, this makes a perfect appetizer or can be served as a main dish.
Instant Pot Cooked Beef- Stuffed Poori
Ingredients
For making ground beef stuffing
Oil- 1 tbsp
Garlic, crushed- 2
Ginger, grated- 1 inch slice
Green chilies- 2
Whole cardamom, crushed- 2
Dried bay leaves- 2
Onions, chopped small- 2
Mixed veggies, chopped small- 1 cup ( carrot, peas, corn, beans)
Ground beef- 1 Lb or ½ Kg (or use ground chicken)
Chili powder- 2 tsp
Turmeric powder- ¼ tsp
Cumin powder- ¾ tsp
Coriander powder- 2 tsp
Fennel powder- 1 tsp (optional)
Garam Masala- ¾ tsp
Salt- 1 tsp
Cilantro, chopped- ¼ cup
Mint leaves, chopped- 8 leaves
For making the dough
Wheat flour- 1 cup (I used Pillsbury Chakki Atta)
Warm Water- enough to make a soft dough- around ¼ cup
Salt- ⅛ tsp
Oil- ½ tbsp
Instructions
Cooking Ground beef stuffing in Instant Pot
Turn on the Instant Pot- I used Ultra IP.
Select Saute Mode- Medium temperature-click start.
After it turns Hot.
Add oil, to the oil add- garlic, ginger, green chilies, whole cardamom and dried bay leaves, saute till golden.
Add onions, season with a few pinches of salt, saute till onions turn translucent.
Add mixed veggies, combine well.
Add ground beef, combine well.
Add all the masalas along with 1 tsp salt, combine well.
Add cilantro and mint leaves.
Cancel Saute mode.
Close the IP with its lid.
Click- Pressure- high pressure- set time to 15 minutes.
Let cook for 15 minutes.
After that do a natural pressure release.
Open the lid, there will be some liquid that oozed out of the ground beef in the pot.
Cancel pressure mode and click on saute mode- high temperature.
Taste and add more salt or chili powder for spice if required.
Stir fry till the liquid has completely evaporated and ground beef starts to brown.
Remove the stainless steel liner from the main pot and keep covered.
Making the dough
I used Pillsbury brand Chakki Atta- I love this brand, makes soft dough and soft rotis.
Take the flour in a large bowl. Add salt and oil, combine well.
Add warm water little by little and combine well till you get a soft dough- around ¼ cup water will be enough for this brand flour.
Amount of water depends on the kind of flour you are using, so add water little by little till you get a soft dough.
Knead well till the dough turns soft.
Keep aside the dough for 5 minutes.
Make small balls out of the dough.
On a clean wooden board or countertop.
Dust with wheat flour, place the dough ball, dust with flour and roll to a thin round shape.
Place 2 tbsp cooked beef stuffing on the center of the rolled dough.
Close the dough to a semi circle shape.
Seal the edges, press the edges with a fork.
Heat enough oil for deep frying in a frying pan.
Place the beef stuffed poori in the oil and fry till both sides turn golden.
Transfer to a plate lined with kitchen paper towel to absorb any excess oil.
Let cool down, serve with your favorite dipping sauce.
I serve with my favorite onion/tomato salad: I combine 1 minced red onion, 1 minced tomato, 2 minced green chillies, chopped cilantro and season with white vinegar- ½ tbsp and a few pinches of salt.
These stuffed pooris taste delish when enjoyed with this onion/tomato salad.
Notes
Leftover beef stuffing can be served with chapatis.