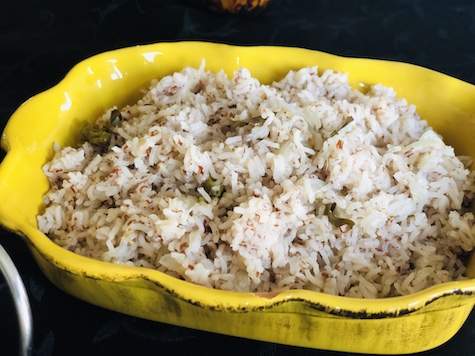 Coconut rice is a South Indian specialty dish…
In Kerala, coconut rice is made with rosematta or matta rice. Matta rice is the red rice that is nutritious and healthy.
In the Instant pot, rice: liquid ratio should be accurate to make the perfect fluffy coconut rice and avoid burn sign. For 2 cups rice, 3 1/2 cups liquid is required. I've added 2 1/2 cups of coconut milk and 1 cup of water. Rosematta rice requires 25 minutes of pressure cooking.
Follow this recipe to make the perfect coconut rice. Coconut rice served with chicken, mutton or beef curry tastes delicious.
Cooking Video
Instant Pot Coconut Rice- Instant Pot Thengachor
Ingredients
To grind
Garlic- 2 cloves
Ginger- 2 inch slice
Green chilies- 2
For Cooking
Coconut oil- 2 tbsp
Whole cinnamon- 2 inch slice
Onion, sliced- 1
Curry leaves- 1 sprig
Salt- 1 tsp
Coconut milk- 2½ cups
Water- 1 cup
Rosematta rice- 2 cups
Instructions
Rinse rosematta rice taken in a strainer under running water. Keep aside.
In a blender or food processor, grind coarsely: garlic, ginger and green chilies.
Turn on Saute mode, medium temperature.
Let hot sign display on the screen.
Add coconut milk.
Add the coarsely ground mixture, saute for 2 minutes.
Add whole cinnamon.
Add onion and curry leaves, season with ½ tsp salt; saute for 2 minutes.
Add 2½ cups coconut milk and 1 cup water. Combine well.
Let the liquid come to a slight boil.
Add the rosematta rice, season with ½ tsp more salt.
Close the pot with the lid.
Turn off Saute mode.
Turn on Pressure cook mode, high pressure, set time to 25 minutes.
After 25 minutes of pressure cooking, do a quick pressure release.
Open the lid, coconut rice will be perfectly cooked.
Take the stainless pot out of the main pot.
Cover the pot with a lid and keep aside for a few minutes.
Serve coconut rice along with chicken, mutton or beef curry.