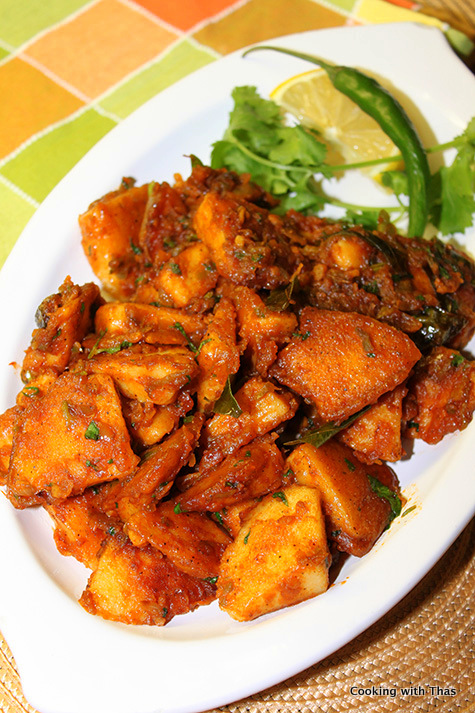 Idli or steamed rice cakes are fried and stir fried in a delicious sauce and you get Idli 65: so delicious and a perfect appetizer…
Idlis are one of the most popular breakfast dishes in South India. They are actually steamed rice cakes, a batter is made by grinding rice and lentil, allowed to ferment and the batter is poured onto the idli moulds and steam cooked. Soft and fluffy Idlis will be ready in a matter of minutes.
Idlis are made on a regular basis at most South Indian houses and are served with sambar or chutney (either tomato or coconut chutney). However, in my family idlis are also served with fish curry or sometimes even with chicken curry. Some people find this to be a weird combination. I truly love idlis along with fish curry, it tastes delicious.
I don't make idlis that often, very rarely I make them and so I'll be seen enjoying them to the fullest. Yesterday, I'd made idli batter and kept the batter in the oven to ferment. Took the batter out of the oven at noon and made idlis for lunch. I served them with fish curry. My man who is not a fan of fish curry found this combination quite odd. Well, I enjoyed it. I'd some leftover idlis and wanted to finish them. I had a crystal clear idea about what to make with the leftover idlis, Idli 65 it is.
Usually, chicken or cauliflower are used for making this dish known as chicken 65 or Gobi 65 respectively. Yes, Idlis can also be turned into Idli 65, this is a fancy way of serving idli. I cannot explain how much my Man and I loved this dish. My Man couldn't believe that it was Idli and he gobbled up with so much greed.
Do try this, this is going to be a huge hit among kids and adults. This can be served as an appetizer or a perfect lunch for kids ( make it less spicy).
Here is the recipe for making Idli, click here.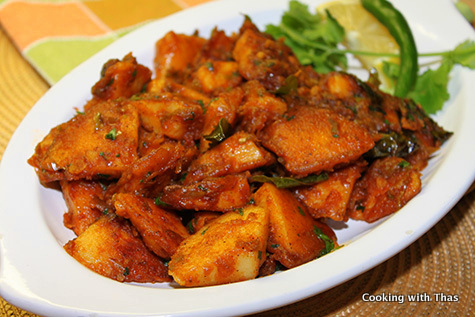 Preparation Pictures
Fried Idlis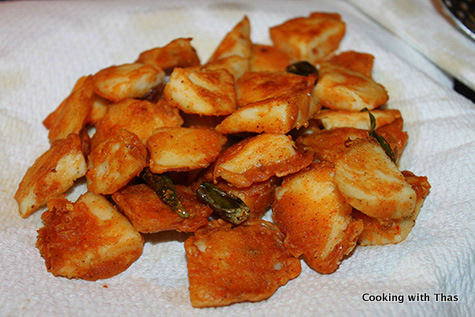 Stir frying onion and green pepper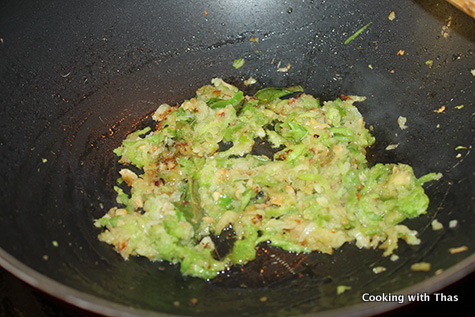 Making Idli 65
Idli 65 Recipe - Idli Fritter Stir fry
Ingredients
Idli, cubed- 12
Oil- for deep frying
Curry leaves- 1 sprig
Green chilies, halved- 2
For making the Batter
Ginger-garlic paste- ½ tbsp
Soy sauce- ½ tbsp ( use low-sodium soy sauce)
All purpose flour- 3 tbsp
Corn starch- 2 tbsp
Kashmiri chili powder- ½ tsp
Ground pepper- ¼ tsp
Water- ¼ cup
Salt- 2 pinches
For making Idli 65
Oil- 2 tbsp used for frying idlis
Ginger, minced- 1 inch slice
Garlic, minced- 2 cloves
Onion, minced- 1 (or shred it in a food processor)
Green pepper, minced- ½ (or shred it in a food processor)
Curry leaves- 1 sprig
Soy sauce- 2 tbsp
Tomato paste- 2 tbsp
Water- ¼ cup
Ground pepper- ¼ tsp
Kashmiri chili powder- ½ tsp (or use regular chili powder if you want more spice)
Lemon juice- 1 tsp
Cilantro, chopped- 2 handful
Instructions
Cut each Idlis into quarters. Keep aside.
In a bowl, combine all the ingredients mentioned "for making the batter" into a thick smooth batter.
Place a frying pan or wok over medium heat, add enough oil for frying.
Add curry leaves and green chilies into the oil.
Dip the cubed idlis in the batter, coat them well and fry in the oil till golden in color.
If you prefer, you could even shallow fry the idlis dipped in the batter.
Transfer to a kitchen paper towel. Keep aside.
Use the same pan or wok used for frying Idlis. Use only 2 tbsp oil used for frying the Idlis.
Add minced ginger and garlic, saute till golden in color.
Add minced onion, season with 2 pinches of salt and saute till onions turn light golden in color.
Add minced green pepper, saute for 3 minutes till the raw smell goes away.
Add soy sauce, tomato paste, combine well and cook for a few seconds.
Add ground pepper, chili powder, saute for a few seconds.
The mixture will turn very dry.
Add water to thin down, let the gravy come to a slight boil.
Add the fried idlis, combine well with the sauce.
Drizzle lemon juice and sprinkle cilantro over it.
Stir fry for a couple of minutes till the gravy gets dry.
Remove from the heat, serve on a plate, garnish with cilantro, lemon wedges and green chili.
Serve as an appetizer and enjoy when it's warm.
Notes
Make sure to mince the onions and green pepper, or shred them in a food processor.