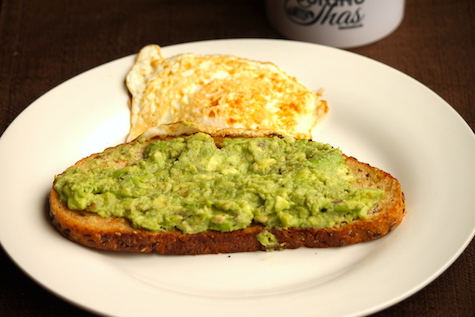 Avocado toast along with over-easy egg, healthy breakfast…
Avocado is a superfood: rich in fiber, loaded with heart-healthy monosaturated fatty acid, lowers cholesterol, high in powerful oxidants, etc.
I often make avocado smoothie for breakfast, diced avocado can be added to salads, make guacamole, so many ways of turning avocado into a delicious dish.
Here is a super healthy dish with superfood avocado, perfect for breakfast.
Other Avocado recipes on my blog, click here
Other Breakfast recipes on my blog,click here
Healthy and Easy Avocado Toast- Healthy Breakfast Recipe
Ingredients
Avocado, ripe- 2
Ground pepper- a few pinches
Salt- a few pinches
Lime juice- 1 tsp
Whole wheat or Multi-grain bread
Eggs
Butter, unsalted- 1 tbsp
Instructions
Use ripe avocados.
Using a knife, cut along the sides of the seed. Scoop out the flesh.
Into a bowl, add the avocado.
Using a wooden spoon or masher, mash the avocado till smooth.
Season with ground pepper and salt.
Add lime juice to prevent oxidation and from turning avocado to brown.
Combine well.
Toasting Bread
Heat a pan over medium heat.
Add 1 tbsp butter, let melt.
Place the bread over the butter, let bottom side turn crispy and golden.
Flip over and toast other side toast as well.
Remove the toast from the pan.
Season the toast with ground pepper and salt. Spread the mashed avocado evenly over the toast.
On the same pan, wipe off using a paper towel.
Crack an egg on the pan.
Season with ground pepper.
Let the egg cook, flip it over and let the other side cook.
Place the over easy egg on the avocado toast and serve.
Enjoy this healthy breakfast.