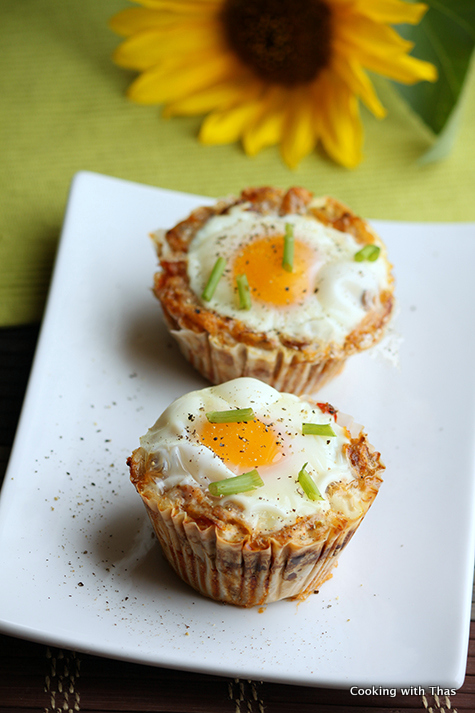 Hash brown and egg cups or muffins, a killer breakfast…
I seldom make fancy breakfast or brunch, not because I am not fancy enough it's just I am too lazy in the morning to cook. On some weekends, I make waffles or pancakes and that puts a huge smile on my Man's face.
Last weekend, quite unexpectedly I made these hashbrown and egg cups for brunch. I actually geared up to make pan fried potatoes and sunny side up eggs, half way through I was hit by the thought of cracking the eggs into the hashbrown cups and then baking it.
Indeed, it was a great idea. My Man and I enjoyed this a lot.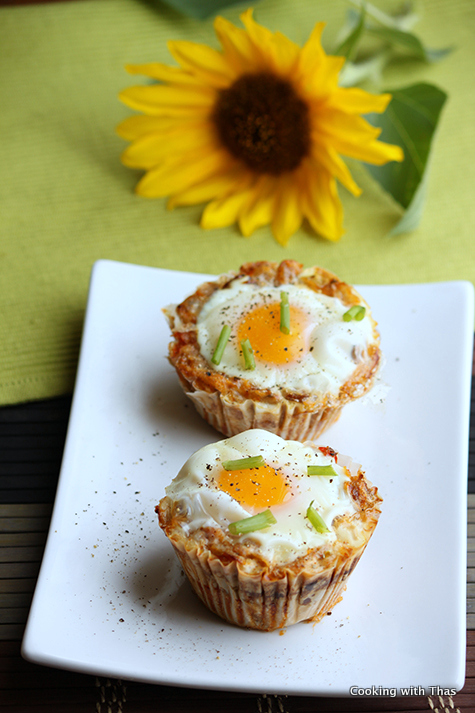 Preparation pictures
Cooked potatoes
After cracking the eggs into the hash brown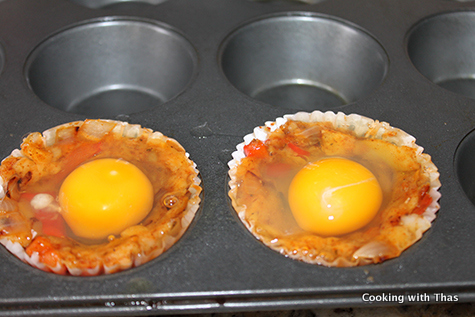 Hashbrown Egg Cups Recipe
Ingredients
Potatoes- 2 (cook in microwave)
Green onions, chopped- to garnish
For making hashbrown
Olive oil- 2 tbsp
Shallots or small onion, chopped- 2 shallots or 5 small onions
Red pepper, chopped small-1
Paprika- 1 tsp
Dried oregano- ¾ tsp
Ground pepper- ¼ tsp
Salt- a few pinches
For baking
Instructions
Preheat the oven to 425 F.
Cook the potatoes in the microwave for 4 to 5 minutes till they are fork tender. Or submerge them in boiling water and cook.
After it cools down, peel off the skin and grate the potatoes using a grater, keep aside.
Place a non-stick pan over medium heat, add olive oil.
Add shallots, season with salt and saute till translucent.
Add red pepper, season with paprika, dried oregano and ground pepper. Cook for a few minutes till red pepper has turned tender.
Add grated potatoes, combine well and cook for 3 minutes till everything has cooked well.
Remove the pan from the heat and let the potato mixture cool down.
Line the cupcake pan with the cupcake liner.
Spray the liner with non-stick cooking spray.
Add 1 to 2 tbsp of prepared potato mixture into the cupcake liner, using your hand press the mixture down and at the side, make some space in the center of the hash brown.
Crack an egg into the hash brown space.
Place the pan into the preheated oven and bake for 15 minutes.
Remove the pan from the oven, sprinkle ground pepper, salt and green onions over the cooked eggs.
Let cool down and serve.