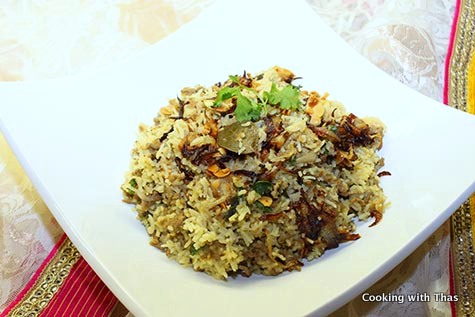 Ground beef biryani that can be made ahead of time and tastes delicious…
Here's a  perfect one pot meal and it's biryani made with ground beef. Give it a try!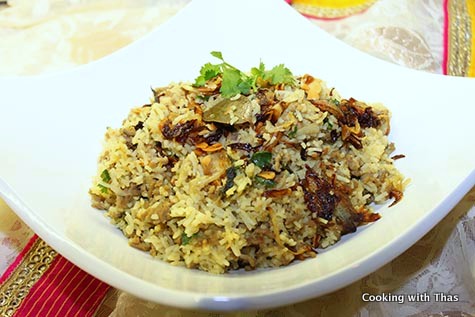 Preparation Pictures
Cooking onion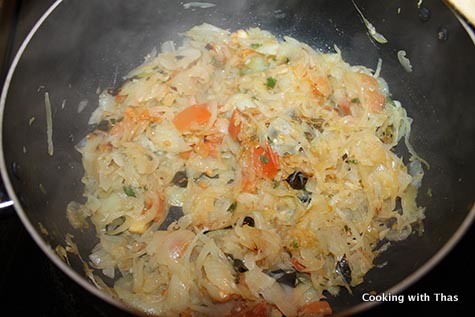 Cooking ground beef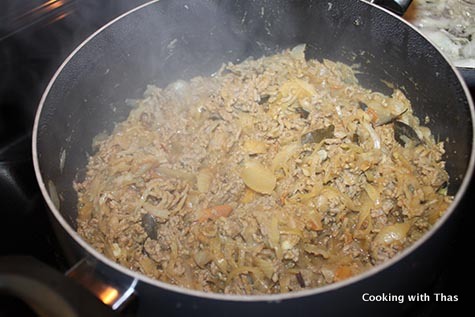 After adding basmati rice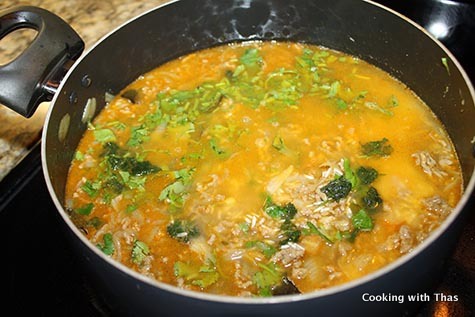 Cooked ground beef biryani
After garnishing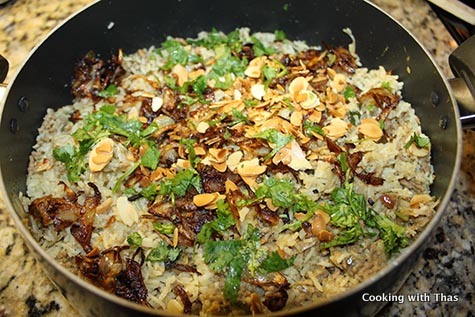 Ground Beef Biryani
Ingredients
To Grind
Ginger- 2 inch slice
Garlic- 3 cloves
Green chilies- 2
Whole cardamom- 2
Whole cloves- 2
Whole cinnamon- 2 inch slice
While making Biryani
Coconut Oil or vegetable oil - 4 tbsp
Bay leaves- 2
Whole cardamom- 2
Whole cloves- 2
Onion, sliced thin and long- 5
Tomatoes, chopped- 2
Ground beef- 1 lb or ½ kg
Chili powder- 1½ tsp
Turmeric powder- ¼ tsp
Coriander powder- 2 tsp
Fennel powder- 2 tsp
Ground cumin- ½ tsp
Salt- to taste
Basmati rice, washed and soaked in water for 15 minutes- 2 cups
Ghee- 2 tbsp
Cilantro, chopped- ¼ cup
Fresh Mint leaves, chopped- 6 leaves
Water- 4 cups
To Garnish
Saffron strands- 2 pinches soaked in 1 tbsp water
Fried onion- 1 onion fried in oil
Ghee roasted almonds or Cashew nuts- ½ cup
Cilantro, chopped- 2 handfuls
Instructions
Prep work
In a blender or food processor, coarsely grind ginger, garlic, green chilies, whole cardamom, whole cloves and whole cinnamon. Keep aside.
Rinse basmati rice taken in a sieve under running water and soak the rice in water for 15 minutes.
Slice 1 onion thin and long, fry in oil till golden brown. Transfer to a paper towel and keep aside.
Roast ½ cup of almonds or cashew nuts in 1 tbsp ghee till golden in color, keep aside.
Soak 2 pinches of saffron strands in 1 tbsp water for 5 minutes.
Cooking Biryani
Place a large non-stick pan over medium heat, add coconut or vegetable oil.
Add bay leaves, whole cardamom and whole cloves, saute for a few seconds.
Add sliced onions, season with salt and cook till translucent.
Add the coarsely ground ginger/garlic/green chili/cardamom/cloves mixture. Combine well and cook till onions turn golden in color.
Add tomatoes, cook for a few minutes.
Add ground beef, combine well using a wooden spoon and break any lumps.
Add chili powder, turmeric powder, coriander powder, fennel powder, ground cumin and salt. Combine well and cook covered till the ground beef has cooked well- about 15 to 20 minutes.
Open the lid, saute till ground beef turns light brown.
Add the soaked basmati rice (after draining the water) to the cooked ground beef. Season with salt.
Add ghee to the rice and add cilantro and mint leaves.
Add 4 cups water. Combine everything well and cook covered for 20 minutes till the rice has cooked and the water has dried off.
Open the lid, have a taste and add more salt if needed.
Drizzle the soaked saffron strands over the ground beef biryani.
Top the biryani with fried onion, roasted almonds or cashew nuts and cilantro.
Keep covered and let stand for 15 minutes.
Just before serving, combine the ground beef biryani and serve the biryani with raita, pickle, pappadam etc.