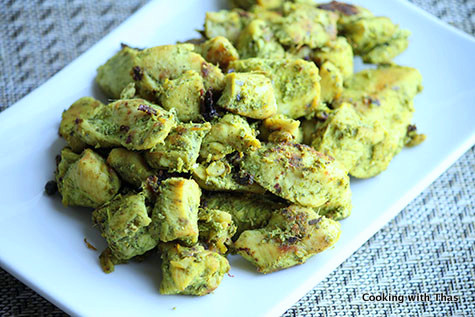 Boneless chicken marinated in a flavorful and aromatic marinade and is pan fried…deliciousness overloaded and very healthy…
I did facetime with my sister and niece in the afternoon and she told me that she had made green chicken for lunch. Perfect timing, as I was quite confused about what to make for my lunch. I didn't think twice, went ahead and made green chicken.
Boneless chicken was marinated in a marinade that was made by pureeing: ginger, garlic, green chilies, whole cardamom, mint leaves, cilantro, curry leaves and whole peppercorns. This marinade is overloaded with flavor and aroma. I let the chicken rest for a few minutes and then cooked in a pan till chicken turned golden brown. This is a dry dish without any gravy, and I served this along with tomato rice. The green chicken tasted absolutely delicious, my Man and I finished it in no time. I'll be making this quite often hereafter.
This makes a perfect appetizer or can be served along with rice, roti or can be made into wraps.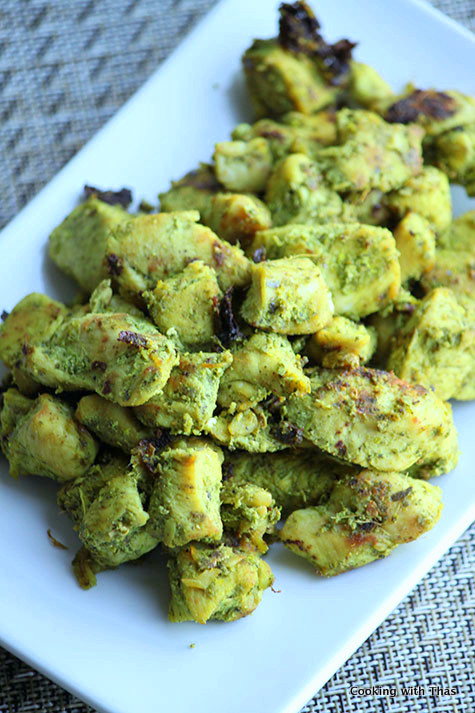 Cooking Video
Green Chicken- Cilantro Mint Chicken
Ingredients
Chicken breasts, boneless, cubed- 2 breasts
Coconut Oil- 3 tbsp
For making the marinade
Garlic- 1 large clove
Ginger- 1 inch slice
Green chilies- 2
Whole cardamom- 2
Whole black peppercorns- ½ tsp
Mint leaves- 10
Cilantro, chopped- 2 handfuls
Curry leaves- 1 sprig (optional)
Turmeric powder- ⅛ tsp
Salt- ¼ to ½ tsp
Water- ¼ cup
Instructions
In a blender, puree all the above mentioned ingredients 'for making the marinade' into a smooth paste.
Cut the chicken breasts into cubes and add them into a bowl.
Pour the marinade over the chicken, combine well and let marinate for 30 minutes.
Place a non-stick pan over medium heat, add oil.
Add the marinated chicken along with the marinade that's left in the bowl.
Cook till the chicken turns golden brown- half way through, flip the chicken cubes over and let both sides turn golden brown.
This is a dry dish and can be served as an appetizer- if you prefer you can insert a toothpick into each cooked chicken cube. Or serve along with rice, roti etc. Or can be made into wraps or sandwiches.
Absolutely flavor packed chicken, enjoy.