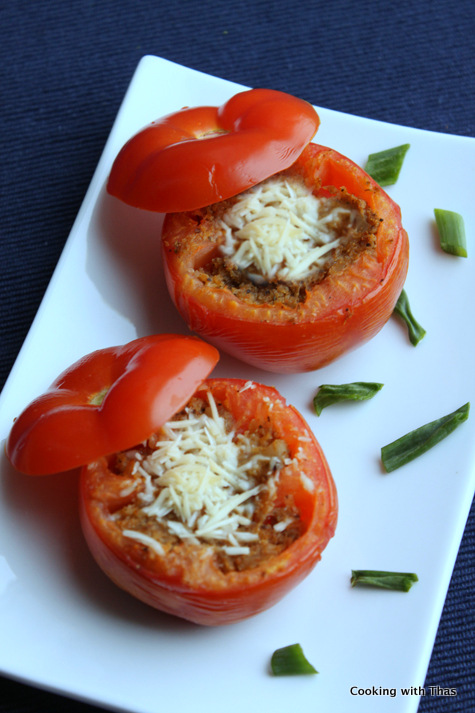 Stuffed tomatoes make a splendid appetizer, these tomatoes are stuffed with grated cauliflower…
I fancy cooking veggies and meat without altering their shape, that explains my love for cooking whole chicken and making stuffed veggies. Keeping the original shape makes a beautiful presentation and tempts anyone to taste that dish.
During my last grocery shopping, I picked up a bunch of fresh and vibrant tomatoes on the vine. This time I wasn't perplexed on what to make, I knew exactly what I wanted to make with those tomatoes: Stuffed Tomatoes. So many ingredients lined up in front of me for making the stuffing: ground beef, rice, mixed veggies etc etc. I had a large cauliflower (I call them caulibride as to me they resemble to a bride wearing a white gown) sitting in my refrigerator and wanted to make something out of it. A few weeks ago, I had made cauliflower rice (grated cauliflower stir fried with herbs and some seasonings which resembles to rice) and it tasted so delicious that I wanted to make it again. I felt grated cauliflower would make a great stuffing for tomatoes and I didn't go wrong.
This cauliflower stuffed tomatoes tasted delicious and the leftover grated cauliflower rice was served as a side dish. This has turned into one of my favorite vegetarian appetizers.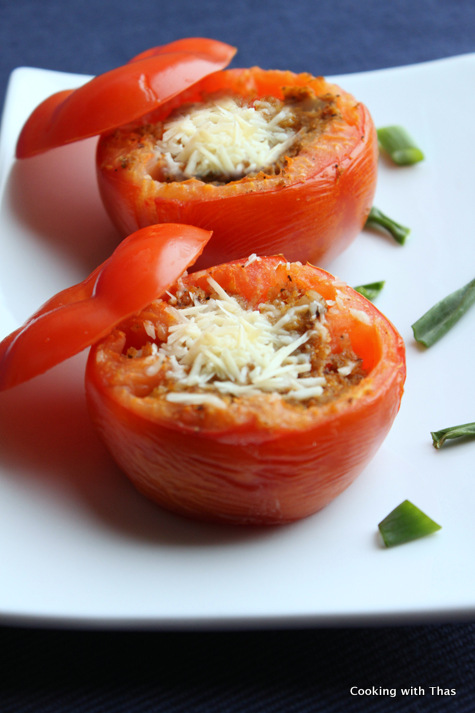 Preparation Pictures
Grated cauliflower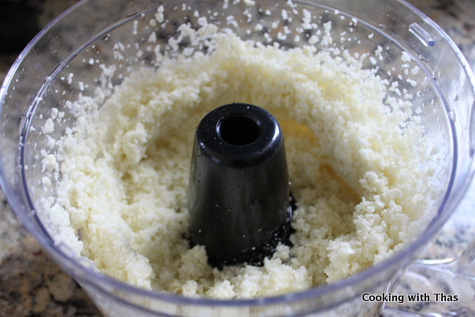 Cauliflower rice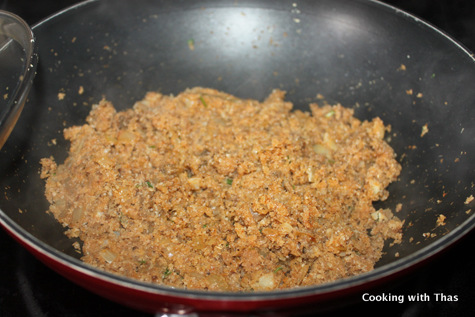 Seeds removed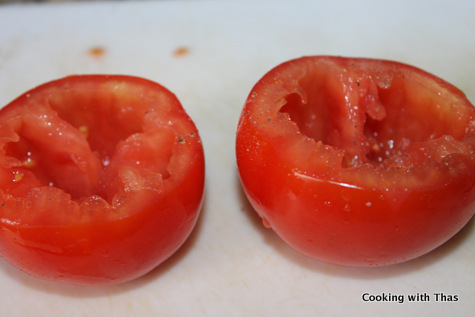 Stuffed with cauliflower
Topped with parmesan cheese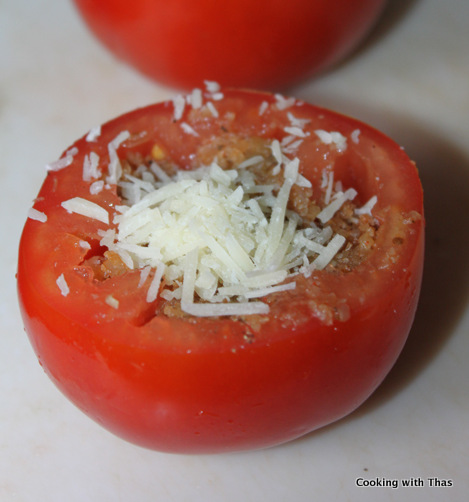 Grated Cauliflower stuffed Tomatoes - Stuffed Tomatoes
Ingredients
For making cauliflower rice
Olive oil- 1 tbsp
Onion, chopped small-1
Garlic, minced- 2 cloves
Grated cauliflower- ½ of a large cauliflower
Dried basil- 1 tsp
Dried oregano-1 tsp
Paprika- 1½ tsp
Ground pepper- ¼ tsp
Lemon juice- 1 tbsp
Salt- to taste
Cilantro or parsley chopped- 2 handfuls
Other Ingredients
Large tomatoes- 8
Parmesan cheese, grated
Ground pepper
Salt
Instructions
Preheat oven to 375 F or 190 C.
Grate or chop the cauliflower florets in a food processor, it should be very fine.
Place a wok over medium heat, add oil.
Add onion, season with salt and saute till translucent.
Add chopped garlic and saute till onions turn light golden in color.
Add grated cauliflower, combine well and cook covered for a few minutes till cauliflower turns tender. If its too dry sprinkle a little water and cook.
Add dried basil, oregano, paprika, ground pepper and salt, combine well.
Cook for a couple more minutes.
Finally, add lemon juice and cilantro or parsley, cook for a minute and remove the wok from the heat. Let cool down.
Cut the tops off of the tomatoes. (Save the tops, makes a great presentation while serving)
Using a spoon, scoop out the seeds from the tomatoes, create a hollow space.
Season the inside of the tomatoes with salt and ground pepper.
Stuff the tomatoes with prepared grated cauliflower rice, about 1 to 2 tbsp per tomatoes.
Top the stuffed tomatoes with parmesan cheese.
Line a baking sheet with aluminum foil, grease the foil with non-stick cooking spray.
Place the stuffed tomatoes on the baking sheet.
Bake them for 20 to 35 minutes. Don't over bake as the tomatoes will fall apart.
Serve the baked stuffed tomatoes warm along with the grated cauliflower rice.
The grated cauliflower rice can be served with any dish instead of rice.
Notes
You could add any kind of spices and seasonings to the grated cauliflower.

For a non-veggie version: Use cooked ground beef to stuff the tomatoes.