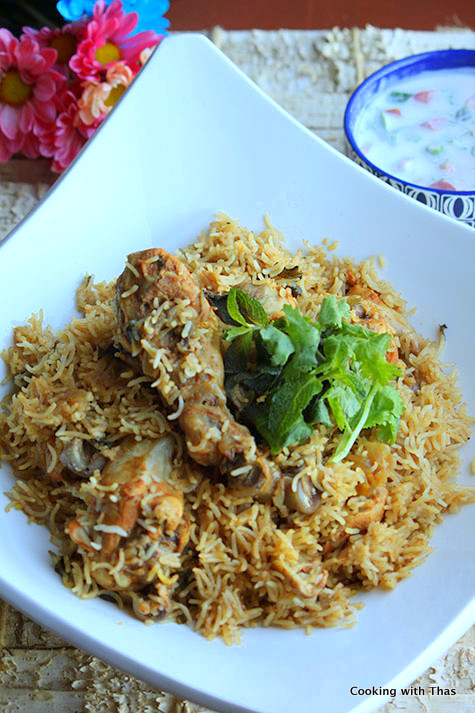 Express Chicken biryani made in the Instant Pot, most flavorful and made effortlessly…
By now, everyone knows well about my obsession for Instant Pot. I don't easily fall for anything unless I get the true value out of it. Before owning an IP, I debated if I already have a pressure cooker, rice cooker and a slow cooker, what difference would IP make. It could be just another appliance that will take up space on my kitchen counter top. However, after owning and cooking in an IP for the past few months, I can only say that it made all the difference in terms of cooking time, taste and being efficient.
Hands down, the best kitchen appliance that actually resolves some of our issues. Hats off and much gratitude to Robert Wang- the man behind the Instant Pot.
Making Chicken biryani in the IP had been on my top to do list ever since I got the IP. Finally, that happened and let me tell you this is the best testing biryani- much much flavorful and made without much effort.
All I had to do was marinate the chicken, soak the rice and saute the onions till caramelized. Chicken was pressure cooked for 5 minutes and then rice was added to the cooked chicken and pressure cooked for another 5 more minutes. Delicious chicken biryani was ready in no time.
Caramelized onions and the rice cooked in the chicken broth that's left after cooking chicken along with some more water really enhanced the flavor of this biryani.
Cooking Video
Express Biryani- Instant Pot Chicken Biryani
Ingredients
To Marinate Chicken
Chicken legs or bone-in pieces- 10
Ginger-Garlic paste- 1 tbsp
Chili powder- 1½ tsp
Coriander powder- 2 tsp
Garam Masala- ¾ tsp
Lemon juice- 2 tbsp
Yogurt, beaten- ¼ cup
Mint leaves, roughly chopped- ¼ cup
Cilantro, roughly chopped- ¼ cup
Salt- 1 tsp
For cooking
Ghee- 3 tbsp + 1 tbsp
Bay leaves- 2
Whole cardamom- 2
Onion, sliced thin- 3
Ginger- Garlic paste- 2 tsp (optional)
Basmati Rice- 2 cups (soaked for 20 minutes)
Water- 1 cup
Mint leaves, chopped- ¼ cup (Must add)
Cilantro, chopped- ¼ cup
Saffron- 2 pinches soaked in 1 tbsp water for 5 mins
Salt- 1½ tsp
Other ingredients
Fried onions
Roasted cashew nuts
Roasted raisins
Instructions
Using a sharp knife, add 2 lines on each chicken pieces.
In a large bowl, combine the chicken along with the above mentioned ingredients 'to marinate chicken'. Combine well, let marinate for 30 minutes.
Turn on the IP.
Click Saute Mode, temperature should be medium or normal- let hot sign be displayed.
Just before you start sautéing the onions, soak the basmati rice in 2 cups water for 15 minutes.
Add ghee, add bay leaves and whole cardamom to the ghee, saute for a few seconds.
Add onions, season with ½ tsp salt. Saute for a few minutes till onions turn translucent.
Add ginger- garlic paste and saute onions till they turn light golden.
Ensure onions are not browned and the bottom of the stainless steel pot hasn't turned brown.
Add the marinated chicken pieces and combine well.
Click cancel to turn off saute mode.
Close the pot with the lid. Turn the knob to sealing and click Manual: high pressure, set time to 5 minutes.. Walk away.
It will take 5 minutes for the pressure to build and 5 minutes to pressure cook.
After the beep, turn the knob to venting and do a quick pressure release. Pressure will be released completely in 2 minutes.
Open the lid, there will be around 1 cup of chicken broth left in the pot.
Now, drain the soaked rice in a strainer and rinse under running water.
Add 2 cups of rice and add 1 cup additional water (for 2 cups basmati rice 2 cups liquid is required).
Add 1 tsp salt, 1 tbsp ghee (optional), mint leaves and chopped cilantro. Combine well.
Add 2 pinches saffron soaked in 1 tbsp water, combine well.
Close the pot with the lid. Turn the knob to sealing and click Manual: high pressure, set time to 5 minutes.. Walk away.
After the beep, do a quick pressure release (QPR).
Open the lid, fluff using a fork.
If you prefer, you can garnish the biryani with fried onions, roasted cashew nuts and raisins.
Fried onions will greatly enhance the taste.
Serve along with raita, pickle, pappad etc. It's finger licking delish!!!
Notes
If using 3 cups basmati rice: add 2¼ cups water. 1 cup chicken broth will be in the pot after cooking chicken.
***Tips: To avoid burn: make sure there is enough liquid while cooking the rice. After cooking the chicken, there will be around 1 cup of liquid in the pot-for cooking 2 cups rice, add 1¼ cups of additional water to ensure there is enough water and this will avoid burning at the bottom of the pot.***