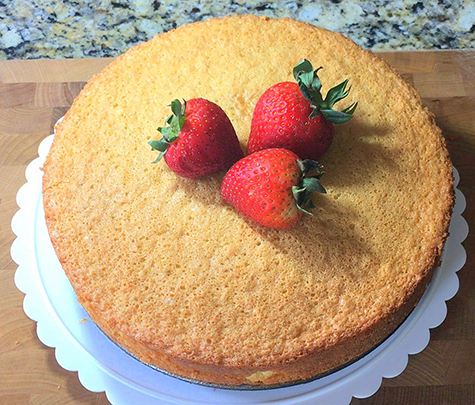 Easiest Sponge cake recipe that can be made effortlessly…
For Eid, I made Sponge cake topped with strawberry mousse, it was Yum. Making sponge cake is the easiest and can be made with basic ingredients. The main ingredient is egg, beaten till fluffy along with sugar and flour is added and folded until well incorporated. Baked to perfection, fluffy and soft sponge cake will be ready in no time.
Here is the picture of Sponge cake topped with strawberry mousse:
You could top the sponge cake with whipped cream frosting, cream cheese frosting or even with vanilla pudding.
How to bake an Easy Sponge Cake
Recipe Courtesy:Joyofbaking

Easy Sponge Cake Recipe
Ingredients
Large Eggs- 6, at room temperature
Sugar- 1 cup
Vanilla Extract- 2 tsp
Cake flour or All purpose flour- 1 cup
Salt- ¼ tsp
Melted Butter- 4 tbsp
Instructions
Preheat oven to 350 F or 175 C.
Grease a springform pan with butter, line the bottom with parchment paper. Keep aside.
Into a stand mixer bowl, add the eggs along with sugar. Using the paddle attachment, beat the eggs at high speed for 8 to 10 minutes till fluffy and the mixture falls like a ribbon.
You could beat the eggs using an electric hand mixer.
Add vanilla extract and combine well.
In a bowl, combine the flour with salt.
Add the flour mix to the beaten eggs in 3 additions and fold well using a spatula until well incorporated.
Melt 4 tbsp butter taken in a bowl in the microwave.
To the melted butter, add ¼ cup of prepared cake batter and combine well without any lumps.
Pour the butter/batter mix into the remaining cake batter and combine well.
Pour the cake batter into the greased pan.
Place on the middle rack in the preheated oven and bake for 40 to 45 minutes or till a fork inserted into the center of the cake comes out clean.
Let cool down in the pan for 5 minutes, run a knife around the inside of the pan and open the springform pan.
Let the cake cool down completely on a wire rack.
This cake can be served as it is or can be frosted with whipped cream frosting, cream cheese frosting or even with vanilla custard or pudding. Topped with fruits or nuts. It's delish!!!
Notes
For making a smaller cake, you could half the ingredients and follow the preparation method.