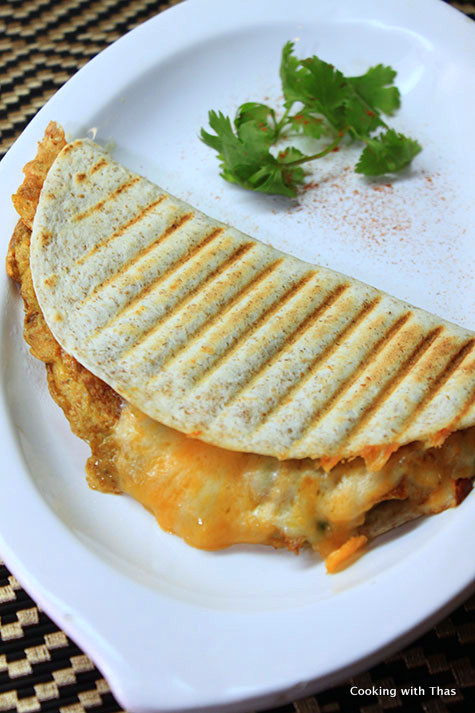 Easy and delicious Omelette burrito, perfect for breakfast, lunch or dinner…
I actually had this at mid-night and yes this helped to succumb to my mid night craving. On weekends, I sleep late and wake up late too. How I love to sleep in the morning without the blare of the alarm. Last Saturday, we had an early dinner and stayed up real late. By mid-night we felt real hungry. We both (My Man and I) hopped into the kitchen holding hands and together we made this Omelette burrito.
It tasted so good and this time I flipped the omelette successfully without messing it up. I'm proud of myself 🙂
Omelette was topped with cheddar cheese and folded in a tortilla and grilled to perfection. It's totally delicious.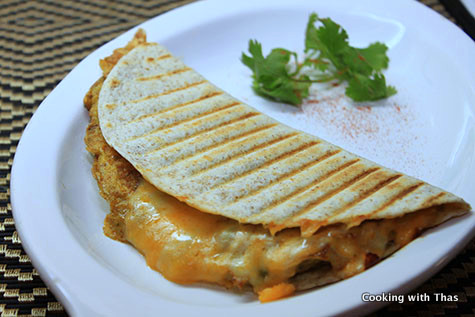 Preparation Pictures
Cooking the omelette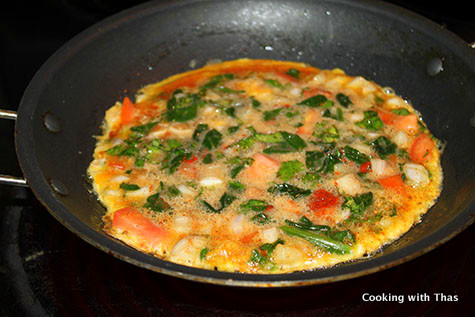 After flipping the omelette over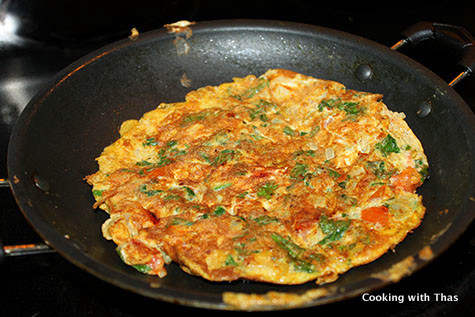 Place the omelette on a tortilla and top with cheese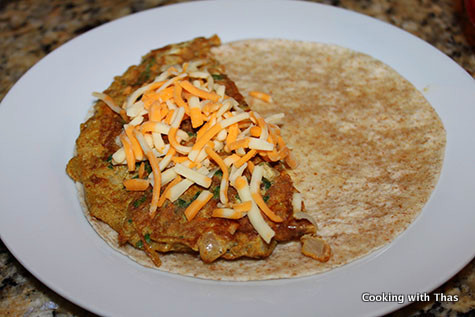 Grilling in a panini maker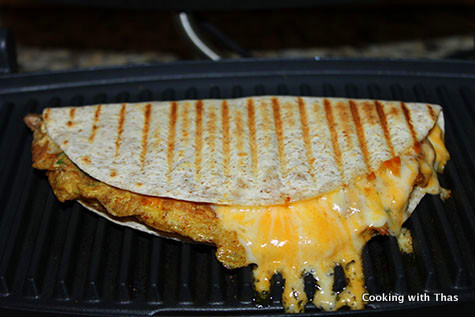 Easy Omelette Burrito- Breakfast Egg Buritto
Ingredients
Making Omelette
Egg- 3
Shallots or pearl onions, chopped- 2
Spinach, chopped- ¼ cup
Tomato, chopped- 1
Cilantro, chopped- a handful
Paprika- 1 tsp
Ground pepper- ¼ tsp
Salt- a few pinches
Olive oil- 1 tbsp
For making Buritto
Tortilla, medium-sized- 2
Cheddar cheese- ¼ cup/buritto
Instructions
In a bowl, whisk the egg well.
Add the shallots, spinach, tomato, cilantro, paprika, ground pepper and salt, combine well.
Place a medium sized non-stick pan over medium heat.
Add olive oil and swirl the pan to spread the oil inside the pan.
Pour the egg mixture, slightly swirl the pan to spread the egg mixture in the pan.
Cook for a few minutes till the bottom of the omelette has set well.
Using a wide spatula, gently flip over the omelette and cook for a few more minutes.
Let the other side cook as well.
Transfer the omelette to a plate.
Using a knife, half the omelette.
Place the halved omelette on one side of the tortilla.
If using large tortilla, place the full omelette on the tortilla.
Top the omelette with cheese.
Fold in the other side of the tortilla over the cheese like a half moon.
Place it on the panini grill and close the lid, grill till cheese has melted.
if you don't have a panini: Place the tortilla with the omelette on a non-stick pan, press it down with a lid and cook till cheese has melted.
Enjoy the delicious omelette buritto.
Notes
You can make the omelette with just egg whites or more egg whites/less yolk, with veggies or skip the veggies. I love adding spinach to my omelette.
Cheese can be added to the egg mixture and make the omelette with the cheese.
You can skip grilling the tortilla/omelette on the panini maker; just warm the tortilla and wrap the omelette/cheese in it.