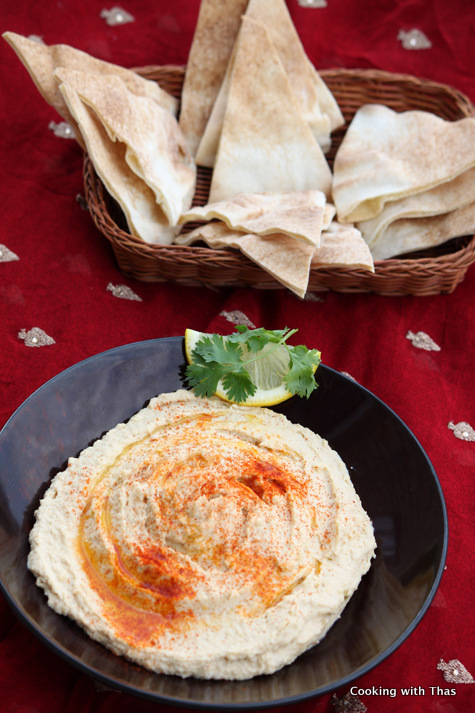 The best tasting homemade hummus that can be made effortlessly…
One of my favorite spreads or dips is Hummus, it's very popular in Middle Eastern cuisine. You wouldn't find any Middle Eastern restaurants without hummus being served along with pita bread. In fact, that's the first thing you would get to enjoy. Hummus is also spread on pita bread while making Shawarma.
Every time, I go for grocery shopping one tub of hummus would tag along with me. And I serve it as a dip for veggies, pita bread, I even have it along with rice. It simply adds an extra zing to everything.
Hummus is nothing but chick peas made into a paste along with other simple ingredients. I knew how to make homemade hummus yet I kept postponing it and I kept buying the store-bought ones. How unfair of me! Finally, I overcame whatever that kept me from making hummus in my kitchen and just made it without much thoughts. Literally, no cooking nor any preparation are involved in making hummus. It's just straight forward, you just add all the ingredients into the food processor and make into a paste. It couldn't get any easier and you get to enjoy the best tasting homemade hummus in just a matter of minutes.
One of the main ingredients added while making hummus is Tahini which is a paste made from hulled sesame seeds. You just have to make a paste of sesame seeds along with olive oil in a food processor and add the paste while making hummus.
Now that I've made hummus from scratch and I know how ridiculously easy it is to make, I will continue to make homemade hummus and enjoy it with almost everything.
I baked the pita bread and turned them into crispy chips and enjoyed them with the hummus. Yum!
Recipe adopted from here.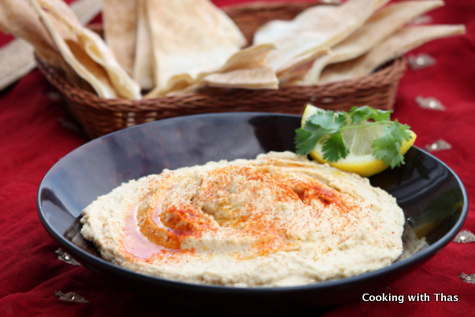 Preparation Pictures
Making Tahini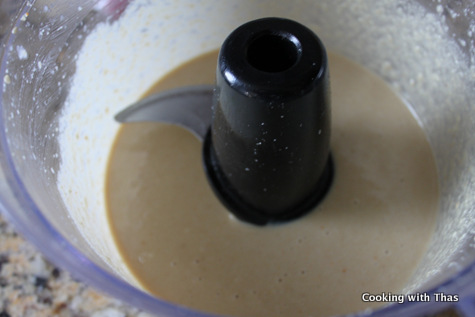 Making Hummus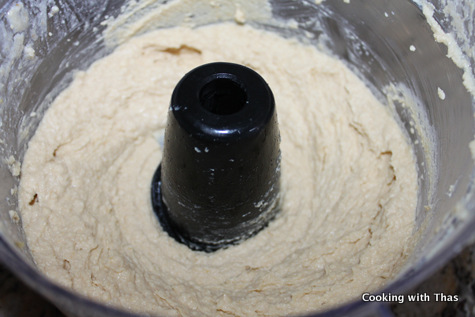 Easy Hummus Recipe - Hummus and Pita Chips
Ingredients
For making Tahini
White Sesame seeds- ½ cup + 2 tbsp
Olive Oil- 4 tbsp ( I used light olive oil)
For making Hummus
Chick peas, canned- 19 ounce (540 mL)
Lemon juice- ¼ cup
Tahini- ¼ cup (home made or store bought)
Olive Oil- 3 tbsp (light olive oil)
Ground cumin- ½ tsp
Salt- ½ tsp
Water- 2 tbsp
Other ingredients
Paprika- ⅛ tsp to sprinkle on hummus
Extra virgin olive oil- 1 tbsp, to drizzle on hummus
Instructions
Add the sesame seeds to a non-stick pan and roast it over medium heat till sesame seeds turn light golden in color and aromatic. Do not over roast it.
Keep aside and let the roasted sesame seeds cool down.
Into the bowl of a food processor, add the roasted sesame seeds and olive oil, puree for 4 to 5 minutes till it turns smooth. Scrape down the sides and bottom of the bowl using a spatula in between.
I added the entire tahini while making hummus. It yielded around ¼ cup.
Into the same bowl, add lemon juice to the tahini and puree for a minute.
Scrape down the sides and bottom of the bowl using a spatula and puree again till a smooth paste is formed.
Drain the liquid from the canned chick peas and pat dry using a paper towel.
You could use the skin on chick peas or you can remove the skin.
Chick peas without the skin will result in much smoother hummus.
Add olive oil, salt, ground cumin and half of the chick peas. Puree for a few minutes till the mixture gets smooth.
Add the remaining chick peas along with water and puree again till smooth.
Scrape down the sides and bottom of the bowl and puree for a minute.
Transfer the hummus into a bowl drizzle extra virgin olive oil over it and sprinkle paprika over it.
Enjoy with pita bread or pita chips.
For making Baked Crispy Pita chips
Preheat oven to 375 F.
Cut the pita bread into wedges.
Place the wedges on a baking sheet lined with aluminum foil.
Bake at 375 F for 10 minutes.
The pita bread will turn very crispy after 10 minutes of baking.
Remove the baking sheet from the oven and let cool down for a few minutes.
Dip the pita chips into the hummus and enjoy.
Making pita chips on stove top: Arrange the pita bread wedges on a non-stick pan and cook over medium low heat till they turn crispy.
Notes
Increase the amount of ingredients to make more batches.