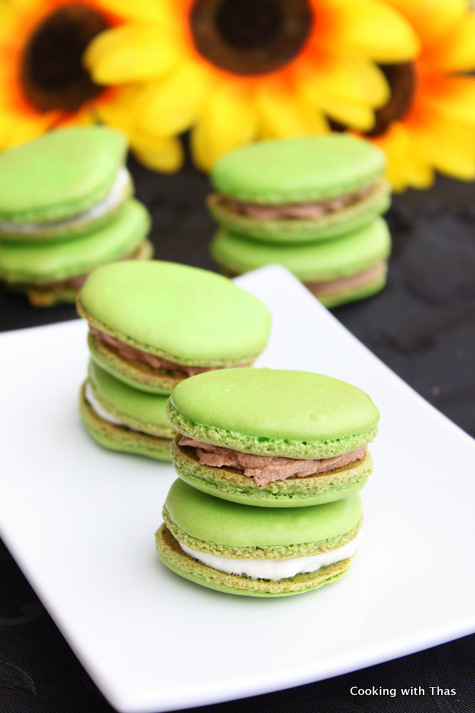 Macarons are sweet meringue based confection made with eggs, confectioner's sugar, ground almonds and granulated sugar. Macarons can be filled with buttercream, ganache or jam filling and then sandwiched to another macaron. It's truly a French delicacy…
Making French Macarons had been on my top to-do lists. Now, I can gladly strike that off and always feel proud that my first ever macaron baking experience turned out amazing. I'd tasted macarons at a pastry shop in Vancouver, a couple of years ago. Since then I'd been wanting to make this, I have no idea why it took so long for me to try it. Better late than never, right?
Last week, I'd looked at some of the macaron recipes online and was amazed to learn that it can be made with a very few ingredients. Instead of flour ground almonds are used, ground almonds are first combined with confectioners sugar. Since, it's a meringue based cookie, egg whites are whipped along with granulated sugar till stiff peaks are formed. The ground almond mix is then folded into the whipped egg whites till a smooth batter is formed. That's it, you are now ready to pipe the batter into round shapes. Could it get any more easier??? It takes only 13 minutes to bake in the oven. Usually, two macarons are sandwiched together, any kind of filling can be used in between them.
Yet another amazing part is that different colors can be added to the whipped egg whites, colorful macarons are in deed a treat to the eyes. Macarons have a crunchy brittle outside and soft inside, it just melts into your mouth. Do not try to count the number of macarons you had eaten, you'll lose your count. It's that delicious and homemade macarons are the best.
Follow the recipe and instructions as it is, you'll be glad that you made these. Honestly, these macarons tasted exactly like the ones that I tasted in the pastry shop. Yay, doing a victory dance!
I've been talking wildly about my macaron baking experience to my Man non-stop, he might wear an ear plug soon 😀
Recipe source, here.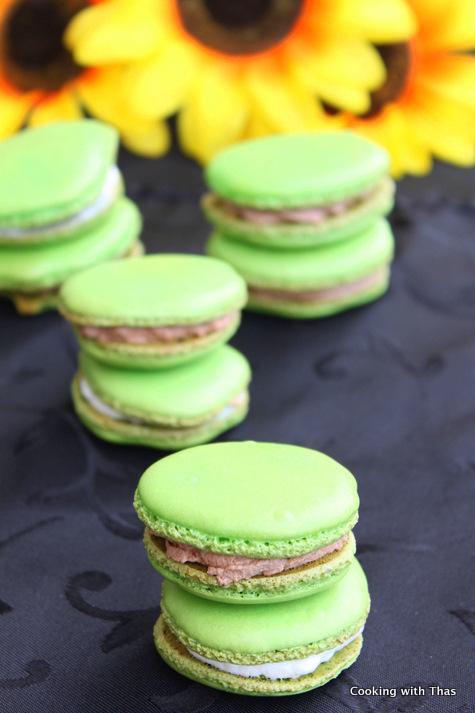 Preparation pictures
Ground almond and confectioner's sugar mix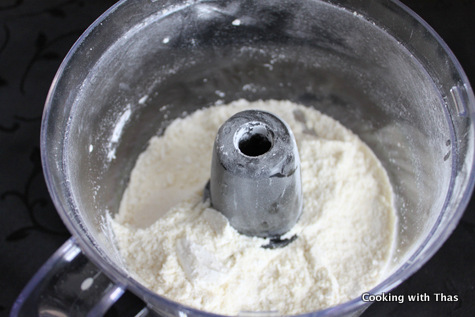 Sifted ground almond and confectioner's sugar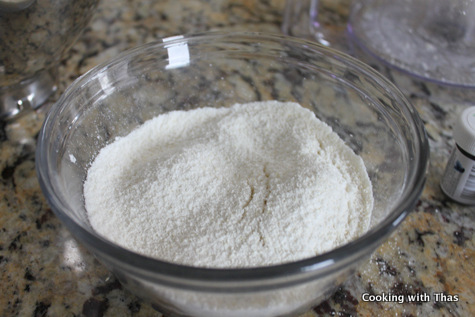 Combine egg white and granulated sugar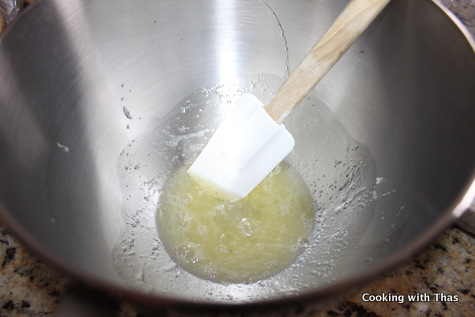 Whip till stiff peaks are formed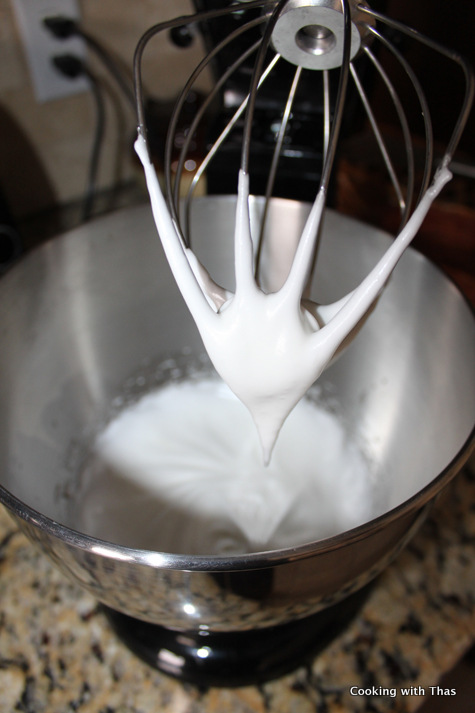 Add food coloring and vanilla extract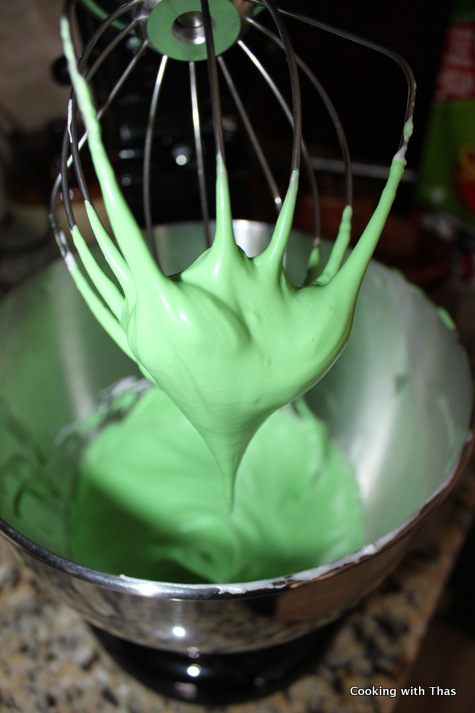 Fold the ground almond-sugar mix into the whipped egg whites
Fold till the batter resembles to a lava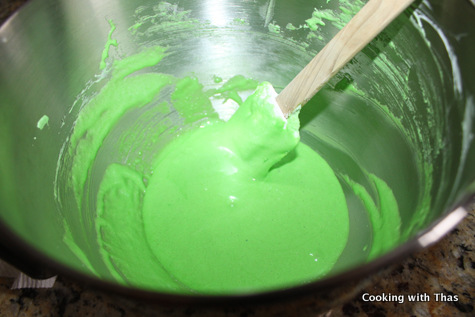 Pipe into round shape on baking sheet lined with parchment paper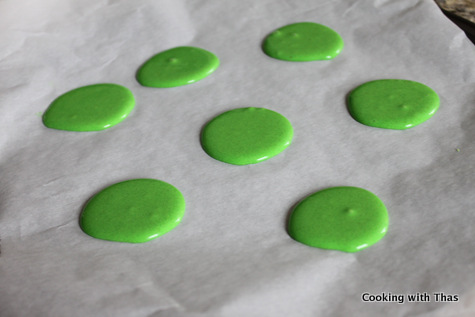 Baked macarons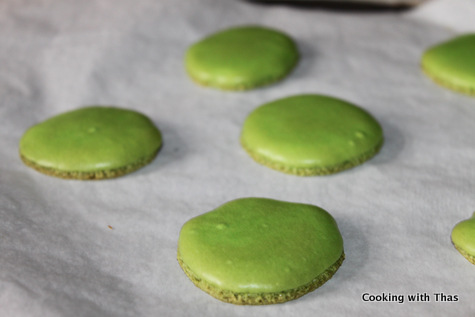 Spread the chocolate whipped cream filling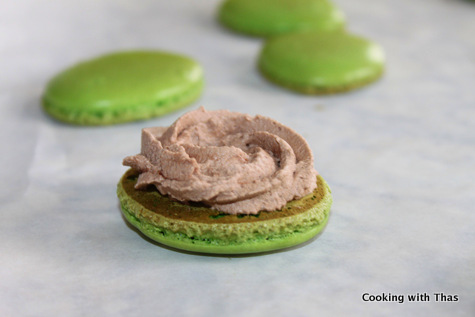 Easy French Macarons - Flourless Macarons
Ingredients
Sliced blanched almonds- ⅔ cup (or use ground almonds)
Confectioner's sugar or powdered sugar- 1 cup
Egg whites, at room temperature- 2, large
Granulated sugar- ¼ cup
Food Color of your choice- ½ tsp
Vanilla extract- 1 tsp
For filling
Buttercream frosting, ganache, whipped cream or jam
For making chocolate whipped cream
Heavy cream- 1 cup
Confectioner's sugar- 4 tbsp
Vanilla extract- 1 tsp
Cocoa powder- 2 tbsp
Instructions
Preheat oven to 350 F or 175 C, place the rack in lower third of the oven.
You could either use blanched almonds and ground it in a food processor to a fine powder or if you have already ground almonds use that.
The ground almond should be very fine.
Add the ground almond and confectioner's sugar in a food processor, process until combined for a minute.
Sift the almond and sugar mixture through a fine-mesh sieve. If there are any hard almonds in the sieve, grind that and sift it again. Keep aside the mixture.
Whipping egg whites can be done using an electric hand mixer or in a stand mixer.
Add 2 egg whites and granulated sugar into the stand mixer bowl, first combine it with a spatula.
Beat on medium speed (4 on Kitchen Aid) for 2 minutes. Increase speed to medium high (6 on Kitchen Aid) for 2 minutes. Then beat on high speed (8 on Kitchen Aid) for another 2 minutes.
The egg whites will form a stiff peak.
Add the food coloring and vanilla extract to the whipped egg whites, beat on highest speed for 30 seconds.
Remove the bowl from the mixer.
Immediately add the prepared almond-sugar mixture to the whipped egg whites.
Fold using a spatula from the bottom of the bowl to upwards, then press the flat side of the spatula firmly through the middle of the mixture. Repeat this till the batter resembles to a lava. The batter shouldn't be watery.
For pipping the batter: Use a ⅜ inch round tip. Fit a pastry bag with the round tip.
Transfer the batter to the bag.
Have two large baking sheets lined with parchment paper ready.
Carefully, pipe the batter into ¾ inch round, then swirl tip off to one side.
Repeat this, make sure to leave 1 inch spacing between the macarons as it will rise while baking.
After the batter is piped onto the baking sheet, tap sheets firmly against the counter 3 times to release air bubbles.
Bake one sheet at a time, for 13 minutes. After 6 minutes of baking, rotate the sheet, this is for even baking.
After 13 minutes of baking, remove the baking sheet from the oven.
Let the macarons cool down.
Spread one macaron with your choice of filling and top with another macaron. Repeat this with other macarons.
You could munch on it right away. Leftovers can be stored in an air tight container and kept in the freezer, stays fresh for 6 months.
When these are kept in the freezer, it turns crispier and tasted delicious.
I used chocolate whipped cream for the filling: Combine all the above mentioned ingredients "for making chocolate whipped cream" into a stand mixer bowl. Use the whisk beater and whip at high speed till soft peaks are formed.
Notes
How to blanch Almonds:
Put almonds in boiling water for a minute. Drain and rinse with cold water. Pat dry with paper towel and peel off the skin using your fingers.
Please refer this article for troubleshooting
,
click here.