Easiest cornmeal barfi that can be enjoyed without much guilt…
All I can say is that I am still alive and kicking. Yesterday was the most scariest yet the most appreciated day in my life. I encountered death for a couple of minutes, if I hadn't reacted instantly I would have been crushed by 4 cars. Almighty God showered me with enormous amount of blessings and strength at that moment, else I would have panicked and given up. Spring has sprung, this is the biggest lie ever. It snowed yesterday morning and the roads were very slippery. I was driving to work early morning, when I tried to brake on the slippery road my car went out of control. It made a huge drift on the left side and I saw cars coming towards me. I didn't blink, I didn't panic, I didn't scream, I didn't give up. All I did was steering the car with full power towards the right side with the thought that it would at least be thrown onto the shoulder of the road, that way I can save someone. It did make a huge drift to the right and one of the cars from the opposite direction crossed without hitting my car. The same scenario was repeated 3 times, every time my car just missed hitting other cars. Finally, it made its final drift and was thrown to the shoulder of the road. Since there was a pile of snow on the shoulder, the car got stuck in it. It all happend in less than a couple of minutes. After the car made a full stop, I felt my hands and legs shivering and my heart aching. I had to move on, so reversed the car and resumed my drive…Life must go on and we all need God's blessings to stay intact. Gratitude to God!
After this incident, I appreciated every minute of my day. I thought about my dearest husband, my parents, my sister, my niece, my family, my friends and all the lovely people who make my life happy.
My man panicked after I narrated this incident over the phone. I wanted to cheer him up, so on my way back home, I stopped at a flower shop and bought these roses with love for my love.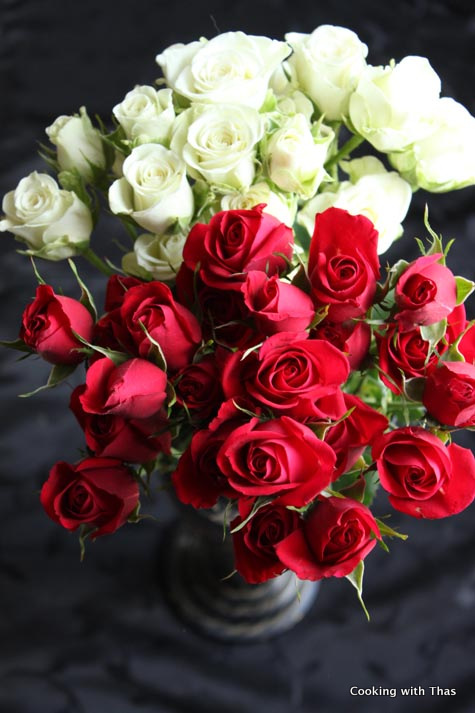 My day starts at 5 am these days as my work time begins at 7:30 am, good thing is that I can be home before 5 pm. I am thankful to all the alarms in my house, without which I would be sleeping to glory. I had always been a night owl and thought it must be hard for me to turn into an early bird. However, I am liking my new schedule. By 9 pm I'll start to doze off and have to hit the bed early too.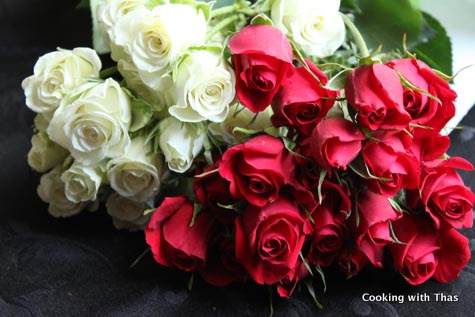 Sharing an easy dessert that you can make with cornmeal. Don't confuse cornmeal with corn starch, both are totally different. Cornmeal is ground dried maize or corn, it looks similar to semolina or cream of wheat. There are two varieties of Cornmeal: white and yellow. I used yellow cornmeal to make this dessert. Since cornmeal is gluten free, this dessert can be enjoyed even by gluten intolerant people. I added my favorite spice saffron while making this dessert, I have to tell you without saffron this dessert wouldn't have tasted delicious. So don't skip adding saffron.

Easy Cornmeal Saffron Barfi - Sweet Cornmeal (Gluten Free Dessert)
Ingredients
Ghee- 2 tbsp + more for greasing pan
Cornmeal, yellow- 1½ cups
Condensed milk, sweetened- 5 tbsp
Saffron- 2 pinches soaked in 1 tbsp water (must add)
Milk- 1 cup
Instructions
Place a saucepan over medium heat, add ghee.
Add cornmeal, roast it in ghee for a few minutes till aromatic.
Add saffron and condensed milk, combine well and saute for 3 minutes.
Slowly add milk and stir continuously, the mixture will get thick.
Remove from the heat.
Grease a small cake pan with ghee.
Spread the sweet cornmeal evenly into the pan.
Refrigerate it for 30 minutes.
Cut into desired shapes and serve.
If you want you could garnish the dessert with ghee roasted cashew nuts or almonds, raisins etc.