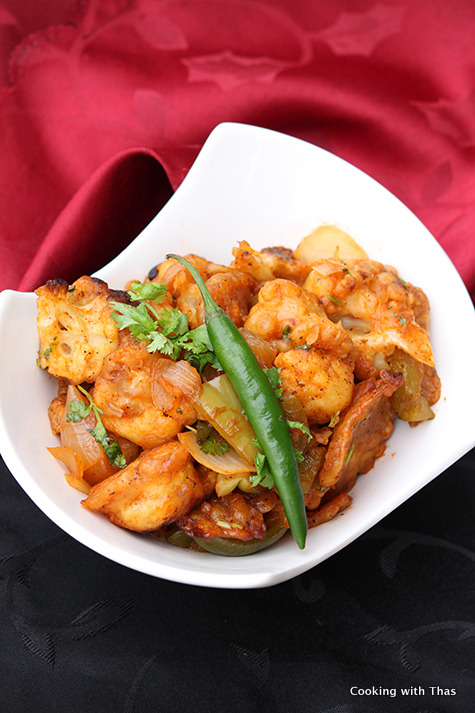 Indo-Chinese chili gobi or cauliflower fritters stir fried in a sauce, it's a dry dish and is delicious…
My man dislikes cauliflower but he enjoys it when it's made into chili gobi or gobi manchurian. If you are wondering what is gobi, then it's the hindi word for cauliflower. Many Indo-Chinese vegetarian dishes can be made with cauliflower. One of the popular dishes is Gobi Manchurian, it can be made into a dry dish or a gravy rich dish.
Chili gobi is yet another popular Indo-Chinese dish, served as an appetizer or as a main dish with fried rice. It's quite similar to gobi manchurian; however, chili gobi being more spicy and more dry than the other one.
Sharing my version of chili gobi; you could serve this as an appetizer or wrap up it in roti, chapati or tortilla or serve with fried rice.
Easy Chili Gobi Recipe- Chili Cauliflower Recipe
Ingredients
Cauliflower, florets- 1 medium cauliflower
Turmeric powder- ¼ tsp
Salt- a few pinches
Oil- to fry fritters
For making batter
All purpose flour- 1 cup
Corn starch- ½ cup
Soy sauce- 2 tbsp
Chili sauce or chili paste- 1 tsp
Ground pepper- ¼ tsp
Salt- to taste
Water- ¾ cup to make thick batter
For making chili gobi
Oil- 1½ tbsp (used for frying cauliflower fritters)
Garlic, chopped very small- 2 large cloves
Ginger, chopped small- 2 inch slice
Green chilies, chopped- 2 or 3
Spring onion or green onion, chopped- 1 stalk
Onion, diced- 1
Green pepper, diced- 1
Soy sauce- 2 tbsp
Tomato paste-3 tbsp
Rice vinegar- 1½ tbsp (or use white vinegar)
Ground pepper- ¼ to ½ tsp
Cilantro, chopped- 2 handfuls
Instructions
Separate the cauliflower florets. Fill a large pan with water and let it come to rolling boil, season with salt and turmeric powder. Add the cauliflower florets into the boiling water and let cook for 5 minutes.
Drain the water and pat dry the cauliflower florets. Keep aside.
In a bowl, combine all the ingredients "for making batter", the batter shouldn't be too thick nor too thin.
Place a non-stick pan over medium heat, add enough oil for deep frying.
Dip the cauliflower florets into the prepared batter and fry it in oil till golden and crispy.
Place the cauliflower fritters on kitchen paper towel.
Place a wok or non-stick pan over medium heat, add 1½ tbsp oil used for frying cauliflower.
Add chopped ginger and garlic, saute till golden in color.
Add green chilies and green onions, saute for a couple of minutes.
Add diced onion, season with little salt, saute till translucent.
Add diced green pepper and stir fry till pepper turns tender.
Add soy sauce, tomato paste and rice vinegar, combine well.
Add 2 to 3 tbsp water and combine well, let the sauce come to a slight boil.
Add the cauliflower fritters, combine well with the sauce and stir fry for a few minutes.
Add ground pepper and cilantro, stir fry for a minute.
If you want it to be spicy, you could add 1 tsp of chili sauce or chili paste.
Transfer to a plate and serve with plain rice or fried rice.
You could even wrap this in roti, chapati or tortilla and enjoy.