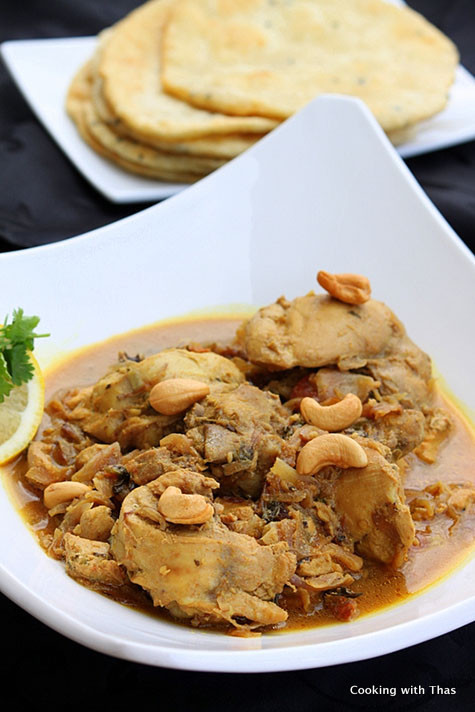 Aromatic and delicious chicken curry with fried onion…
Last month, I'd posted the recipe for making Easy chicken biryani, in that recipe fried onion and other spices are added to the chicken and allowed to marinate for a few hours, the marinated chicken was slow cooked in a large pan and then combined with Basmati rice. It was such an easy yet yummy Biryani recipe.
The other day, when I'd made chicken curry, I used the same recipe that I'd used for making the chicken masala for the biryani. The chicken pieces were marinated with all the ingredients, allowed to marinate for a few hours and slow cooked until the chicken has cooked well. So much easier to make. The fried onions added to the chicken made this curry taste absolutely delicious. I served this chicken curry along with Batura.
Preparation Pictures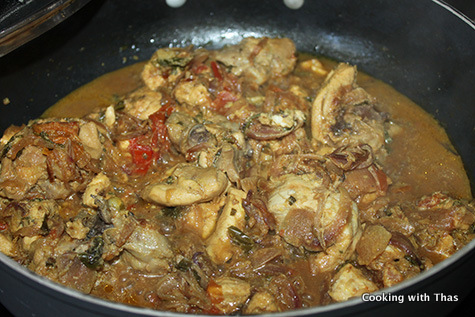 Easy Chicken Curry with Fried Onion
Ingredients
To coarsely grind
Ginger, chopped- 2 inch slice
Garlic- 4 large cloves
Green chilies- 3 or 4
Whole cardamom- 2
Whole cloves- 2
Whole cinnamon- 2 inch slice
For making Chicken curry
Chicken, bone in pieces- 12 to 15 pieces
Onions, chopped thin and fried- 5 ( pan fry till golden brown in little oil or deep fry)
Tomatoes, chopped- 2
Bay leaves- 2
Cumin seeds- ½ tsp
Chili powder- 1 tsp or based on your needs
Turmeric powder- ¼ tsp
Fennel powder- 2 tsp
Coriander powder- 1½ tsp
Garam masala- ½ tsp
Lemon juice- 1 tbsp
Yogurt- ¼ cup, not sour
Cilantro, chopped- ¼ cup
Fresh mint leaves, chopped- 12 leaves
Salt- to taste
For Garnishing
Cashew Nuts, roasted- ¼ cup
Instructions
Half the onions and slice them vertically long and thin. You could slice it in a food processor using the slicer attachment.
You could either pan fry the onions till golden brown color in 3 to 4 tbsp oil or deep fry.
I pan fried the onions till golden brown and placed the fried onions on a kitchen paper towel.
In a food processor: grind the ginger, garlic, chilies, cardamom, cloves and cinnamon coarsely, keep aside.
In a large bowl combine the chicken pieces, fried onion, coarsely ground ginger/garlic/chilies/spices mix and all the other ingredients mentioned above for making chicken curry.
Cover the bowl with a plastic wrap and let marinate in the refrigerator for an hour.
After an hour, transfer everything to a large saucepan.
Place saucepan over medium heat and cook covered for 30 to 40 minutes till the chicken has cooked well.
Open the lid and combine well, if you need more gravy add some water and cook for a few more minutes.
Remove the pan from the heat, garnish with roasted cashew nuts and keep the pan covered for sometime.
Serve this chicken curry with naan, chapati, rice etc.