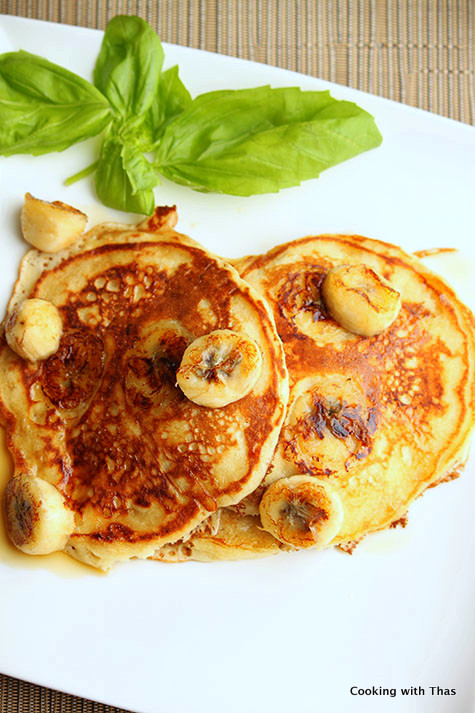 Butter roasted banana pancakes- easy to make and delicious…
The bite of butter roasted bananas in the pancake is just delicious. This is my current favorite pancake, I've already made this a few times last month.
The batter is very easy to make, round cut bananas are placed on the pan and pancake batter is poured over it and cooked till golden and fluffy. The sweetness and the caramelized flavor from the bananas enhance the taste of the pancakes greatly.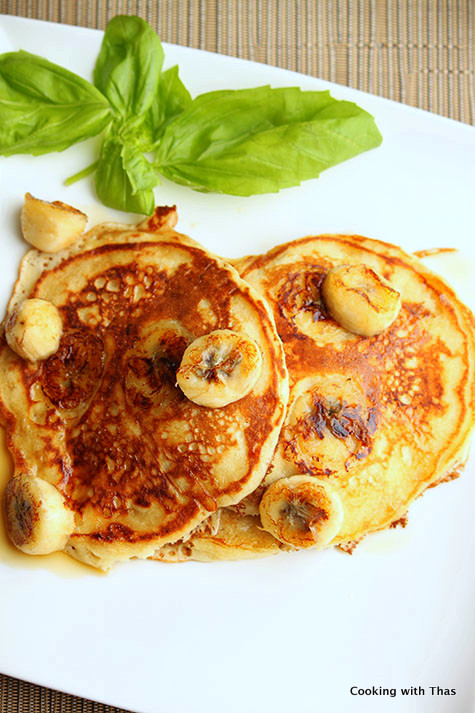 Cooking Video
Banana Pancakes
Ingredients
For making pancake batter
All purpose flour- 1½ cups
Sugar- 2 tbsp
Baking powder- 1½ tsp
Salt- ¼ tsp
Egg- 1
Milk- 1¼ cups
Vanilla extract- 1 tsp
Butter, melted- 2 tbsp
Other ingredients
Butter- to cook pancakes
Ripe Bananas, cut into rounds- 3
Maple syrup or pancake syrup- while serving
Instructions
In a large bowl- combine flour, sugar, baking powder and salt.
Add egg, mix well using a fork.
Add milk, combine well.
Add vanilla extract and melted butter, using a whisk combine the batter well without any lumps.
Place a non-stick pan over medium heat, add ½ tbsp butter let melt.
Pour a spoonful of batter on the pan.
Place 2 to 3 round cut bananas on the batter, let the bottom side turn golden in color.
Flip it over and let the other side cook as well.
Transfer to a plate, repeat with the rest of the batter.
You could even roast some bananas in butter for topping the pancakes.
While serving, place pancakes on a plate, top with butter roasted bananas and drizzle maple syrup or pancake syrup over it.
Enjoy while its warm, delicious breakfast or brunch.