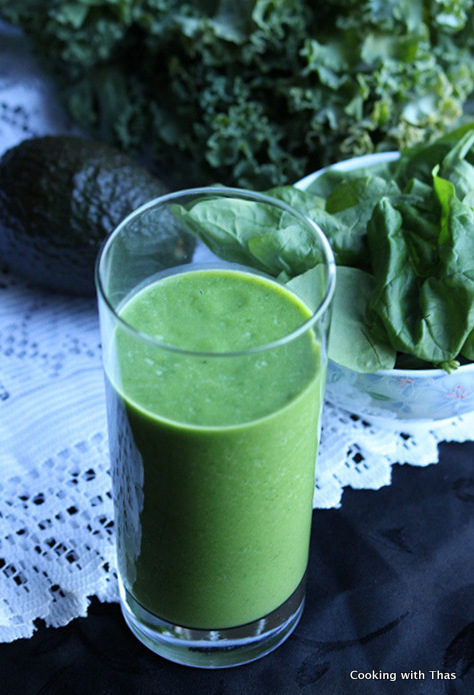 Delicious and nutritious green smoothie…
Lately, I've been hearing and reading a lot about green smoothies. Now, most of the juice bars have added "green smoothies" on their menu and they are given a much higher price tag as well.
You really don't have to spend $6 for a glass of that power packed smoothies. It can be made much fresher and cheaper in your own kitchen. All you need is a blender and a few healthy ingredients. You could mix and match any kinds of greens, fruits, nuts and blend along with either water, coconut water, almond milk etc etc. The possibilities are endless for making green smoothies.
The health benefits of green smoothies are remarkable. It is recommended to drink at least 3 times a week. Or you could even replace one meal per day with this smoothie. I would say this would be ideal for breakfast to kick start your day in a healthy way.
I highly recommend blending the greens and fruits, that way all the fibers will be retained. On the other hand, juicing would remove all the insoluble fiber or the pulp.
Health benefits of Green smoothies
Instant energy booster.
Low in calories.
Packed with nutrients, vitamins and minerals.
Boosts your immune system.
Great for weight loss as it will make you feel full.
Increases your overall health.
Great for your skin.
I am in love with this smoothie, loved the buttery creamy flavor and texture imparted by Avocado.
Make this smoothie for breakfast, pour into a smoothie cup and take it with you to work. This is one of my favorite on the go breakfast smoothies.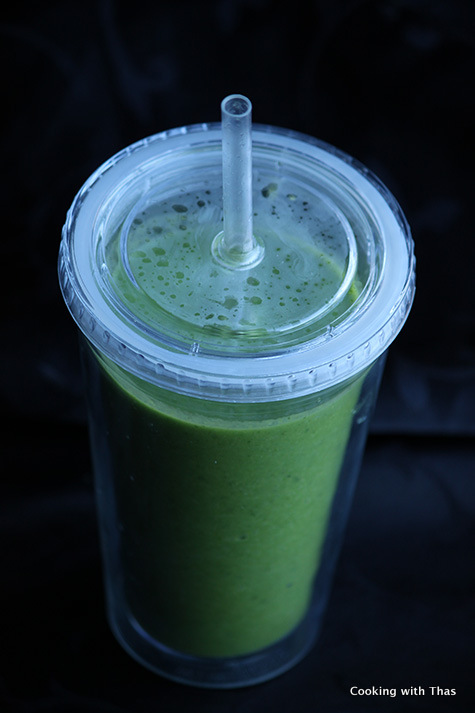 Delicious Green Smoothie - Healthy Green Smoothie
Ingredients
Fresh Spinach leaves- 2 handful (use organic)
Fresh Kale leaves- leaves from 1 stalk (use organic)
Ripe avocado- 1
Coconut water or regular water- 1½ cups
Honey or Agave nectar- 1 to 1½ tbsp (based on your needs)
Instructions
Put all the ingredients into a blender, puree at high speed until smooth.
Pour into a glass and enjoy.
Try to use organic greens.
You could use any kind of greens. Fruits like apple, orange, strawberries, bananas can also be added.
You could even add almonds, chia seeds, flax seeds etc.
Instead of water, you could even add yogurt or almond milk.
Try adding different ingredients each time you make it.