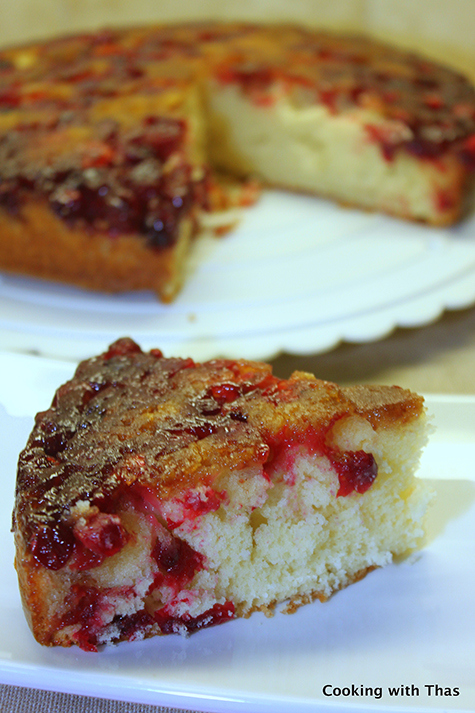 Light and fluffy butter cake topped with fresh cranberries…
It was Thanksgiving weekend in Canada, hope everyone had a great Thanksgiving with family and friends. I always get fresh cranberries for making Thanksgiving dinner. This time, I did something different with cranberries and I'm so glad to have made this cranberry upside down cake. This is one of the delicious cakes I've made, easy to make and tasted incredible. This cake has to be served warm along with a cup of coffee…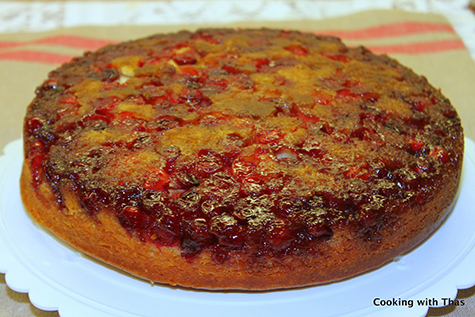 Recipe Courtesy: Joyofbaking
Baking Video
Cranberry Upside Down Cake
Ingredients
For making topping
Butter, unsalted- 5 tbsp
Brown sugar- ⅔ cup
Fresh cranberries- 2¼ cups
For making cake batter
Butter, unsalted at room temperature- ½ cup
White sugar- 1 cup
Vanilla extract- 1 tsp
Eggs, large- 2 (separate yolk and egg whites)
All purpose flour- 1½ cups
Baking powder- 2 tsp
Salt- ¼ tsp
Milk- ½ cup
Lemon juice- ¼ tsp
Instructions
Grease the bottom and sides of a 9 inch round cake pan with butter- don't skip this step.
Preheat the oven to 350 F or 180 C.
Place a saucepan over medium heat, add 5 tbsp butter and let it melt.
Add brown sugar and cook till it dissolves and turns brown.
Remove the saucepan from the heat, pour the melted brown sugar into the cake pan and spread evenly.
Spread fresh cranberries evenly over the brown sugar. Keep aside.
Separate the egg yolks and egg whites from 2 eggs.
In a bowl, combine together the all purpose flour, baking powder and salt.
Into the stand mixer bowl, add butter at room temperature and white sugar. Using the paddle attachment, beat till smooth.
Scrape down the sides of the bowl using a rubber spatula, beat again.
Or use an electric hand mixer to beat butter and sugar.
Add the vanilla extract and beat for a minute.
Add egg yolks, beat till combined well. Scrape down the sides of the bowl and beat again for a few seconds.
Add the flour mix in 3 addition alternately with the milk in 2 additions- ending with the flour mix. (First add some flour mix, beat for a few seconds, add ¼ cup milk, beat again, add the 2nd addition of flour and beat for a few seconds, add the remaining ¼ cup milk, beat well and finally add the remaining flour mix and beat till incorporated).
Keep aside the cake batter.
In the stand mixer using the whisk attachment or using an electric hand mixer, beat the egg whites and lemon juice at high speed till soft peaks are formed.
Fold the beaten egg whites into the prepared cake batter and combine well till egg whites are well incorporated into the batter.
Pour the cake batter over the cranberries and smooth the top.
Place the cake pan onto the middle rack in the preheated oven.
Bake for 50 to 55 minutes or till a fork inserted into the center of the cake comes out clean.
Let cool down for a few minutes.
Run a knife through the sides of the cake pan, and invert the cake pan onto a plate.
This cake tastes better when served warm. So, go ahead cut into wedges and serve along with a cup of coffee.
Leftover cake can be refrigerated, before serving- warm up the cake slices in the microwave for 30 seconds and enjoy.
Notes
You could replace cranberries with fresh pineapple diced or cut into rounds, almonds, blueberries, apples etc.