Chicken stir fry with carrot and green pepper added to it, cooked till golden brown, tasted delicious…
Nothing fancy, a simple yet delicious chicken stir fry recipe with the addition of shredded carrot and green pepper.  Shredded carrot and green pepper made this stir fry taste really good and I cooked till chicken and veggies turned golden brown. I served this with folded parathas or goes well with chapatis or pooris.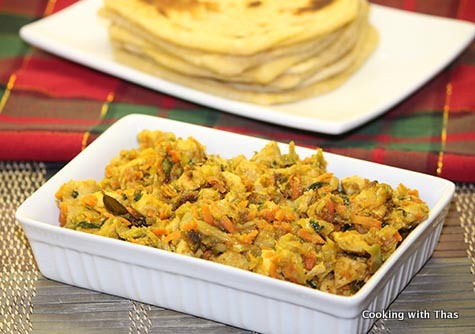 Chicken Stir fry with Carrot and Green Pepper
Ingredients
To marinate chicken
Chicken breast or thighs, diced- 2 breasts or thighs
Chili powder- ½ tsp
Cumin powder- ½ tsp
Coriander powder- ½ tsp
Salt- a few pinches
For making stir fry
Oil- 2 tbsp
Whole cardamom- 2
Whole cloves- 2
Whole cinnamon- 2 inch slice
Bay leaves- 2
Onion, chopped- 3
Curry leaves- 1 sprig
Ginger garlic paste- ½ tbsp
Shredded carrot- 1
Shredded green pepper- 1
Turmeric powder- ⅛ tsp
Chili powder- 1 tsp
Coriander powder- 1 tsp
Fennel powder- 1 tsp
Salt- to taste
Cilantro, chopped- 2 handfuls
Instructions
In a bowl, combine the chicken with the above mentioned ingredients "to marinate the chicken" and keep aside for 15 minutes.
Place a non-stick pan over medium heat, when the pan turns hot add oil.
Add whole cardamom, cloves, cinnamon and bay leaves to hot oil and saute for a few seconds.
Add onions and curry leaves, season with salt and cook the onions till they turn translucent.
Add ginger-garlic paste, combine well and cook till onions turn golden in color.
Add the marinated chicken, combine well and cook covered till chicken has almost cooked.
Add turmeric powder, chili powder, coriander powder, fennel powder and salt to taste. Combine well.
Add shredded carrot and green pepper. I shredded in a food processor using the shred blade. Or use a grater and grate the carrot and green pepper. Tastes better by using shredded carrot and green pepper.
Combine well and let the veggies cook well.
Turn the heat to high and stir fry till the chicken and the veggies turn golden brown. Tastes delicious when caramelized.
Have a taste and add more salt if needed or chili powder for more spice.
Remove the pan from the heat, keep covered for sometime.
This can be served with folded paratha, chapati or poori.