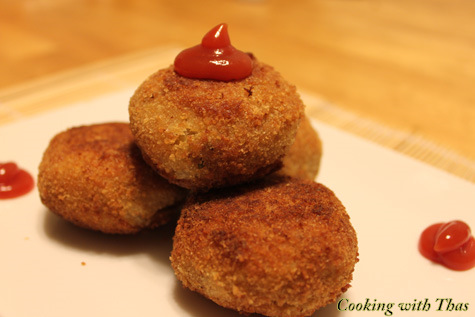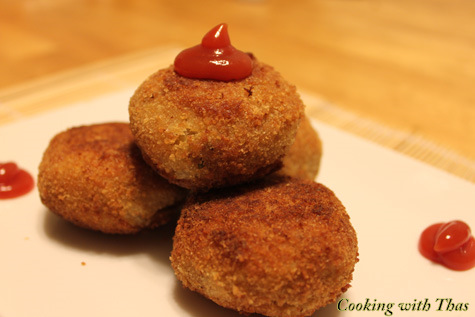 Meat cutlet is one of my all time favorite appetizers…
I don't need any special occasion to make this; it's often served as an appetizer or as an entree for dinner. The cutlet mix can be made ahead of time and fried just before serving.  Hence, this is a time saver dish for any parties and is going to be everyone's favorite.
Cooking Chicken Cutlet Video
Chicken or Meat Cutlet
Ingredients
For cooking chicken or meat
Chicken or beef or mutton (boneless)- 1 lb or ½ Kg
Chili powder- 1½ tsp
Turmeric powder- ¼ tsp
Coriander powder- 2 tsp
Garam Masala- 1 tsp
Salt- 1 tsp
For cooking Cutlet Mix
Oil- 1 tbsp
Onion, finely chopped- 3
Ginger-Garlic paste- 1 tbsp (optional)
Green chilies, finely chopped- 2 (Optional)
Garam masala-1 tsp
Already cooked-shredded meat
Cilantro chopped- ¼ cup
Potatoes boiled and mashed - 2 (cooked in the microwave or in boiling water)
Salt- ¾ tsp
For Frying Cutlets
Eggs beaten (use just egg whites or both)- 2
Bread crumbs plain-1 cup
Oil- enough for frying
Instructions
Cook the potatoes in the microwave or in boiling water, let cook till fork tender.
Peel off the skin and mash well.
Combine the chicken with all the above mentioned ingredients "for cooking chicken" and cook covered in a saucepan.
Cook until all the water has dried off and the chicken has cooked well. Stir fry the chicken till it turns light brown, you could add 1 tbsp of oil and stir fry.
If you are using Beef or Mutton(Lamb), cook in a pressure cooker along with ¼ cup water until 3 to 4 whistles.
Shred the meat with a fork or coarsely blend it in a food processor. Don't make into a paste.
Place a large pan or wok over medium heat, add oil.
Add onions, season with ½ tsp salt and saute till translucent.
Add ginger-garlic paste, green chilies and garam masala, saute for a few minutes.
Now add the cooked and shredded meat, combine well.
Add the boiled, mashed potatoes and mix everything well.
Have a taste, if you need more salt or seasonings you could add accordingly.
Finally, add cilantro, combine well.
Remove the pan from the heat, let the mixture cool down.
Make medium sized balls out of this mixture, flatten it between the palm of your hands, keep aside.
The chicken filling can be made well in advance & stored in the refrigerator for a few days or in the freezer for a few weeks.
Frying the cutlets
Beat the eggs using a fork or whisk.
Spread the bread crumbs on a plate.
Dip each cutlet ball in the egg first and then evenly coat it with the bread crumbs.
Deep fry the cutlets in oil until golden brown.
Serve warm along with Tomato ketchup or any of your favorite dipping sauce.
Notes
Tips

The cutlet mix coated with the bread crumbs can be made ahead of time and can be kept in the freezer for 2 to 3 days.

Thaw well before you deep fry.

For vegetable cutlet:

Use veggies of your choice (carrot, beans, cauliflower) and boil them in water, drain and pat dry.

While making the mix: add the vegetables to the sautéed onion, season with chili powder, turmeric powder, coriander powder and fennel powder.

Follow the other steps as in meat cutlet.

For Fish Cutlet:

Use canned Tuna for making fish cutlet.

After sautéing the onions, add ginger-garlic paste/green chilies/garam masala and add the tuna, along with the masalas: chili powder, turmeric powder, coriander powder and fennel powder and follow the other steps.