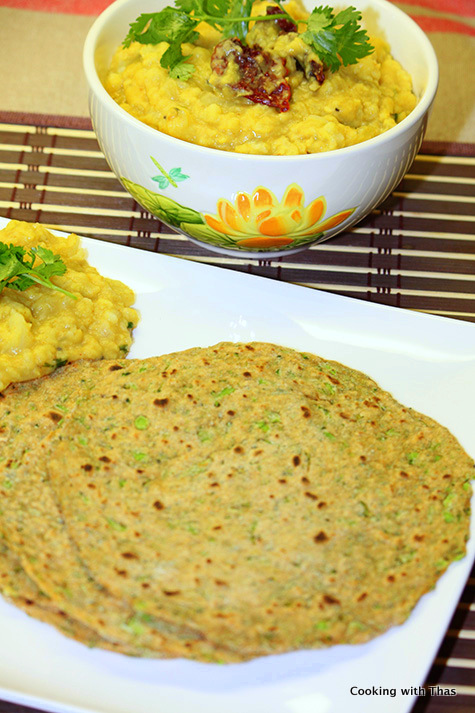 Broccoli Paratha, a great way to include broccoli into your diet…
My intention was to use up the broccoli that had been sitting in the refrigerator. I usually make soups, stir fries or grill broccolis. This time, I decided to make parathas with it. Tasted good and it's a great way to sneak broccoli into your kids diet: Nutritious and healthy parathas.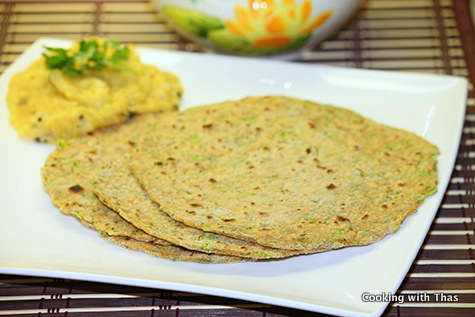 Broccoli Paratha or Roti
Ingredients
Wheat Flour or Atta- 2 cups
Grated broccoli- 1½ cups
Chili powder- ¾ tsp
Ground cumin- ¾ tsp
Coriander powder- 1 tsp
Garam Masala- ½ tsp
Salt- a few pinches
Water- around 1 cup
Oil- 1 tbsp
More wheat flour while rolling the dough
Instructions
Grate the broccoli in a food processor.
Into a large bowl, add all the above mentioned ingredients except oil.
Add water little by little and knead to a soft dough.
Add oil and knead well and keep aside for 5 minutes.
Make medium sized balls out of the dough. Keep aside.
Use a wooden board or a clean countertop to roll the dough.
Spread flour on the surface, place a dough ball on the surface.
Using a rolling pin, roll the dough into a thin round shape.
Place a tawa or non-stick pan over medium heat.
Grease with non-stick cooking spray.
Place the rolled dough on the pan.
Let bottom side turn slightly hot. Flip it over, pat with wooden spatula. Let brown blisters form on the bottom side.
Flip it over and let brown blisters on the other side.
If you want you could spread some ghee on the paratha.
Transfer to a plate.
This can be served with lentil curry or Dal or any kinds of curries, raita, pickle etc.