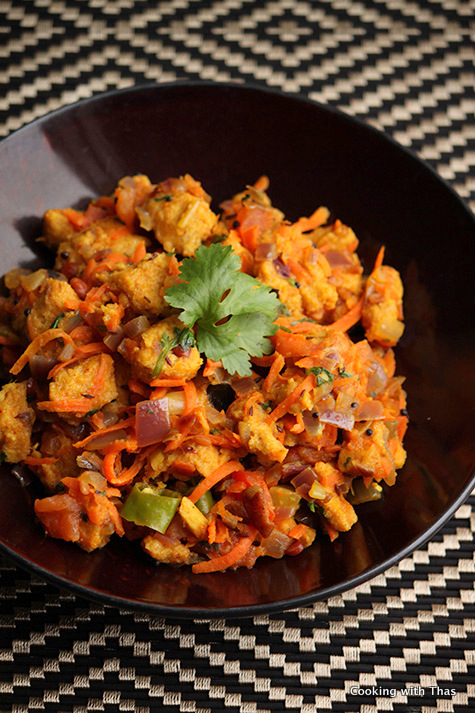 Bread made into an Upma, perfect for breakfast or as an evening snack…
Upma is a South Indian breakfast dish traditionally made with semolina and it resembles to a thick porridge. Nowadays, you could see upma being made with so many other ingredients like oats, bread, rice flakes, cracked wheat, quinoa, mixed veggies, grated cauliflower, corn meal etc. The preparation remains the same, only the main ingredient changes.
I had some leftover bread so thought I would turn them into upma and serve as an evening snack. In fact, after having this I felt pretty full that I skipped my dinner. So, you don't have to wait till breakfast to make this, you could have this at any time. Easy to make and tastes delicious.
Semolina upma recipe, click here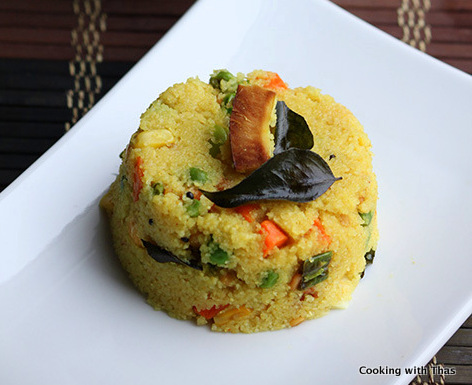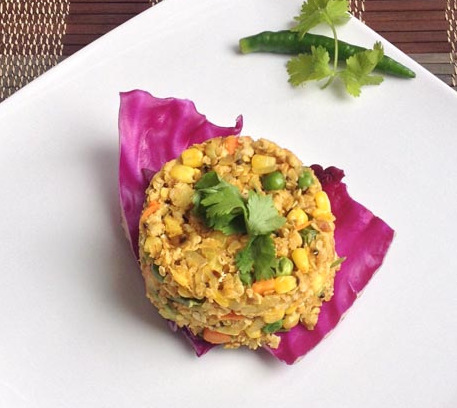 Bread Upma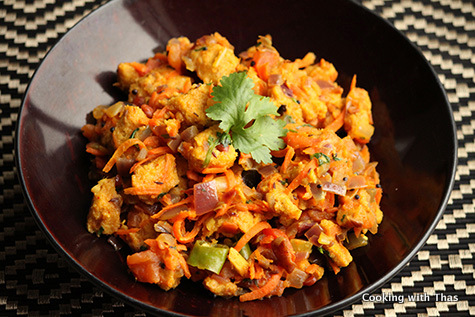 Preparation Pictures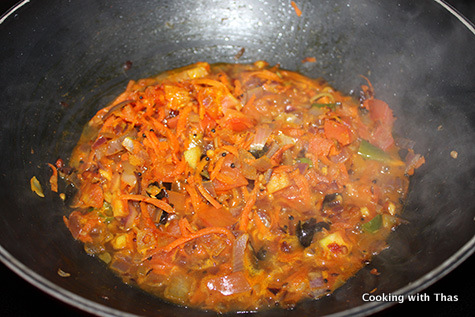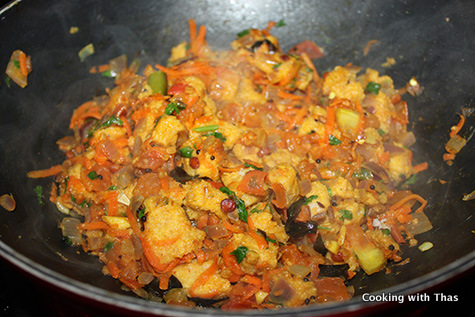 Bread Upma Recipe- Bread and Veggie Stir fry
Ingredients
Whole wheat or White Bread slices- 6 to 8, edges removed and cut into cubes
Oil- 1 tbsp
Mustard seeds- 1 tsp
Cumin seeds- 1 tsp
Chana dal- 1 tbsp
Urad dal- ½ tbsp
Curry leaves- 10 leaves
Onion, chopped small- 1
Green chilies, chopped- 1
Ginger, minced- 1 inch slice
Carrot, grated or shredded- 1
Tomato, chopped small- 2
Chili powder- ¾ to 1 tsp
Turmeric powder- ⅛ tsp
Coriander powder- 1 tsp
Water- ¼ cup
Lemon juice- ½ tbsp
Cilantro, chopped- 2 handfuls
Salt- to taste
Instructions
Remove the brown edges from the bread and cut the bread slices into cubes.
Place a non-stick pan or wok over medium heat. Add oil.
Add mustard seeds, let it splutter.
Add cumin seeds and chana dal, saute till chana dal turns light brown in color.
Add urad dal, saute till dals turn brown.
Add curry leaves and saute.
Add onions, season with salt and saute for a minute.
Add green chilies and ginger, saute till onions turn light golden in color.
Add shredded carrots, cook for a couple of minutes.
Add tomatoes, cook for a minute, do not mash the tomatoes.
Add chili powder, turmeric powder and coriander powder, combine well and cook for a minute.
Add water, season with more salt and cook for a minute.
Add the cubed bread and gently combine into the masala.
Stir fry over high heat for 2 minutes.
Drizzle lemon juice over it and add cilantro.
Gently stir and cook for a few seconds.
Remove the pan from the heat.
Serve on a plate and enjoy when the bread upma is warm.
Notes
You could even toast the bread and then cut them into cubes.