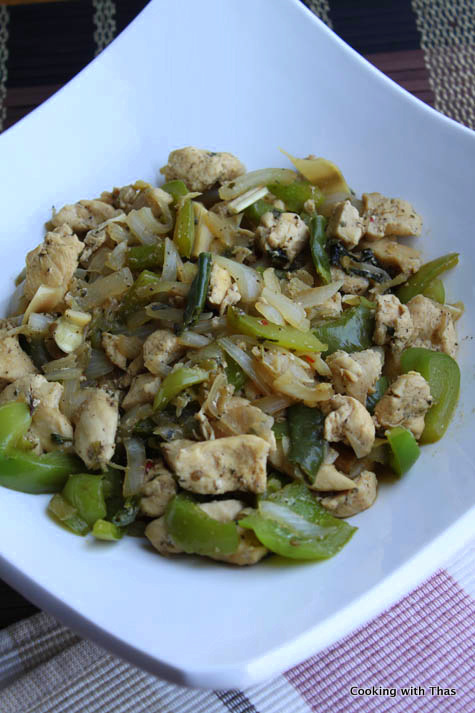 Basil, my intimate companion on sick and lousy days…
Yet another sinus attack and I am down. There is nothing more worse than getting a cold in Summer, have been sipping chukku kappi or herbal tea: my usual remedy for cold and sinus. Last night, I started craving for basil chicken, one of my favorite Thai dishes. First, I thought of dining at a Thai restaurant, seeing me I don't think they would have let me in as I was constantly sneezing. So, I made basil chicken in my kitchen as I had a bunch of basil in my refrigerator. Despite being sick, I went ahead and made it. I couldn't even feel the aroma or taste of this dish, I just followed my instincts.  When I ate this dish, the aromatic basil did help me to open up my senses.
The health benefits of Basil is just remarkable, it is great for cleansing our body, to open up our senses and much more. When, I first tried basil I didn't like the taste of it that much. Over the years, I tried a few more basil dishes and the basil chicken at Thai restaurants actually made me fall for it.
Preparation Pictures
Cooking Basil chicken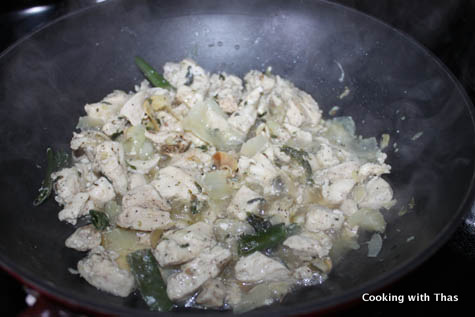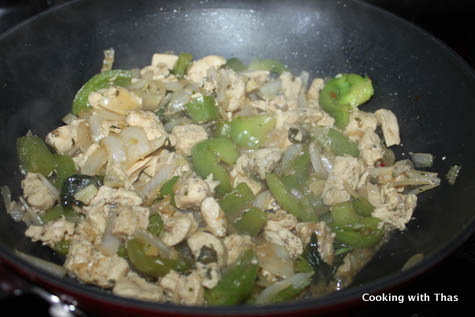 Basil Chicken - Aromatic and Healthy Basil Chicken Stir Fry
Ingredients
To smash using Mortar and Pestle or Coarsely grind
Garlic- 3 cloves
Ginger, chopped- 2 inch
Green chilies- 2, chopped
Shallots or Pearl onions, chopped- 3
Fresh Basil, leaves- 15
Black peppercorns- 1 tsp
Other ingredients
Vegetable oil- 2 tbsp
Chicken breast, strips or diced- 2 chicken breasts, boneless
Onion, chopped- 1, large
Green pepper, diced- 1, large
Soy sauce- 3 to 4 tbsp (low-sodium)
Sambal Oelek- 1 tsp ( or use chili powder or cayenne pepper for making it spicy)
Ground pepper- ½ tsp (for spice if needed)
Salt- very little
Sesame oil- 2 tsp
Instructions
In a mortar and pestle or in a blender coarsely grind the above mentioned ingredients "to coarsely grind". Don't make into a paste.
Place a large wok or non-stick frying pan over medium heat, add vegetable oil.
Add the coarsely ground ingredients, saute till light golden in color.
Add diced chicken, very little salt, combine well and cook covered.
When the chicken has almost cooked and some water still remaining in the pan, add onion and green pepper.
Stir fry for sometime till the veggies have turned tender but still crispy. Do not over cook it.
Add basil leaves, saute well.
Add soy sauce, sambal oelek, ground pepper, saute for a few minutes.
Taste and add salt if needed.
Sambal Oelek is added for spice, if you don't have it you could add more ground pepper/chili powder or cayenne pepper.
Finally, drizzle sesame oil, combine well and remove from the heat. Keep it covered for sometime.
Serve with rice or over rice noodles.