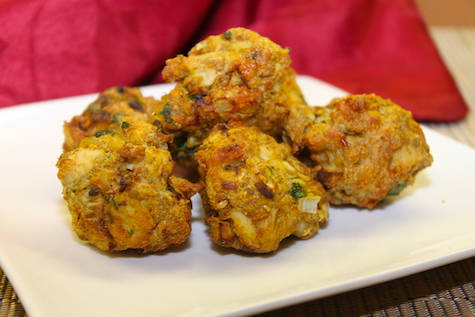 Healthy, delicious & crispy chicken pakoras or fritters that are air-fried…
Crispy chicken fritters or pakoras cooked to perfection in the air fryer. I'm quite impressed with how crispy these fritters turned out when air-fried. It's perfectly healthy and guilt-free snack, enjoy with a cup of cardamom tea.
Cooking Video
Air Fried Crispy Chicken Pakoras- Guilt Free Snack
Ingredients
Chicken breasts boneless, diced very small- 1 chicken breast (or use thighs)
Onion, chopped small- ¼ cup
Ginger-garlic paste- 1 tsp
Green chilies, chopped- 2
Cilantro, chopped- 2 tbsp
Chili powder- 1 tsp
Turmeric powder- ⅛ tsp
Garam masala- ½ tsp
Coriander powder- 1 tsp
Salt- ¾ tsp
Gram flour or besan or chickpea flour- ¼ cup
Rice flour- 2 tbsp
Water- 2 tbsp
Instructions
Dice the chicken breasts very small or pulse the chicken in a food processor.
I've taken 1 boneless chicken breast, will make 7 pakoras. For making more, double or triple the ingredients.
In a large bowl, combine the chicken along with above-mentioned ingredients.
Add the gram flour and rice flour to the chicken; combine well.
Add 1 to 2 tbsp water, just enough to bind the mixture. Combine well.
I've used Instant Pot duo crisp & air fryer. Any kind of air fryer can be used.
Place the air fryer basket in the stainless steel pot, place the broil tray in it & line the broil tray with parchment paper.
Place medium-sized pakora mixture on the parchment paper, don't have to make into rolls.
Drizzle a tsp of oil.
Close the pot with the air fryer lid.
Select air fry, time 20 minutes, temperature 400 F or 200 C.
After 20 minutes of air frying, open the lid.
Crispy chicken pakoras will be ready. Transfer to a plate.
The outside will be crispy with a tender & juicy inside.
Enjoy with tomato ketchup.
Serve hot with a cup of cardamom tea.