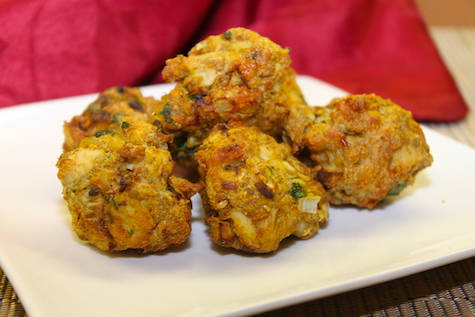 Low oil, low calorie and healthy chicken pakoras or fritters made in the T-Fal Actifry…
Crispy chicken fritters or pakoras made in the Actifry. I'm quite impressed at how crispy these fritters turned out when air fried. It's prefectly healthy and guilt free snack, enjoy with a cup of cardamom tea.
Cooking Video
Air Fried Crispy Chicken Pakoras- Air Fried Chicken Fritters
Ingredients
Chicken breasts boneless, chopped very small-2 chicken breasts (or use thighs)
Onion, chopped small- 1
Garlic, grated- 1 large clove
Ginger, grated- 1 inch slice
Chili powder- 1 tsp
Turmeric powder- ⅛ tsp
Garam masala- ½ tsp
Coriander powder- 1½ tsp
Salt- ¾ tsp
Gram flour or besan or chick pea flour- ½ cup
Rice flour- 2 tbsp
Cilantro, chopped- ¼ cup
Instructions
Chop the chicken breasts very small or pulse the chicken in a food processor.
In a large bowl, combine the chicken along with the spices and cilantro.
Add the gram flour and rice flour to the chicken; combine well using your hand.
Water is not required to combine the mixture, the moisture from the chicken will help to bind the flour and the chicken.
Make small balls out of the mixture.
I placed the chicken balls on the snacking tray or grill, can be also placed on the air fryer main basket.
Grease the snacking tray with non-stick cooking spray, place the chicken balls on the tray.
Spray with non-stick cooking spray. Close the Actifry.
Select Mode 3, Time 20 minutes.
Cook for 20 minutes.
After 20 minutes, transfer to a plate.
Crispy and delicious chicken pakoras or fritters are ready to be enjoyed.
Serve warm with a cup of cardamom tea or coffee.