In just 15 minutes, you will be sipping this delicious soup…
Sweet corn chicken soup is a popular Indo-Chinese soup and one of my favourite soups. In the Instant Pot, this soup can be made effortlessly. Throw all the ingredients into the stainless steel pot and pressure cook for 5 minutes, followed by quick pressure release. After that, switch to saute mode and let soup come to a boil. Add the beaten egg slowly and stir continuously, egg will turn into strands. Finally, add the aromatic sesame oil to make the soup taste delicious.
Serve while this soup is warm and enjoy.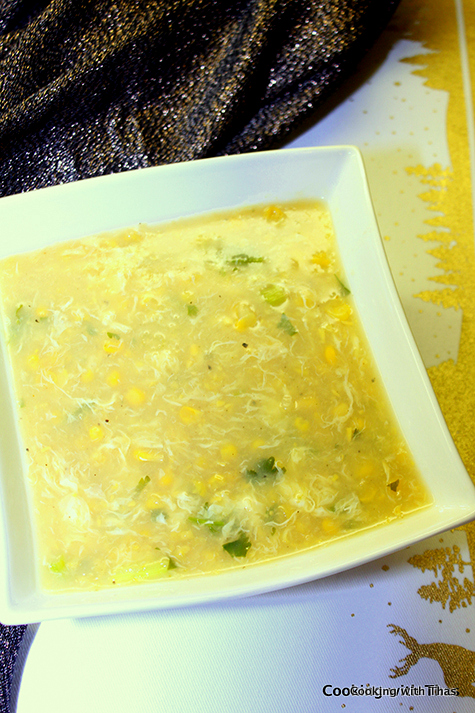 Cooking Video
15 minutes Instant Pot Sweet Corn Chicken Soup
Ingredients
Chicken breast, cubed- 1
Ground pepper- ½ tsp
Salt- ⅛ tsp
Cream style corn- 2 cups (canned)
Chicken boullion cube- 1
Water- 3 cups
Soy sauce- 1 tbsp
Rice Vinegar- ½ tbsp
Cilantro, chopped- 2 handfuls
Green onions, chopped- 2 stalks
Egg, beaten- 1
Ground pepper- ⅛ tsp
Sesame oil- ½ tsp
Instructions
Into the stainless pot add chicken, season with ground pepper and salt.
Add cream style corn, chicken bouillon cube, water, soy sauce, rice vinegar, cilantro and green onions. Combine well.
If you don't have cream style corn- coarsely grind whole corn kernels- use 2 cups.
You can replace chicken bouillon cube and water with 3 cups chicken stock.
Close the Instant Pot with the lid.
Click on Pressure mode- high pressure, set time to 5 minutes.
After 5 minutes of pressure cooking, do a quick pressure release.
Click on Saute mode- medium temp.
Let soup come to a boil.
Beat the egg well using a fork taken in a bowl.
Using one hand add the beaten egg slowly into the soup, using the other hand stir the soup continuously. This is very important to avoid the formation of lumps.
Egg will form into strands.
Combine well.
Add ground pepper, combine well.
Finally add sesame oil, combine well.
Remove the stainless pot from the main pot.
Serve into soup bowls and enjoy while it's warm.
Delicious soup ready in just 15 minutes. Yum.