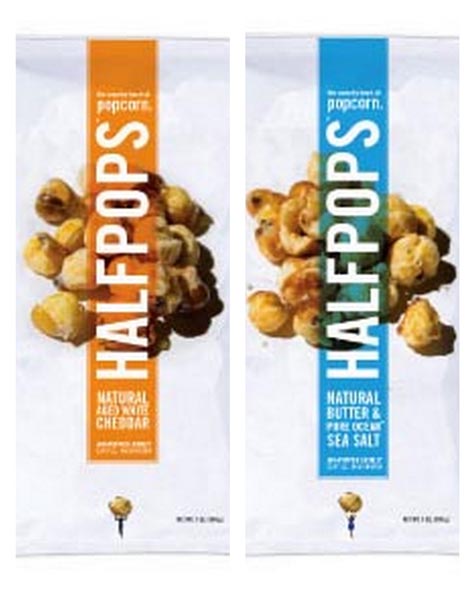 HALFPOPS – an irresistible snack…
A company based in Seattle, WA has come up with a different perspective on snacks and they call it HALFPOPS. It is just what it sounds like, half-popped popcorn. It's like a popcorn revolution.
Halfpops is very different from popcorns. They are air-popped and each kernal is packed with flavor. They are crispy, crunchy and delicious. These partially popped popcorns are made using all natural ingredients. They do not contain preservatives or artificial flavors.
My husband and I tried halfpops and we were both simply blown away by its uniqueness. My husband was very happy to learn that this snack is gluten free and I liked the fact that it has less fat and fewer calories. Believe me, we were snacking these non-stop for two days in a row and we found it irresistible.
Usually when I eat regular popcorn, I can never eat past half the bag on a good day. But with these halfpops, I started eating them and never felt enough and before I knew it the bag was empty. No chemicals, no preservatives, no artificial flavors, no corn syrup, no hydrogenerated oil, no trans fat – this is truly a guilt-free snack. They are also gluten free and nut free. However, they do contain milk.
Halfpops come in two flavors: Natural Butter and Pure Ocean Sea Salt and Natural Aged White Cheddar. We loved both the flavors, however, if I had to pick a favorite between the two I'd go with the natural aged white cheddar. They also have more flavors lined up – natural kettle corn, natural chipotle and lime, natural jalapeno aged chedder cheese.
Besides snaking, there are a few other creative things you can do with halfpops – garnish them on your favorite desserts or use them on your salads(instead of croutons).
For nutrition information and more be sure to check them out at halfpops.com.

What's unique about HALFPOPS?
Its production method is so unique that the company was granted a patent on its manufacturing process. HALFPOPS are air-popped in a nut free facility. They are also free of any preservatives, artificial coloring, corn syrup and hydrogenated oils. HALFPOPS donates one percent of its revenue to charitable organizations that help kids with learning disabilities.
Where can you find HALFPOPS?
HALFPOPS can be found in community and chain grocery stores throughout the Seattle area and are being launched throughout Idaho and Western Washington. With the recent opening of its online store HALFPOPS.com, they are offering an introductory free shipping with any order to the 48 contiguous U.S. states. Give it a try.
GIVEAWAY
Here's your chance to try HALFPOPS for free. One lucky winner will receive $100 worth of HALFPOPS shipped to your doorstep. Excited? Here are your chances to win.
HOW TO PARTICIPATE
Please use the rafflecopter widget below. If the widget does not load, please refresh this page. The widget is self-explanatory, however, if you need help, watch this video.
You can do one item or all the items, it's up to you and no mandatory items.  The (+) indicates the number of entries you'll earn for that item. For eg: you can tweet about this giveaway once per day and earn a +1 entry everyday(this is optional but increases your chances of winning, so bookmark this page).  If you're already a fan on facebook, you can just click the I did this button.
One lucky winner will receive halfpops valued at $100 shipped to your doorstep!
If you have any questions, please post a message on my page at facebook or simply stop by and say hello 🙂
GOOD LUCK!!!