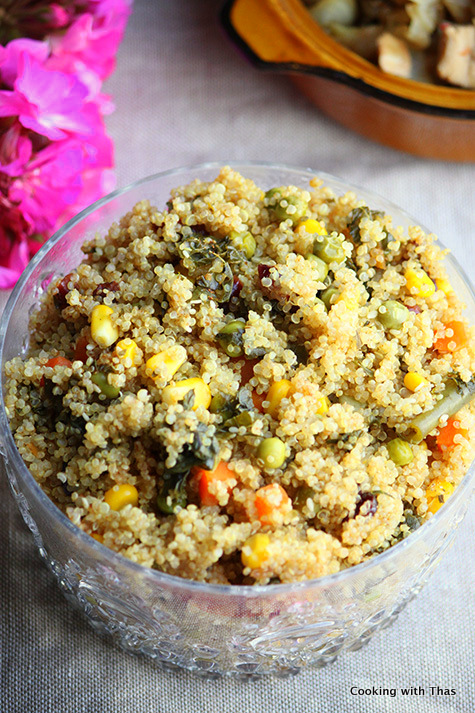 Quinoa combined with mixed veggies and kale made in the Instant Pot, it was ready in a minute…
Yet another reason to love Instant pot, you can make perfectly cooked and fluffy quinoa in a minute. I'd been making quinoa over stove top and it takes almost 20 minutes to completely cook quinoa. If I can make something effortlessly and that too in a minute, I'm all for that.
It's been only a few days since I've started cooking in Instant pot, so far it's been an awesome experience and I love how quiet IP remains while cooking- very unlike me 😀
This is the most easiest recipe you could ever think of. Quinoa being the super food that's rich in all awesome vitamins and minerals, you can now make it in your IP. All you have to do is throw everything into the pot, set to high pressure and timer to 1 minute, and just walk away. After you hear the beep, release the steam and open the lid; Voila you will have the perfectly cooked and fluffy quinoa ready to be served.
To know more about Instant Pot or to shop, click here
For more quinoa recipes, click here
Cooking video
Preparation Pictures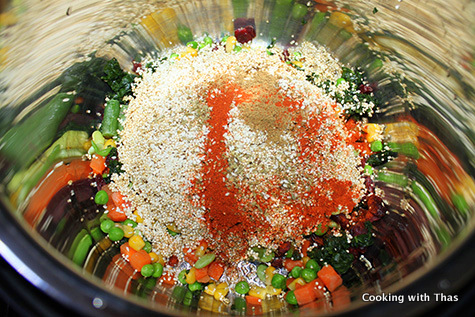 1 minute Quinoa- Instant Pot Recipes
Ingredients
Quinoa, rinsed- 1½ cups
Mixed veggies- 1 cup
Kale leaves, chopped- 3 leaves
Dried cranberries- 1 handful (optional or use raisins)
Paprika- ½ tsp
Dried oregano- 1 tsp
Ground cumin-1/2 tsp
Salt- a few pinches
Sesame seeds- 2 tbsp (optional)
Water- 1½ cups
Instructions
Rinse quinoa in water, I didn't soak the quinoa.
Into the pot add all the above mentioned ingredients.
You could add any kind of seasonings you want.
Close the lid properly. Make sure pressure release valve is in sealing position.
Click Manual, then click Pressure- choose high pressure.
Set time to 1 minute and walk away.
It will take 10 minutes for the pressure to build, after that the timer will start.
After 1 minute, you will hear the beeps.
Do a Quick pressure release after you hear the beeps.
Perfectly cooked quinoa is ready to be served.
I like the bite of dried cranberries- it has a sweet and tart taste. If you don't have dried cranberries, add raisins instead.
Serve Mixed veg quinoa along with grilled or baked chicken, fish or roasted veggies.
Notes
To make chicken or beef Quinoa: Add cooked chicken or beef along with quinoa and cook for a minute.