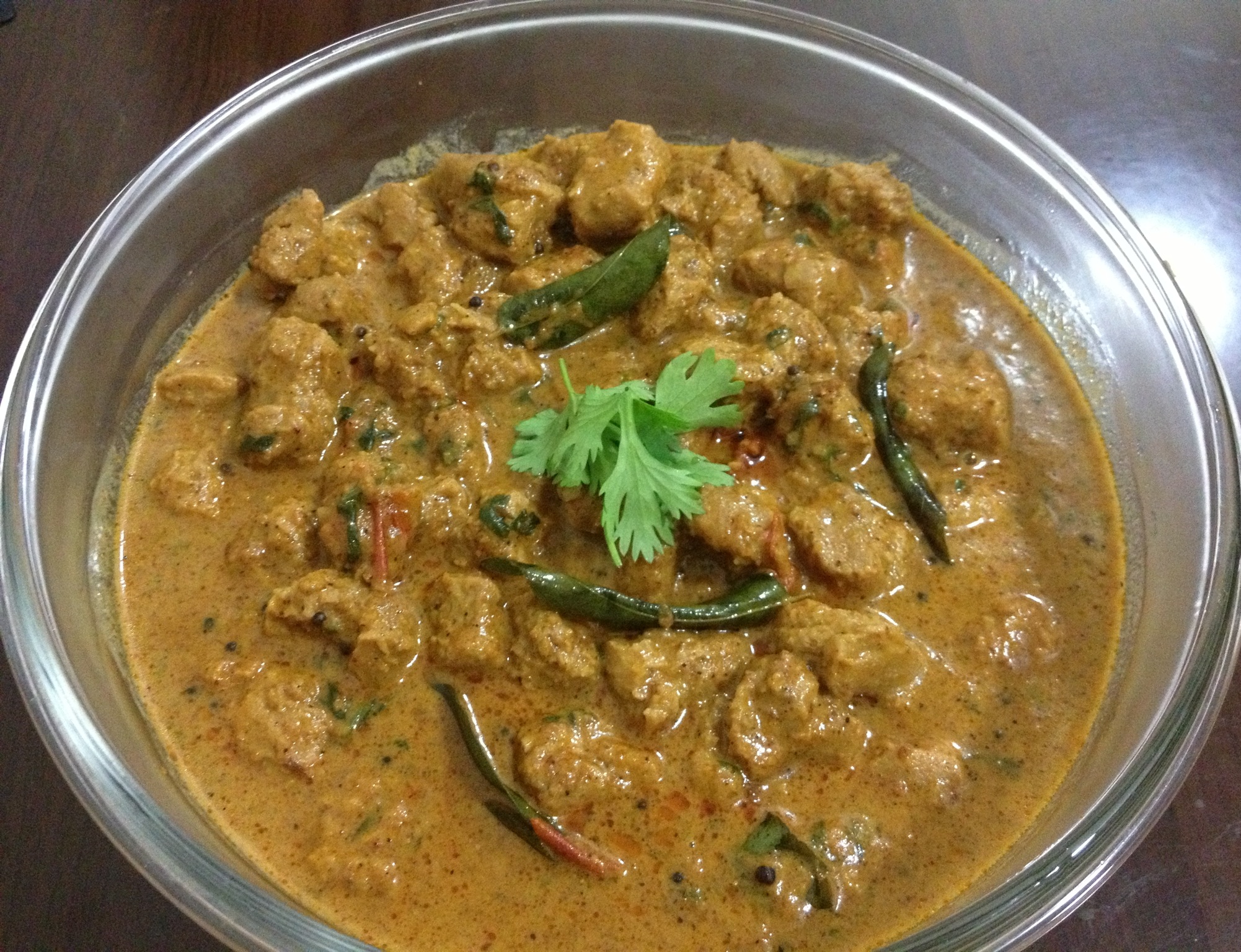 Soya Varutharacha Curry
Prep time:
Cook time:
Total time:
Ingredients
Soya Chunks - 3 to 4 cups (soaked in water for 15 mins)
Grated Coconut - ½ cup
Chili Powder - 1 tbsp
Coriander Powder - 2 tbsp
Pepper powder - 1 tsp
Turmeric powder - ½ tsp
Water
Oil - 2 to 3 tbsp
Mustard seed - 1 tbsp
Cumin seed - 1 tbsp
Onion - 1 chopped
Ginger Paste - ½ tsp
Garlic Paste - ½ tsp
Plum Tomatoes - 2, cubed
Curry leaves - 1 sprig
Salt to taste
Parsley leaves - 1 fist full chopped
Coconut milk powder - 3 tbsp
Hot water - 1 to 2 cups
Garam Masala - 1 tsp
Lemon juice - ½ to 1 tbsp
Instructions
Making Coconut paste
Dry roast the coconut, chili powder, coriander powder, turmeric, and pepper until it turns into a dark color. Put the powders only after the coconut starts changing color. Add some water and grind it into a paste.
Making Coconut milk
Combine the coconut milk powder and hot water to make coconut milk.
Preparation:
Add oil to a hot pan. Splutter the mustard and cumin seeds. Now add the onion. Once translucent add the ginger and garlic paste and stir until it turns brown. Now add the tomatoes. Stir until the tomatoes cook well and oil clears out. Now add the coconut paste, curry leaf, salt, and stir until the oil clears out.
To this add the drained soya and stir well so that all the masala gets coated on the soya well. Cover the pan and cook until the dish becomes almost dry.
Now add the parsley and coconut milk. Let it come to a boil and then add the garam masala and lemon juice. Let it simmer for 3-4 minutes.