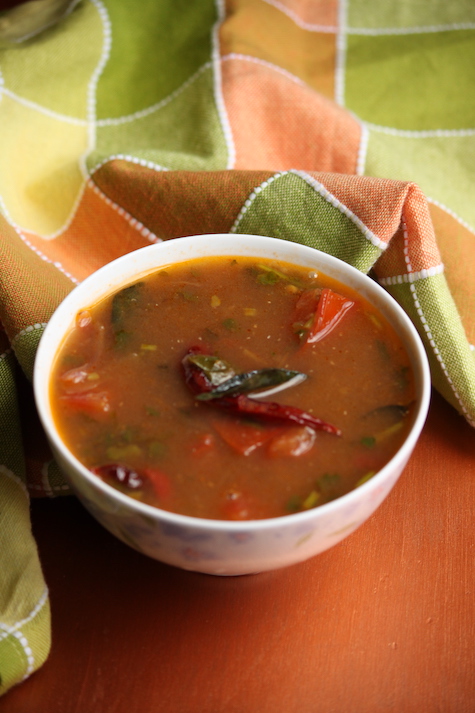 South Indian style Rasam, perfect to pour over rice…
Rice when served along with rasam and pickle, truly a South Indian comfort food. In some of the South Indian houses, rasam is made and served with rice almost every day for lunch and dinner. Rasam can be also enjoyed as a soup, it helps in digestion and helps to relieve stomach aches.
Try this easy to make rasam recipe and enjoy with rice.
South Indian Easy Rasam Recipe
Ingredients
For Grinding
Ginger- 2-inch slice
Garlic- 1 large clove
Green chili- 1 or 2
Whole black peppercorns- ½ tsp
Cumin seeds- ¾ tsp
Other Ingredients
Oil- 1 tbsp
Mustard seeds- 1 tsp
Dried red chilies- 2
Small onions, sliced thin- 4
Tomato, sliced- 1
Fresh tamarind extract- 2-inch slice soaked in ½ cup water
Salt- 1 tsp
Curry leaves- 1 sprig
Water- 1 cup
Instructions
Soak 2-inch slice tamarind in ½ cup water for 5 minutes. Squeeze the soaked tamarind in water to extract juice, drain the juice and discard the skin. Keep aside.
In a blender, add all the ingredients mentioned 'for grinding' along with ¼ cup water. Grind to a coarse paste.
Place a saucepan over medium heat.
Add oil, let turn hot.
Add mustard seeds, let splutter.
Add dried red chilies and curry leaves.
Add small onions, season with ½ tsp salt.
Saute for 2 minutes.
Add tomato, cook for 3 minutes.
Add the ground mixture, combine well and cook for a few minutes.
Add freshly squeezed tamarind. Combine well.
Add 1 cup water and cook covered for 3 minutes.
Taste and add ½ tsp more salt for taste.
Pour into a bowl and serve along with rice.